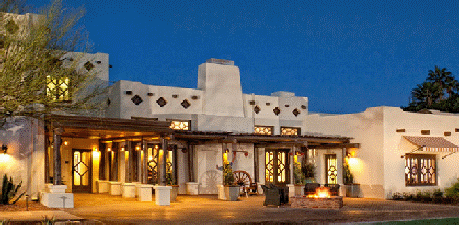 "Phoenix, Arizona--Discovering what the City has to offer made for busy days"
We recently returned from a truly wonderful travel experience at Phoenix, Arizona. It was our very first visit to Phoenix and when we returned we wondered why it had taken us so long to discover such a treasure.
Actually we have over decades made many visits to Arizona but these always took place in a 45 foot recreational vehicle and through the years we learned to avoid city streets and downtown areas while driving it.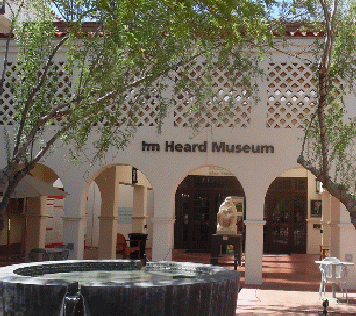 These earlier trips had always been to discover and explore Arizona's many natural wonders like the Grand Canyon, both north and south rims, Superstition Mountains, Skiing Mt. Lemmon, a historic rail trip to the South rim and Yuma to name a few But the RV is now history and on this trip it was to experience what Phoenix ha to offer the visitor.
We have often pondered the question on how important the choice of lodging as a base is to the success of a recreational and exploration experience? On this trip to Phoenix our choice was the WigWam Inn and Resort located in Litchfield Park and it proved to be a resounding success story. From the moment we arrived and were captivated by the classic Spanish southwest architecture, beautifully maintained grounds and boundless space it offered. Once registered there was a guide in a golf cart we followed to our room which was almost a separate building with a parking spot for the car steps away.
He explained there was a front door for entree and a back door for convenient car unloading. By the front door was a private patio with table and chairs. Inside a huge room with two queen beds, step in shower and large tub, a walk in closet and a counter, sink and refrigerator. All this with the decor of the early southwest.
The Greater Phoenix Visitors Bureau had provided us with a long list of things to see and do during our stay and the WigWam was the perfect hub for our constant coming and going.
We quickly discovered that Phoenix shared one thing with much of Southern California cities as being spread out in every direction, often with communities with separate names but when moving about finding it difficult to determine where one ended and the next began. The freeway system is excellent and to our joy with none of the heavy traffic we were accustomed to at home. It moved us quickly to communities like Litchfield Park, Peoria and Glendale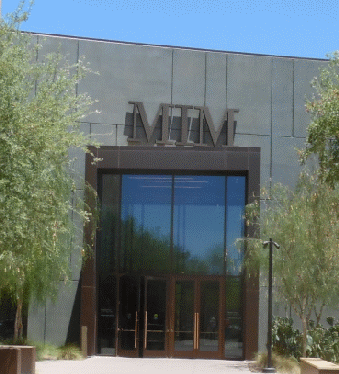 One of our first visits was to the Heard Museum in Phoenix. We had already knew something of this massive collection devoted to the first inhabitants of the southwest, their way of life, culture, art and artifacts.
We met Mark Scarp, communications manager at the Heard and he personally was our guide as we toured the exhibits.
Currently the museum is featuring a special exhibition on the Santa Fe Railroad and the Fred Harvey Company, the concessionaire,and its impact on how it gave so many thousands of travelers their first impression of little known Arizona and the south west. As a railroad buff this exhibition presenting the Fred Harvey story was of special of interest to us.
As fellow journalists Mark and I instantly bonded when we learned we shared professions and Italian heritage.
The Heard Museum is located at 2301 N. Central Avenue in Phoenix and open seven days a week from 9:30 a.m. to 5 p.m., Sunday 11 a.m. to 5 p.m. Telephone 602 252-8848.
Also that day we visited the MIM, Musical Instrument Museum where exhibits take one on a world wide tour of music and how it varies from country to country. Your tour includes state of the art audio and video so as you approach each exhibit you begin to see and hear the actual music the instruments are creating. The museum has separate galleries for each continent, Europe, Asia, North and South America and Africa. For the U.S. there are separate exhibits for blue grass, country, jazz, blues and also featuring artists like Johnny Cash and Elvis Presley, icons of their times and music. It requires many visits to truly appreciate and learn about all that is offered here.
The MIM is located at 4725 E. Mayo Blvd., Phoenix and open daily from 9 a.m. to 5 p.m . For more information on the web at MIM.org or telephone 480 478-6000.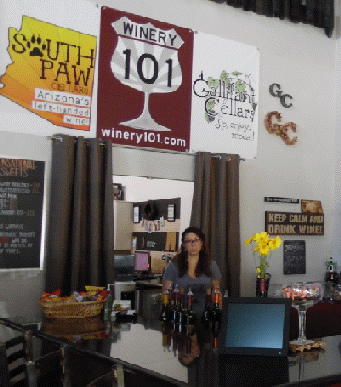 Of special interest to us was Arizona's wine industry and the place we learned about this was Winery 101 which is located in Peoria. Arizona. Here we met Kara, daughter of Irlyn and Gavin Gallifant who started making Arizona wines in 2008. Kara, who operates the Winery 101 tasting room in Peoria, was a fountain of information on the 20 varietals the family produces on two labels, Gallifant Cellars for single varietal wines and South Paw Cellars for their blends. But also on the state's other twenty wineries and location of vineyards mostly located in Wilcox and Cottonwood.
We tasted five wines including Gallifant 2012 Cabernet Sauvignon which recently earned a bronze award at a competition. The only wine we tasted that was not from Arizona grapes was a Gallifant Cellars 2013 Sangiovese from central California vineyards. The South Paw Cellars wine we tasted was 2014 Rone Ranger blend of Grenache and Syrah. The spelling of Rone intentional.
In Peoria, Arizona the Winery 101 Tasting Room is located at 9299 W. Olive Ave and open daily with special events staged on weekends. Hours are 2 p.m. to 5 p.m. Monday-Friday and weekends 2 p.m. to 8 p.m. For more information call 520 477-9463. Kara informed us that there is a second Tasting Room at the winery in Cottonwood.
To learn more about Peoria we met with Jennifer Stein, head of communications, over breakfast one morning. The City considers itself ideal for family entertainment and sports since it includes Lake Pleasant, the second largest lake in the State. We were back in Peoria one evening to attend a dinner show at the Arizona Broadway Theatre. Here to go with stage entertainment there is sit-down table service, cocktails, wine service and great views from every table. The show we saw was Rock of Ages which made us feel right at home since it is set on L.A.'s Sunset Strip in the 1980s. It was just one of the many shows the Arizona Broadway bills each year. Coming up next was Shrek, The Musical.
To learn more about the Broadway Theatre located at 7701 W. Paradise Lane in Peoria call 623 776-8400, web wwwazbroadway.org.
Another day we met with Lorraine Zomak to learn about Glendale, which thanks to being the spring training headquarters for the Los Angeles Dodgers and Chicago White Sox, now hosts scores of fans following the teams.
Lorraine, who is president and CEO of Visit Glendale, also led us on a tour of Cerreta Candy Company which is the largest in Arizona. Here Krystle Stephens took over as guide and she explained each step in producing carmels, chocolates, creams and other vartieties each in a separate section of the plant. The plant and candy store offers two tours every day and as we left Krystle was starting a tour that included about sixty people of all ages. with special hats for children.
Cerreta Candy Company is located at 5345 W. Glendale Avenue in Glendale and the tours take place at 10 a.m. and 2 p.m. each day.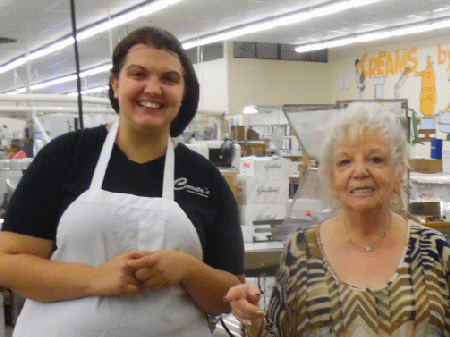 Lorraine also gave us some history of Glendale which was founded in the 1890s as a center for ranching and agriculture in the Valley of the Sun. Downtown Glendale still shows some of its historic past.
Another Vittles story will describe our culinary adventures and more on our stay at the delightful five star WigWam Resort.
Back to Table of Contents..
Last Update:6/25/16
&copy 2016 Joe Hilbers All Rights Reserved.
Graphic Design by Impact Graphics