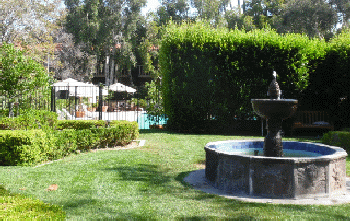 "San Diego--Rural and Urban merge in North County"

by Joe Hilbers
As urban expansion has moved north in the City and County of San Diego there have been changes but many of the rural characteristics of the region remain. So now it is a mix of town and country with hillsides covered with avocado trees and vineyards along with urban development.
For our visit to the region we found the perfect base at Rancho Bernardo Inn. It is difficult to think of something that is not offered at this Resort. The inn achieved fame almost from the day it first opened in 1963 with its PGA championship golf course, two hundred and seventy five rooms and suites and its reputation for culinary excellence.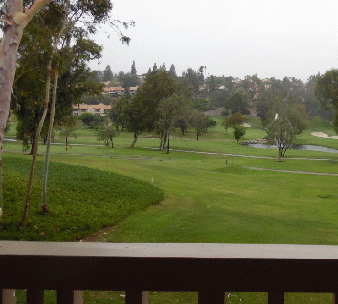 The builders of the Inn designed a complex that includes two swimming pools and a collection of twenty one distinctive fountains many designed by creative artists from other countries. Each fountain is individually named like 'dreams of eternity', 'tranquility' and 'fountain of rejuvenation'. Guests can take a self guided tour to see them, all in a tranquil and picturesque settings.
The Spa has its own garden, pool, fitness center, patio and garden. The rooms are located in separate locations, each with its own parking and garden setting. Our room overlooked the golf course with balcony patio and included king size bed, both tub and step in shower, a desk ready with wi-fi for a computer, refrigerator and full closet.
The Inn is located in the heart of what was once a huge ranch called Rancho San Bernardo. In the 1960s homes were built and neighborhoods developed and the City of San Diego annexed the region at that time. Today Rancho Bernardo has almost fifty thousand permanent residents.
Rancho Bernardo Inn has kept its resort identity intact through the decades and remains the tranquil getaway it has always been. Some changes have been made in the culinary scene. The main dining room is now called Avant Restaurant and Bar and also a more casual Veranda Fireside Lounge, bar and restaurant. Then there is Cafe Granada for quick snacks.
One day we left the Inn for a visit to the San Diego Zoo Safari Park which was a twenty minute drive on I 15 and then Cal. 78.. This year San Diego Zoo has a Centennial Celebration for one hundred years opening in 1916.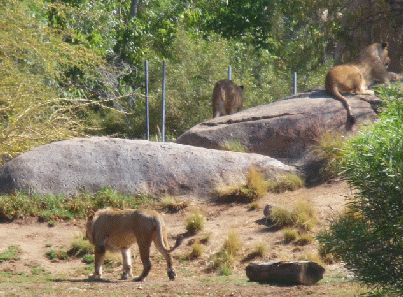 The Safari Park is a very special adventure for people of all ages. Here one views all kinds of wildlife sans moats, fences or other barriers and as close to their real habitats as possible.
It had been a number of years since our last visit. This time we decided to take the Africa Tram Safari as the best way to see as many of the animals as possible. The Tram took us on a traverse of African Plains and we were there early so most of the herd, grass feeding antelopes, giraffes and buffaloes had not yet retreated to shade. We had an excellent view of the Lion Camp and Elephant Valley while waiting for the Tram.
Our Tram guide was excellent and explained in detail the Park's efforts in protecting endangered species and its role in increasing the numbers of such species and then returning them to their original home.
Actually the visitor has ten different safaris to chose from. We lacked the time for the Balloon Safari where a 30 passenger balloon takes one high above the Park and plains with the animals in their natural looking environment.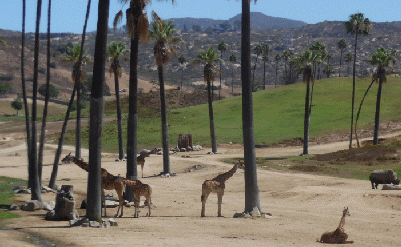 San Diego Zoo Safari Park is located at 15500 San Pasqual Valley Road in Escondido, Telephone 619 718-3000, web www.sandiegozoo.org. Hours in summer are from 9 a.m. to 7 p.m.
Also located on Highway 78 is the San Pasqual Battlefield State Park and if you are interested in history there is a story to be told here.
It all took place on December 6, 1846 when General Stephen Kearny was leading a force of the U.S. Army from Missouri to San Diego. This force of approximately 120 men was intercepted by a smaller force of Californios led by General Andres Pico. In this battle the Americans, worn out from their long trek across the deserts of New Mexico and Arizona, were defeated by the Mexicans. With superior horses, the Americans were mostly mounted on mules, the Californios used their horsemanship and lances with deadly effect. The Americans suffered 35 dead and wounded and became besieged on Mule Hill.
Only the courage and wilderness skills of Kit Carson and Army Lieutenant Edward Beale saved them from total disaster. Slipping out at night they skillfully evaded Mexican sentries.
They made their way to San Diego Bay and signaled U. S. Navy ships moored in the harbor. Navy Commodore Robert Stockton then mounted a force to save those under siege on Mule Hill. Later the combined American force went on to win the battle of San Gabriel on January 8 and 9, 1847.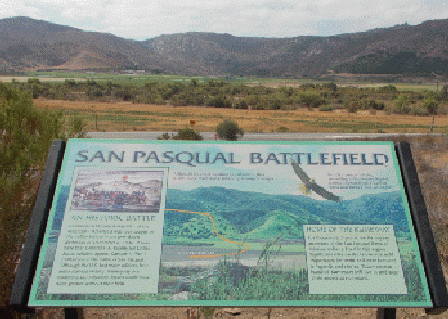 All of this is well told with exhibits at the museum. We viewed a most informative video on how the war with Mexico started when President Polk adopted a policy of making all the lands to the Pacific as parts of the United States, first by adding Texas to the Union. Many of the U.S. soldiers who were in this war became famous generals on both sides during the Civil War including Lee, Grant, Picket, Longstreet and Meade.
The Park and Visitor Center is only open on weekends. The address is 15808 San Pasqual Road, Escondido. Weekend hours are from 10 a.m. to 5 p.m. Call 760 737-2201 for more information and on the web at www.parks,ca.gov/.
The Lux Art Institute in Encinitas is devoted to encouraging the artistic process by inviting artists to live on the site while creating their art. It was opened in 2007 located on a four acre site which overlooks the San Elijo Lagoon.
The Arts Pavilion opened in 2007 with facilities for visiting artists. In 2014 an Educational Pavilion was opened and it was here that our visit took place. Ernesto Gonzolez, facility manager, met us and showed us the rooms used by visiting students engaged in an assortment of crafts with instructors.
Also here is the Linda Formo Brandes gallery with exhibitions of visiting artists and students. Fall classes will include Teen oil painting workshop, print making and book art techniques.
Lux Art Institute is surrounded by a wildlife preserve and includes a native habitat one acre garden. It also includes a tiered amphitheater available for special events.
The Education Pavilion is free to the public and open Monday thru Friday 9 a.m. to 5 p.m. on Saturday 9 a.m. to 12 p.m. The Artist Pavilion has a $5 fee for visitors and it is open Thursday and Friday from 1 p.m. to 5 p.m. and on Saturday from 11 a.m. to 5 p.m.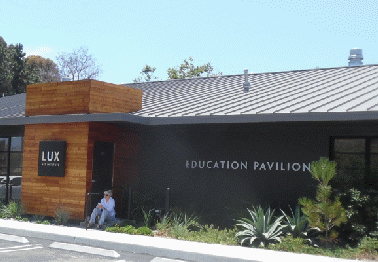 The Lux Institute is located at 1550 South El Camino Real, Encinitas, Telephone 760-436-6611, web www.luxartinstitute.org.
Back to Table of Contents..
Last Update:7/9/16
&copy 2016 Joe Hilbers All Rights Reserved.
Graphic Design by Impact Graphics