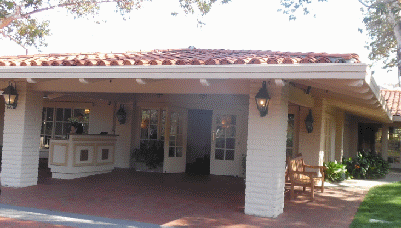 "San Diego--Contemporary cuisine pleases at Rancho Bernardo Inn's Avant Restaurant"

By The Editor
.
Rancho Bernardo Inn has long enjoyed a reputation for culinary excellence. And on our recent stay at the resort we found it well earned. One evening we dined at the upscale Avant Restaurant. Here we met Travis Watson, executive chef, and discussed the concept of the Avant which opened four years ago.
The Avant shows a more casual ambiance and menu than the more formal room it replaced. Chef Watson explained that recent trends showed that this less formal atmosphere and menu is what today's customers desire.
This menu offers a list of appetizers and starters designed for two people and labeled sharing. From this list we selected the crispy calamari which came with a spicy pineapple glaze, braised kumquats and espalett crema. It arrived in a huge bowl and even with the healthy appetites of my dining partner and I we could not quite finish it. But it sure was tasty and unusual.
We also met with Jason Carroll, Avant General Manager, who told us, after we looked over the menu , he had something special in mind for us. This proved to be a grass fed bone in rib eye which is served on a large wooden paddle heaped with peewee potatoes, foraged mushrooms and chimichurri butter. The rib eye came sliced and with the bone for tasty picking. When we finished all there was on the table was the wooden paddle and a bare rib bone.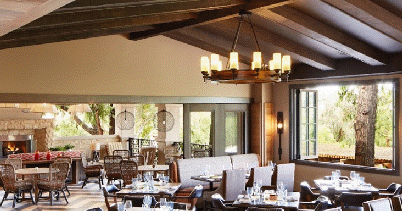 There is a well selected wine list and from it we had the White Hall Lane 'tre leoni' Red Blend from Napa.
The Avant menu also features a 'culinary spotlight' which changes daily. These are always off the menu creations fresh in focus with seasonal ingredients. The night we were there the three courses were a radish and fennel salad, house smoked salmon and a poached stone fruit consomme. For those watching their weight every item includes a count of calories.
The adjacent bar and lounge offers hand crafted libations as well as some special Herradura tequila cocktails. Many years ago we had the privilege of meeting the Herradura family at their estate and know the care that is taken in producing their tequila.
The bar also offers eight craft beers on tap with six of them from San Diego county breweries.
A second bar and restaurant called the Veranda Fireside lounge offers casual fare and beverages for golfers and other guests.
Back to Table of Contents..
Last Update:7/7/16
&copy 2016 Joe Hilbers All Rights Reserved.
Graphic Design by Impact Graphics