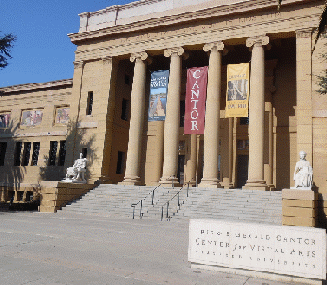 San Mateo--Silicon Valley is the Bay Area's Crown Jewel"
San Mateo's Silicon Valley has become world famous as the place that introduced the new electronic age to the masses. But it also offers much more with its immense diversity, both in its geography, multiple cultures and life-style.
Over the decades we have made many trips to the Bay Area and Northern California but almost everything we did on our three day tour of San Mateo County was new to us. It was truly a tour of both town and country including picturesque farming communities like Pescadero to bustling Palo Alto which shares the headquarters and start-ups of famous companies with the academic fame of Stanford University.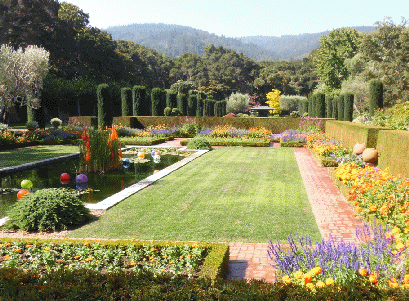 One morning we started our 'As Fresh as it gets Media Tour' with a visit to the Filoli Center located in Woodside. This estate includes a huge mansion surrounded by well cared for acres of gardens. Bob French was our guide as we toured the incredible mansion with rooms seemingly without end. Included is a Center for growing organic herbs and spices and we had a sit down tasting of just what is being produced. The Center has some fifty products including vinegars, seasonings, salts, sugars, teas and dried herbs. It is situated on 654 acres and now has ninety thousand visitors each year.
There were a good many firsts on this trip including our visit to a goat farm in Pescadero. Just getting there was memorable with a scenic drive on Highway One where you pass one pristine beach after another, most with State Park status.
Harley Farms Goat Dairy has been in place for a century but in recent years has been restored with the original barn which now includes a meeting room as well as the equipment for making their prize winning cheeses. Exhibits of cheeses like Garden Chive, Honey Lavender, One year old Feta and Garlic herb Fromage Blane are there for sale.
We had the opportunity to mingle with some of the 200 alpine goats on the 200 acres, many of them most friendly for petting and photo opts, followed by a tasting of the wonderful cheeses.
It appeared to us that the opportunities for outdoor activities are limitless in San Mateo County. We already mentioned the beaches but then there is Pillar Point Harbor with its sport fishing and boating, while just a short distance away Mavericks offering a surf break that now lures surfers from around the world.
Wunderlich Park is located in the mountains that separate the Pacific Coast from Silicon Valley on the Bay. Here we took a short hike on a trail that moves through a forest of redwoods, oaks and madrones. Wild animals are abundant and we traded stares with two black tailed deer. Adjacent is Folger Stable, an historic showplace, still used for horses and also includes a Carriage Museum. The numerous trails are for both hikers and equestrians.
We then left the countryside to embrace the city life of Palo Alto including a stroll on University avenue, which centers the downtown area. This is the hub of the south Peninsula's activities both during the day and especially at night with its many clubs and restaurants. It also is the gateway to Stanford University.
When the Stanford family founded the University in honor of their lost son they purchased so much land that the school still is the largest land holder in the County. Much of the campus is open to visitors and our goal was a visit to the Iris & Gerald Cantor Arts Center. This includes a magnificent historic museum building as well as the Rodin Sculpture Garden. In the museum we viewed a current exhibit on California water that included some truly awesome oil paintings depicting its sources.
Moving further north we entered San Carlos for our own unique version of pub crawling. In the industrial part of the City there is a winery row and here we spent an entire afternoon being able to visit several, all in walking distance. We will cover our forays to wine shops and tasting rooms in a separate Vittles story. But in this area we also visited Devil's Canyon Brewing Company. Since opening in 2001 the craft brews made here have received over 35 awards for excellence. Adam was our host as we tasted four brews, starting with a light pilsner called Beer kidnap, then a red ale named Dedicate Amber, followed by Full Boar Scotch Ale and finally our favorite, California El Diablo. The Brewery is open Friday nights with live entertainment.

Foster City is a unique community, located close to the Bay, with lakes and canals winding through the urban housing. At Foster City Lagoon electric boats are available for rental and here we took to the water with our tour guide and mentor, Stephanie Fermin acting as both Captain and Navigator. As we cruised through the waterways she also thoughtfully provided us with a most tasty box lunch.
Our lodging on this trip changed each day as we moved to different locations in San Mateo County.
Our trip of exploration started with the arrival at San Francisco International Airport aboard a one hour Jet Blue flight. Then a short shuttle to the elegant Hyatt Regency SFO Hotel. On arrival we were met by Joel Alexander, director of sales & marketing, who explained that the hotel had just completed a two year renovation which included a new bar and restaurant.
That evening we dined at the hotel's 3Sixty where we met Executive Chef Bernard Foster who showed us a menu that included Asian influence matched with California produce and products. We started with crab cakes, then a salad with a variety of lettuce. Our entree was a crusted halibut with vegetables including browned red potatoes. Our dessert a strawberry shortcake. Our wines included two 2013 Cabernet Sauvignon, Clos Du Val and Sequoia Grove, both from Napa.
Hyatt RegencySFO is located at 1333 Bayshore Highway, Burlingame, Tele.650 696-2650,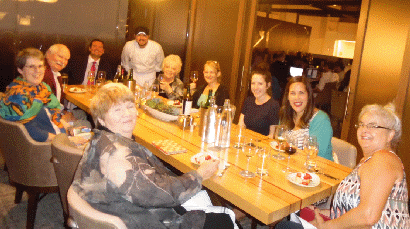 While on the Coast we stayed at Half Moon Bay Lodge which is in the picturesque seaside village of Half Moon Bay. After exploring the historic downtown we checked into the Lodge with its gardenside rooms that included every convenience. It is also surrounded by 36 holes of oceanfront golf.
Once back in Silicon Valley we were introduced to Dinah's Garden Hotel which enjoys an history that includes its seven acres of gardens, tranquil waterfalls and art objects that whisk one to the South Pacific Islands. We were greeted by General Manager John Hutar and after check-in invited to take part in the afternoon's pool party. This included tasty appetizers, cocktails and live entertainment.
What made the scene so remarkable was that it was all taking place just a block from one of Palo Alto's busiest thoroughfares. Dinah's Garden Hotel is located at 4261 El Camino Real, Palo Alto, Telephone 650 493-2844. web.www.dinahshotel.com.
Our last night was spent at the Doubletree by Hilton which was located north of the San Francisco Airport at Brisbane. This small community just south of San Francisco has grown over the years to be entitled "the industrial city". The hotel offers wonderful views of the community as well as sweeping views of San Francisco Bay. Its amenities were most welcome after another busy day in the Silicon Valley. The next morning the hotel's complimentary shuttle got us to SFO in a few minutes.
The Doubletree by Hilton is located at 5000 Sierra Point Parkway, Brisbane, Ca. Telephone 415 467-4400. web.www.doubletreesfo.com.
Last Update: 9/20/16
&copy 2016 Joe Hilbers All Rights Reserved.
Graphic Design by Impact Graphics