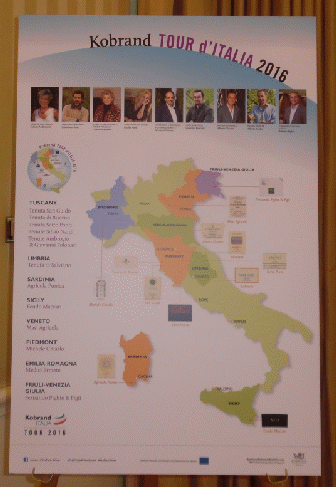 "Beverly Hills--The Kobrand tasting was perfect for meeting Italian Vintners in person"

by Joe Hilbers, Editor
The Peninsula Hotel in Beverly Hills was the place where Kobrand conducted their Tour d'Italia 2016. The event introduced exceptional wines from Toscana in the north to Sicily in the south. For us it was yet another opportunity to continue our research into Sicilian wines as a further look into our Italian heritage.
The winery located at Noto in the far south of Sicily is the work of Antonio Moretti who has enjoyed a most successful career in business and as an entrepreneur. The vineyards have been gathered from local farmers and now include some vines over thirty years of age planted on south facing hillsides. The grapes are local in origin and include Nero d'Avola for the red wines and Grillo for the white wines. Young in age we found both the Feudo Maccari Nero and Grillo exceptional in quality.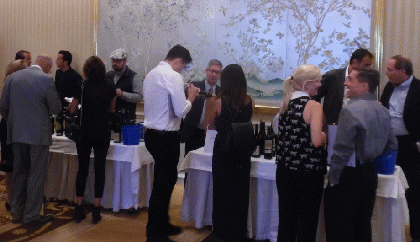 From his Tuscany Winery called Tenuta Sette Ponti Moretti features both Sangiovese and Cabernet Sauvignon vintages.
The Folonari family is famous in Italian winemaking since the 1800s and at one point introduced Chianti in a straw covered bottle under the Ruffino brand. We had the opportunity to meet Giovanni Folonari, son of Ambrogio and the two have turned to producing carefully crafted vintages. Giovanni in no stranger to California since he earned his degree in Enology at the University of California at Davis. The wines include a Brunello under the label Tenuta La Fuja and a Montepulciano under the Torcalvano brand.
We also had the opportunity to chat with Roberto Pighin who has joined his father in operation of Fernando Pighin & Figli which produces Pinot Grigio wines. The Pighin Coat of Arms Rooster appears on the label of every bottle. A second white grape, Cabernet Blanc is produced as well.
One of the things that made the Kobrand tasting so special was the presence of the actual owner or winemaker of the featured wines. We were somewhat awed when we met Sebastiano Rosa for his reputation preceded him to the Beverly Hills tasting.
He graduated from UC Davis in 1990 and since has been associated with some outstanding wineries in Tuscany. Now he is director of marketing and sales for Agricola Punica which are from vineyards in Sardinia. These vineyards are of the Carignano varietal along with Cabernet Sauvignon, Merlot and Cabernet Franc. Agricola Punica includes a team of well known winemakers and most of the wines use Carignano as the main grape in their wines. They are also making a white wine with Chardonnay and a local Sardinia variertal called Vermentino,
We were particularly intrigued with these wines since they were the first wines from Sardinia that I could recall tasting.
Back to Table of Contents..
Last Update:9/21/16
&copy 2016 Joe Hilbers All Rights Reserved.
Graphic Design by Impact Graphics