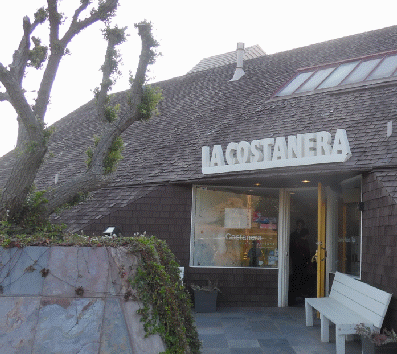 "Silicon Valley--Many were our culinary adventures on the 'As fresh as it Gets' San Mateo tour
By Joe Hilbers
Our dining experiences in San Mateo Silicon Valley convinced us that locals and visitors alike are living well here. And the choice of cuisines shows the depth of culinary diversity that exists on the Peninsula.
Perhaps most dramatic was our dining at La Costanera which is atop a cliff overlooking a dramatic section of the Pacific coast and ocean. This three story building offers scenic views thanks to huge windows and a glass enclosed ceiling. One floor is devoted to a comfortable bar and lounge.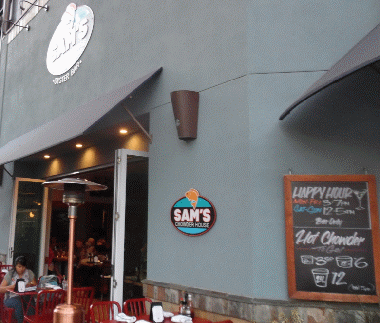 It is located between Pacifica and Half Moon Bay and features an authentic Peruvian cuisine thanks to Carlos Altamirano who brought his knowledge of his South American foods with him to California.
The menu is huge and one is hard put to find anything that is not authentic Peruvian. Here Ceiviches, Tiraditos y Tartare, the national dish of Peru as well as anticuchos of beef hearts, pork belly and chicken. Everything on the menu has Latin names, Seco de Cordero is Lamb shank while Lomo Saltado is stir fried beef tenderloin.
We had the opportunity to chat with Eric Canupp, Director of Operations and Events, as well as Chef de Cuisine Roberto Rodriguez who has ruled the kitchen for eight years. It takes many visits to experience Chef Altamirano's personal interpretation of Peruvian cuisine. Meanwhile the encompassing view of the Pacific Ocean is there 24 hours a day.
La Costanera is located at 8150 Cabrillo Hwy, Montara Beach, Ca. Phone 650 728-1600, web www.lacostanerarestaurant.com.
One evening a visit to Sam's Chowder House and Oyster Bar in Palo Alto put us at the center of bustling excitement that prevails on University Avenue both day and especially at night. Think fish here famed New England and Manhattan clam chowders, an Oyster bar with six varieties of the species, local favorites like Ciopino or seafood Risotto or a whole Maine lobster, steamed or grilled.
We talked with Natalie Warmbrodt, manager, and learned that Sam's also has special events like a Happy Hour and an oyster night. We split an order of fried Calamari with another of our group and then challenged the Seafood Risotto which was a huge portion.
Sam's Chowder House is located at 185 University Avenue in Palo Alto, Ca. Telephone 650 614-1177. Open for lunch and dinner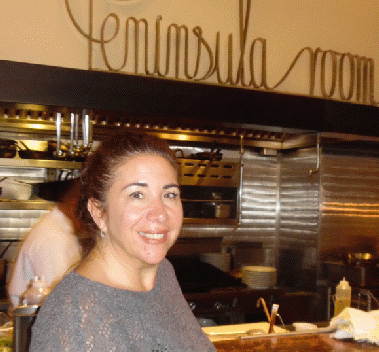 In downtown San Mateo we had a memorable luncheon at Three Restaurant and Bar especially prepared for our IFW &TWA group by Chef and Owner Alicia Petrakis We opened with pork belly bits seasoned with a maple chipotle sauce followed by a mushroom roll with a mango seasoned sauce. Then a salad plate with red watermelon, tomatoes, cucumbers and feta cheese. Our dessert was a Vanilla Bean Creme Brulee.
We quickly noted that Chef Alicia puts her own sauces on almost everything in the inclusive menu. In ambiance and decor Three Restaurant is striking with a eye pleasing colors and space.
Three Restaurant is located at 50 East Third Avenue in downtown San Mateo. Telephone 650 344-9444, web www.threesanmateo.com.
As a youth growing up in San Francisco I must have passed 7 Mile House many times while riding with my parents on the Bayshore Highway en route to my grandparents house in Redwood City. Actually it has been a part of the San Francisco landscape for 160 years. In that time it has enjoyed a storied reputation which is best described as colorful so it is not surprising that I knew nothing of it as a boy.
That is until we celebrated our last evening of our San Mateo tour there. Now it is a family restaurant and sports bar with an excellent mix of Italian, American and Filipino dishes, all thanks to Owner Manager Vanessa Garcia.
Soon appetizers started flowing to our table including oysters on the half shell, sweet chili garlic wings, steamed Manila clams, and sisig lettuce wrap. Then we ordered our entrees. My was a plate called Fishermen Linguini which appeared big enough to find several of the crew.
7 mile House is a most happy place with the feel of a neighborhood bar and with live entertainment nightly. It is located at 2800 Bayshore Blvd., Brisbane, Ca.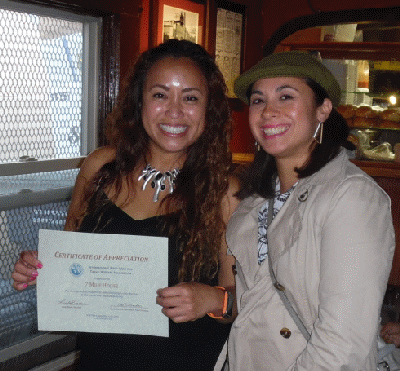 Pasta Moon Restaurant in Half Moon Bay is well named. Many of the first farmers in this coastal area were Italian immigrants and we were happy to discover that authentic Italian cuisine was still present at this restaurant. Pasta Moon is truly an Italian ristorante and has, over 17 years, achieved fame for both its local produce as well as its Italian wine list. Here 50 Italian wines are available by the glass and one hundred wines by the bottle.
For our group of Writers on the "As Fresh as it Gets" Media Tour of San Mateo County a special lunch menu had been prepared. First a Della Cass Salad of coastal greens followed by Ribolita, a classic Florentine bread soup crammed with local vegetables and parmesan. Entrees included Margherita Pizza from the authentic Napoli styled wood fired oven, as well as Tagliatella Bolognese, with milk braised ground pork and beef. Other entrees included Butternut Squash and Mascarpone Ravioli and Pasta Moon Lasagna.
This was hearty fare indeed and all in the ambiance and decor of an Italian country restaurant. The staff was friendly and professional and I chatted with Manager Luis Simenez and then lined up he and his kitchen staff for a photograph. And then promised Luis that I will e mail them a copy of the photo.
Pasta Moon Ristorante & Bar is located at 315 Main Street, Half Moon Bay, Ca. Telephone 650 726-5125. Serving lunch and dinner seven days a week.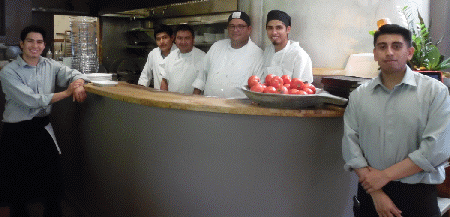 A separate Vittles story will relate our forays to San Mateo county wineries, wine bars, tasting rooms and San Carlos' unique urban wine walk.
Back to Table of Contents..

Last Update:9/18/16
&copy 2016 Joe Hilbers All Rights Reserved.
Graphic Design by Impact Graphics