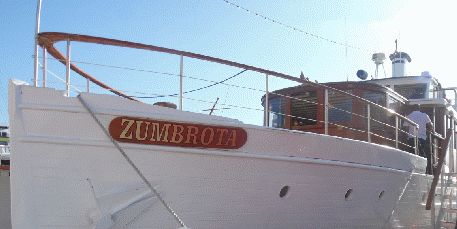 "Marina Del Rey---Hornblower's Sunset Cruise proved to be the perfecf way to spend a summer evening'" By Joe Hilbers
.
When you live in the San Fernando Valley and the temperature reaches triple digits you must be innovative on means of escape. One evening we knew just the place. It was Fisherman's Village Marina at Marina Del Rey where we boarded Hornblower's Zumbrota for a Sunset Cocktail Cruise.
Here we cruised the Harbor, fanned with a delightful ocean breeze, with a serene sense of well being.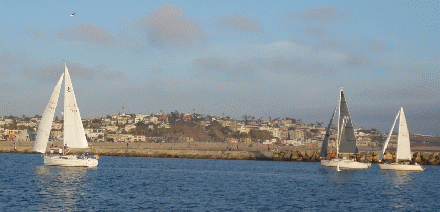 This two hour cruise is complete with a full no host bar and complementary appetizers and a mini buffet of dips and chips. The bar was busy and we depended the ship steward to bring us tasties like sesame salmon cakes and sticks of cheddar cheese, grapes and tomato. Just the thing to go with pesto veggie and tomato basil bruschetta dips. We were impressed with the polite and efficient service staff and especially Christina with her lovely smile and pleasing demeanor
Zumbrota is a roomy ship, at 103 feet in length, with a great history. It was built in 1918 by the Charles Ringling of Ringling Bros. circus fame as his personal yacht and named for the Circus's famed elephant Zumbrota. Later it was owned by Mae West and then during World War 11 passed into U.S. Navy service. There are two comfortable decks for passengers, the top deck open with seating for the best views. The deck below is enclosed with chairs and tables for enjoying the cocktails, refreshments and the appetizers which kept coming and coming. There is plenty of room for passengers to move about
A special feature of these Summer Sunset Cruises is meeting scores of sailing yachts returning from one of their 'beer can sailboat races' which take place during this time of year. There were many friendly waves of hands between Zumbrota passengers and passing yachtmen. We contemplated how in this age of space craft a small sloop depending upon age old wind power could still bring forth such a picturesque scene of elegance and grace.
True to its promise the Sunset Cruise was just that as we watched the sun slip behind a Santa Monica mountain ridge leaving a glow that lasted a long time and even longer as it colored some lingering clouds.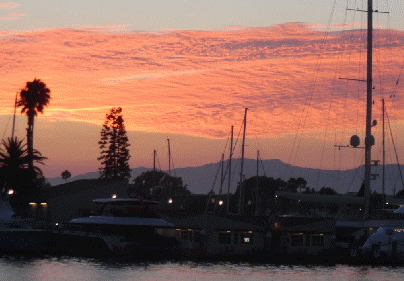 We met with Captain Vic, elegantly attired with uniform and cap, and had a photo opt with him on the bridge.
The "Sunset" cruise at Marina Del Rey takes place each Wednesday evening through September, leaving Fisherman's Village at 6:15 p.m. and returning at 8:15 p.m.
Sunset yacht races are an added attraction with Zumbrota offering a perfect place to view them. We also noted the detachment one immediately gets when on the water and especially the cool ocean breezes so soothing for hot Valley folk.
At Marina Del Rey boarding to Hornblower ships is at Fisherman's Village Marina, 13755 Fiji Way. Cruise parking is validated. For more information call 310 301-9900., web www.hornblower.com.
From Newport Beach the cruise takes place each Thursday evening with same hours.
Back to Table of Contents..
Last Update:7/28/16
&copy 2016 Joe Hilbers All Rights Reserved.
Graphic Design by Impact Graphics