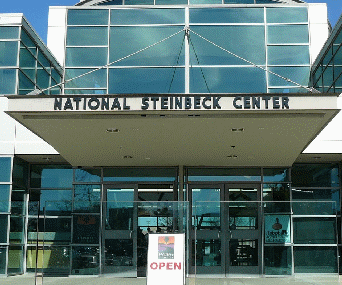 "Salinas, California--Vast changes are taking place in Steinbeck's East of Eden"
.. By The Editor
The fame that John Steinbeck brought to his home town, Salinas, and the one hundred mile valley that shares the name, will always be there through his literary talents. So it was that our exploration of Salinas should begin at John Steinbeck's home which is now a restaurant. We dined with Susan Shillinglaw, director of the National Steinbeck Center, and our elegant dinner will be described in detail later. The house, with its high ceilings and artistic woodworking, immediately takes one back to the late nineteenth century.
Our stay in Salinas was at the Hampton Inn & Suites and it proved the perfect hub for our travels which branched in every direction from the City. We could not have been happier with our accommodations at the Hampton, which is only two years old, and still maintains its newness with its comtemporary artful designs and ambiance. Our suite on the fourth floor was designed for comfort with sofa, desk, a corner with sink, refrigerator for snacks or drinks, and a king size bed.
This hotel and its surroundings quickly told us that John Steinbeck's "East of Eden", as he termed it, is now a much different place.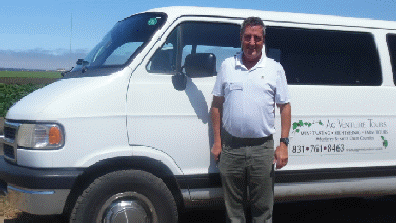 True the endless rows of lettuce, brochlli, artichokes and cauliflower are still to be seen but the City of Salinas is now offers excellent accommodatons, fine restaurants and a large number of activities available both for locals and visitors. The first settlers to arrive in the Valley tended to stay together by nationality, with the Portuguese in Salinas, the Swiss in King City, the Italians further north. All that early identity by nationality is now just a part of history. The Latins that came are now Americans and their children, many college graduates.
Agriculture still rules the region and to learn about this it was our good fortune to meet Evan Oaks, owner of Ag Venture Tour, who conducted us on a Agricultural Education tour where for a half day we visited the 'Salad Bowl of the World', Salinas Valley. Here we learned how crops are always rotated. Each season planted with a different vegetable and that what is not harvested is plowed right back into the soil eliminating the need for fertilizer in many instances. And that there are two crops each year
Harvesting is a mix of hand labor and modern machinery with a "harvest team" that in a field of celery will cut the vegetable, trim it to a specific size, and box it right on site, then loaded into large truck trailers. Each box is coded and recorded with name of team, time of cutting,destination and often the buyer's name. Often the box has a specific color indicating who is the buyer is, we learned that the WalMart's color for its vegetables boxes is black. Once aboard the trailer it is hauled to a plant where it is will be vacumn cooled to a low temperature and then sent on its way to some nation wide destination that same day.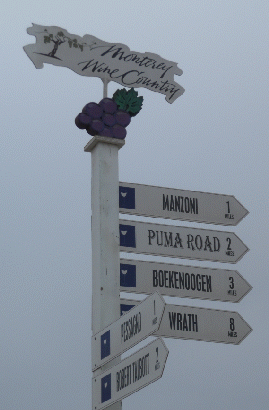 Dollar wise Strawberries are the most expensive crop among the dozens of vegetables and fruits grown in the valley. Monterey County is the largest grape growing region in the nation and now has six appellations for its wines.
Our tour started at Pezzini Farms where we learned how artichokes are grown, then sorted by size and packed for shipment. Also that the valley is the artichoke capitol in the nation. The tour ended at the Salad Shoppe where we feasted on some of the produce like that we had just seen being produced in the field.
It was at a tasting , some years ago, conducted at a restaurant in Costa Mesa that we first learned about the exciting wines being produced in the Santa Lucia Highlands. So it was with much anticipation that we visited Hahn Winery, which was one of the pioneer vintners in what is now a most respected wine appellation. Now vineyards stretch for miles on the flanks of mountains on the sides of Salinas Valley with twenty nine wineries in all. And now has its very own River Road wine tour with eleven wine tasting rooms.
At Hahn the vineyards are mostly planted with Chardonnay and Pinot Noir and much of its 400,000 cases of wine each year are in these two varietals. We toured both the vineyards and winery at Hahn with Jose Duran as our guide. There are one thouseand acres of vineyards, almost all on hillsides. In the barrel room we had the opportunity to chat with Paul Clifton who has been winemaker for fourteen years and learned that almost all the wines are aged in French oak barrels. And tasted two 2013 pinot noirs, each from different vineyards.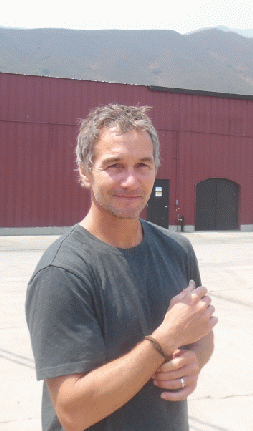 The Hahn tasting room includes a delightful deck and, thanks to its hillside location, offers a stunning view of much of the valley. Here we enjoyed a delightful lunch al fresca with sandwiches, salads and brownies for dessert and of course some exceptional Hahn vintages including a 2015 Riesling.
Adjacent to the tasting room an extensive patio, shaded with huge oak trees, and also offering the excellent valley view. In summer it is the site of a concert series.
Our visit to Mission Nuestra Senor de la Soledad offered a time for reflection and opportunity to relax from some of our more demanding explorations. Its location in seemingly isolation fits its name which means solitude. It is adjacent to the Salinas River and the view is of a rolling countryside. Its rural location offers one a sense of peaceful beauty. It was founded in 1791 and was in ruins when restored in 1955. The restoration seemed to us perfect as we sat in the chapel enjoying the sense of being a part of the many generations that had been here before. It is located at 6641 Fort Romie Road in Soledad.
The city of Soledad has its place in history beginning as a station on the railroad in the 19th century and the start of its economic life as an agricultural center.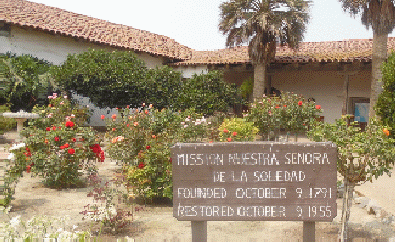 One afternoon we moved south to King City which has a most interesting history as being where some of the first plantings of wheat were made in the late 19th century. This is also the setting for some of John Steinbeck's novels and we were there to visit the Agricultural and Rural Life Museum located in San Lorenzo Park.
The main building of the museum was originally the barn of an early dairy farm and now houses a wonderful collection of old cars, wagons and examples of early King City including the post office, general store and Olsen Blacksmith Shop. One exhibit chronicles the first settlers to King City, Swiss immigrants who first attempted dry farming and then moved to dairy farming.
On the grounds is the La Gloria School which was first built in 1873 near Gonzales. In 1980 it was moved to the museum site and today, fully restored with desks, blackboards and artifacts, is perfect for viewing the one room, all ages school room of the past. The museum has six buildings on its grounds and also includes the original King City Train Depot which was built in 1903.
The San Lorenzo Park was the perfect setting for this museum and is itself a tree shaded sanctuary.
On our Salinas adventure we took Amtrak's Coast Starlight from the Simi Valley Station to Salinas and enjoyed every minute of the trip. There is much to see as the train faithfully following the seashore for much of the way. In fact places like Point Conception and Vanderberg Air Force Base cannot be seen any other way as no public roads are available.
Our own coach seats were most comfortable and on the second level high enough for excellent viewing, and the observation car was also available. We left Simi Valley at 11 a.m. and was in Salinas at 6 p.m. The Coast Starlight continues all the way to Vancouver, Washington.
Back to Table of Contents..

Last Update:8/12/16
&copy 2016 Joe Hilbers All Rights Reserved.
Graphic Design by Impact Graphics