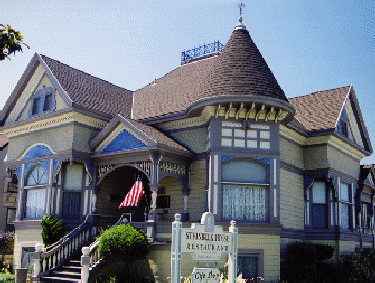 Salinas, California--The Culinary scene shows full use of the bountiful products grown there .
.. By Joe Hilbers
It is hard to imagine that chefs anywhere have better access to local products of every kind than in Salinas, California. The Salinas Valley has many names, Author and local citizen John Steinbeck called it "East of Eden", its been called America's salad bowl but we like 'Horn of Plenty". The reason is that the region enjoys fame, not only for its produce, but for its livestock from surrounding ranches as well as some of the best wine country to be found anywhere.
Our culinary experiences in Salinas proved that the chefs do know their business and take full advantage of what they have to work with.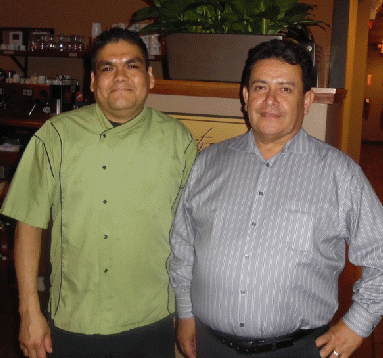 One evening we were at Giorgio's located in Salinas's original downtown. The restaurant occupies what was formerly a bank and if you doubt this just walk downstairs to see the steel vault and safety deposit boxes.
Chef Gerardo Juarez shows an exciting and very large menu with starters like Oysters Rockerfeller, Carpaccio, Bruschetta and our choice, Calamari which included fried zucchini sticks. A bone in rib eye, all 16 ounces, is featured along with a Osso Bucco Dagnello, Moroccan chicken and Sriracha salmon. There are seven pasta dishes and five specialty pizzas. We followed the calamari with the blackened chicken bacon artichoke pizza, so big we were asking for help from all my dining companions. Our wine was Hahn 2013 Pinot Noir.
We tracked down General Manager Primo Rodriguez to tell him how impressed we were with everything about Girogio's, the decor, ambiance, the cuisine and especially the efficient wait staff. < P>Giorgio's at 201 Main Street in downtown Salinas is open daily. For more information call 831 800-7573, web www.201complex.com.
Our first dinner in Salinas was at the home of John Steinbeck which is now a restaurant, generally reserved for special events. Our dinner opened with a classic green salad loaded with local lettuce and tomatoes. Following was chicken breast stuffed with cheese and a much admired flavored rice. Dessert was fresh berries. Our wine a Lockwood 2013 Pinot Noir. ,P.At Steinbeck House the servers are volunteers and we had to go to the kitchen before leaving to compliment three of them on their outstanding efficient and friendly service.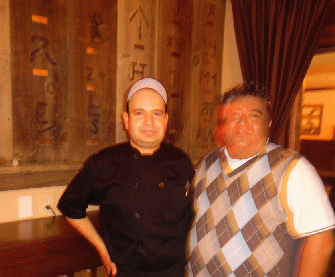 When we visited Growers Pub Steak House one evening we wished we had worn our cowboy hat. For this restaurant takes you back to the time when farmers and cowboys were much in evidence in the Salinas Valley. Some walls are decorated with the brands ranchers used to identify their cattle, Other walls lined with photos of the rodeos that took place annually in Salinas.
The menu here is designed for people with healthy appetites with a wide range of selections. Appetizers list Grlled Artichoke, BBQ Pork sliders, Coconut Shrimp and Tuna Tartare. Besides steaks the entrees include Calamari steak, slow roasted prime rib, boneless Pork chops and Chicken Marsala. We chose the filet mignon and it arrived medium rare just as we ordered it surrounded by seasonal vegetables. Our wine was from a local winery, Mercy 2013 Pinot Noir.
The dessert menu developed some hard choices for us. We love bread pudding but in the end the Tiramisu won the day. We met with Chef Nino Ventura and General Manager Victor Espinoza to learn a little about their backgrounds and to compliment them on what we rated as a five star restaurant. Growers Pub Steak House is located at 227 Monterey Street in Salinas. Telephone 831 754-1488, web www.growerspub.com.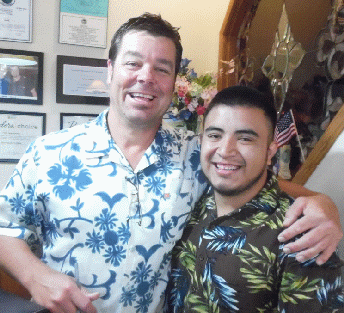 First Awakenings is one of those restaurants that consider breakfast as the main meal of the day. At least that is the impression a look at the menu presents. The selections give the impression that the diner leaves with many hours of hard labor before him. Since we were not planning on rounding up cattle the rest of the day we ordered the French Toast.
First Awakenings is located in a stately building, from on earlier era, in Salinas historic downtown. We introduced ourselves to Proprietor Christian Ulrich who told us he has been starting folk with a hearty breakfast for twenty two years. First Awakenings is located at 171 Main Street in Salinas, telephone 831 784-1125 with a second location in Pacific Grove.
At Cherry Bean Espresso Bar & Roastery we had the opportunity of watching exotic coffee beans being roasted and then ground in a machine that looked like something from an early Sci-Fi movie. Owner Todd Williams told us that about 17 varieties of beans from several countries are available at Cherry Bean which has been serving fine coffee to folk in Salinas for twenty two years. Cherry Bean is located at 332 Main Street in Salinas, Telephone 831 424-1989.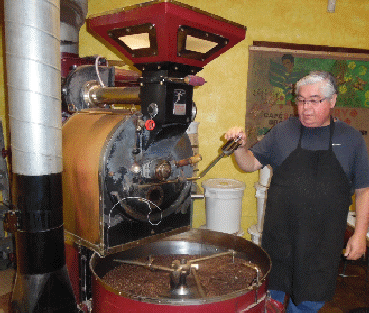 Just about everything that is grown in Salinas Valley and much more can be found at Josh Gentle's Salad Shoppe. We were there for lunch one day with a throng of locals moving along past row on row of salads and a host of other tasties. For Veggies it was a dream setting. It is located at 1138 S. Main Street in Salinas, Telephone 831 422-9600.
Our stay at Hampton Inn and Suites was a truly enjoyable experience. Elegant is the only word that describes the dining room adjacent to the free breakfast facility. The self service room was perfectly arranged and each morning we were there some items of food were new including the hot breakfast and the choice of pastries. The dining room is well appointed with comfortable chairs. And we appreciated the free daily newspaper as well. The Inn has one hundred five rooms and our suite was complete with amenities.
Hampton Inn and Suites is located at 523 Work Street in Salinas just off the 101 Highway. Telephone 831 754-4700.
Back to Table of Contents..

Last Update:8/12/16
&copy 2016 Joe Hilbers All Rights Reserved.
Graphic Design by Impact Graphics