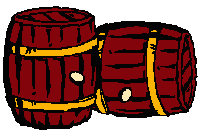 Mendocino County--There was much to see and do at their annual 'Wine Affair'"
By The Editor

After attending the Eighth Annual Mendocino Wine Affair we decided that the folks up in these parts, the northernmost wine growing region in the State, sure do know how to throw a party. And a regret on our part that somehow we had missed the first seven Festivals.
Do cowboys drink wine? Well they certainly do good wine as was proven at the Western Wine Round Up which was a gala part of the Mendocino Wine Affair. Held at Parducci Wine Estates in Ukiah local vintners showed their best vintages in an evening with camaraderie, good food and drink, a talented Country Western band and a wine auction as a closer.
Several local non profit organizations including agencies for public health, domestic abuse and search and rescue benefited from the festive event. The wine flowed at the tastings booths and the dinner table which featured a menu of BBQed Tri Tip, both red and white penne pastas, green salad in Balsamic vinagrette and garlic bread. Placed before us at dinner were bottles of Dunnwood 2002 Pinot Noir and Cowboy Red, certainly appropriate for the evening ,which was a blend of Zinfandel, Petite Syrah and Carignane.
Some sinister outlaw types appeared before dinner and amused themselves and onlookers with their shootin' irons, fortunately for target practice only.
Then Fred McCarty struck up his talented group of country western musicians for some downhome country western entertainment. Besides making a name for himself as a singer and country western song writer McCaty is a classic guitarist.
If all of this sounds like the making of an outstanding evening it was just that. This event has been held annually by the Mendocino Winegrowers Alliance and its director, John Enquist, with generous support from local businesses. Another evening The Mendocino Garden Affair took place at Fetzer Vineyards Valley Oaks in Hopland.
This opened with the Mendocino Bounty Wine & Food sampling where people strolled from compound to compound to taste the wines and appetizers that matched them so well. In our investigations we spent a good deal of time at the sparkling wine and oyster booths. Here we were served those sparkling wines made in the Anderson Valley appellation which many believe produce the best champagne style wines in California thanks to its remarkable terrior for chardonnay and pinot noir.
Here also was John Burkhard of Hog Island Oyster Co. shucking oysters from Tomales Bay. While at work John explained the two species of Japanese oysters being shucked and of course we felt obliged to sample these at some length, carefully noting the differences in flavors between the two types. This took so much time that at one point we were required to make a second trip back to the gentleman pouring the sparkling wines.
Our research finished here we then picked up on the brisk live auction with Fritz Hatton holding firm as auctioneer. Concluding this memorable evening was the dinner party with gaily decorated tables stretching in all directions in the perfect setting of Fetzer Gardens.
Besides it elegance this party also offered much nostalgia for many who attended since it was the last scheduled event to take place there. Recently Brown-Forman Distillers, Garden owners, announced the permanent closing of the Gardens, tasting room, bird filled ponds, rows of vegetables and stately trees and, I am sure, for many a place of many happy memories.
Fifty Six Wineries
Our attendance was also a wonderful learning experience on what is taking place in the State's northernmost wine country and surely the most scenic as well. There are now eight appellations in Mendocino and they cover everything from fog bound coastal regions to wooden ridges and lush valleys inland.
In this vast area there are 56 wineries, most of them family owned. Pacific Star Winery on Highway One, north of Ft. Bragg, takes the title as the northernmost winery while southern borders are clustered around the communities of Hopland and Yorkville. Highway 101 goes through the heart of the region as does State Hwy 128 through the Yorkville Highlands and Anderson Valley appellations.
As early as 1850 farmers decided that the County's ample rainfall and lush valleys would be ideal for vineyards. One hundred and ten years later a wine renaissance again occurred in the 1960s as new vineyards, new varietals and new regions proved ideal for producing quality wines.
Besides a dynamic wine industry which offers interesting wine touring Mendocino County has recreational activities and sight-seeing opportunities without end. There are the majestic Redwood forests and miles and miles of untrodden beaches along the restless northern Pacific Ocean.
Our first memory of Hopland was as a youngster as we drove through the community in my Father's 1925 Buick. You will note that this took place several decades ago. In some aspects little seemed to have changed and this feeling was heighten as we checked into the Hopland Inn in the center of town.
Still the West
For Hopland was still a young community when William Wallace Thatcher fulfilled a long held dream and built the Inn in 1890. While keeping the ambiance and decor of the original, today the Inn offers all modern conveniences with 21 guest rooms.
We loved our room which was perfect for a scene from a Hollywood western, complete with lace curtained window looking out on Main Street. We kept looking out the window to see if the posse was gaining on us. All that was missing was a holstered six-shooter and gun belt hanging from the metal bed post.
We decided there was no end to the amount of time we could spend in the Inn's Library, complete with fireplace, original paintings and books lining all four walls almost from floor to ceiling. The Inn has new owners, Tim Gill with Executive Chef Shaun Behrenn as partner. Chef Behrenn is a CTA trained chef who is featuring an organic California cuisine.
We chatted with Innkeeper Tara Martin about the Inn and the changes that have taken place with the new ownership. As interesting as the Library is the Bar, now called a Bistro, with its classic earlier era styled back bar. It is a full service lounge with a worthy selection of Mendocino vintages and a light menu of Chef Behrenn specialties.
The Inn also has a dining room with adjacent patio and a small pool all shaded by a mighty oak that was already full grown when Sanel, now Hopland, was founded in mid 19th century. For Inn guests there is a light European styled breakfast served from 8 to 10 a.m.
The Bistro is open from 11 a.m. to 11 p.m. daily, the restaurant open for dinner from 5 p.m. Reservations recommended for dinner 707 744-1890. For more information about the Hopland Inn check the web at www.hoplandinn.com. For information about touring Mendocino wineries the Mendocino Winegrowers Alliance will be happy to provide you any information you may require.
Their office is located at 525 Main Street, Suite D, Ukiah, Ca. 95482. Telephone 707 468-9886 or on the web at www.mendowine.com. E mail mwa@mendowine.com.
Back to Table of Contents..
Last Update:9/9/06
&copy 2006 Joe Hilbers All Rights Reserved.
Graphic Design by Impact Graphics