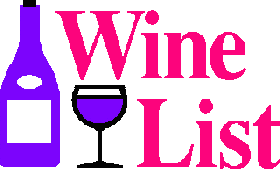 "Quality wines can still be found at affordable prices"
by The Editor's Vineyard
Just about everyone we talk to about wine these days complains about 'sticker shock'. Both at the retail level and especially in restaurants the prices for a bottle of wine seem to reach higher and higher.
There isn't much to be done about prices on the wine lists in restaurants except to "shop around" and do what we often do. Look for a restaurant with a reasonable corkage charge and bring you own selection.
One winery that is holding the line on prices is Fetzer Vineyards. We recently tasted some new releases, all of superior quality, and with only one exception they were priced at $10 or below retail. That one exception was a new varietal for this winery, a 1998 Syrah. And it was priced at $11.
Many California vintners believe that Syrah will be the next Merlot as a red wine leaping into popularity. This vintage could be a incentive for new drinkers of this varietal. Rich in color and a blending of aromas and flavors the wine is hearty but certainly not overwhelming on the palate.
Blended with small parts of Zinfandel, Sangiovese and Petite Syrah the vintage has a smooth finish and should enjoy a long cellar life.
Zinfandel has been a favorite of this writer for a lifetime. After all it was the grape of choice when my father and other members of the family were making wine for their own use during Prohibition.
The grape also enjoys a long history at Fetzer, the first Zinfandel was released in 1968. The newly released 1997 Zin is a very good food wine, complex and with a rich finish. And at $9. a bottle affordable as a wine for every day enjoyment at home. Hearty too with a 14 per cent alcohol content.
Recently we shared a bottled of Fetzer Gewurtraminer with a friend and made a convert. And when we told him he could buy some at $8. a bottle he was ecstatic. Fresh, crisp and clean this 1999 vintage retains all of its varietal fruit flavors and aromas. With a lower alcohol content and a hint of sweetness serve it either as a cocktail wine or with a whole category of ethnic dishes.
More and more vintners are taking pride in producing "single vineyard" wines Jekel started using Gravelstone Vineyard in Monterey County some years back as the source for its Chardonney. It has just released the 1998 Jekel Chardonnay again from Gravelstone grapes and again the vintage has crisp, distinctive flavors and that hint of oak that so many consumers expect in this varietal.
Not only is this a superior Chardonnay but it is also consumer friendly price-wise at under $12.
Not often is the consumer able to buy an award winning wine for under $10 but that is the case with Geyser Peak's 1999 Johannisberg Riesling. This winery has always produced excellent white wines and this riesling is no exception. Low in alcohol it is perfect for picnics, outings and foods of the Pacific Rim.
Sauvignon Blanc is often treated as a poor relative of chardonnay but the Geyser Peak 1999 vintage will change a few minds on that score. It is loaded with fruit flavors both in aroma and taste. Dry to the palate it is a very good food wine but for the thrifty serve it as a cocktail wine.
Some very good Australian vintages are still available at consumer friendly prices. Barwang which is produced in the Coonawarra region of South Australia and some of its wines are now reaching the U.S. The 1997 Barwang Cabernet Sauvignon is an exceptional wine, rich in flavors and tannins but still showing a smooth finish. It is priced under $15. The only 'downer' is there is not much of it.
Priced higher but a very good vintage is the Barwang 1997 Shiraz. This has become almost a signature wine for Australian winemakers and this vintage is very typical of the Aussie style. Shiraz is growing in popularity in the U.S. as a red wine with rich flavors but a softness often lacking in cabernet sauvignon. This vintage is excellent with hearty dishes and should prove popular with those who now favor Merlot as the red wine of choice.
Back to Table of Contents..
Last Update:6/1/00
&copy 2000 Joe Hilbers All Rights Reserved.
Graphic Design by Impact Graphics