Alaska--A Cruise to Remember
By Jim Chilton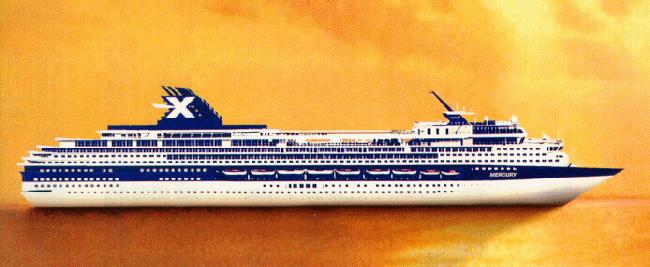 Three old friends and associates fulfilled a long-held desire to visit Alaska this June. With much anticipation, we left Los Angeles International airport via Alaska Airlines, early on a Friday morning. After a pleasant flight northward, our plane landed in Vancouver, British Columbia in mid-morning. Our destination: Celebrity Cruise's Mercury for our voyage through the Inside Passage of southeast Alaska. Since we had paid for a mild upgrade (and our original ticket didn't show it), I was alert to make sure we received our correct cabin assignment. The Agent said we were not assigned to the cabin I expected. Glumly, I prepared to argue. She smilingly said "You don't just have an upgrade .. you have an upgrade!" .. and assigned us a suite. A suite with floor-to-ceiling sliding glass doors that opened onto a spacious veranda with tables and chairs. A suite with, not just a shower, but a Jacuzzi tub. A suite with complimentary terrycloth robes. A suite with our very own Butler! Oh Yes!
Checking into our palace, we found fresh flowers, a bowl of fresh fruit .. two bottles of complimentary champagne (one from the cruise line and a terrific bottle of Taittinger's Blanc de Blanc from our, also terrific, travel agent (Serendipity Travel in Malibu .. which I highly recommend.) On the desk were our own individualized and printed calling cards with our suite number (presumably for inviting guests to tea) and even individually personalized stationery.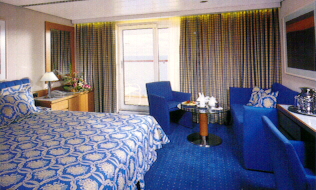 Mercury is the newest (November 1997) "supership" put into service by Celebrity Cruises. 866 feet in length, her beam is 105.6 feet and she displaces 77,713 tons. Big and beautiful. She accommodates nearly 1900 guests and carries a crew of over 900 hundred to care for them.
Wanting to see what waited for us aboard Mercury, we declined our butler's invitation to serve breakfast in our suite; joining our fellow passengers in the main restaurant.
Our first full day at sea, we cruised through the sometimes very narrow channel and wandered the decks to see what all was available. A much too long a list to repeat, but believe me when I say there were plenty of diversions.
High over the bow on the Sky deck was the Navigator Club with its horseshoe shaped fifteen foot high windows offering an incomparable view for our journey. Sunday morning we moored in Juneau and took a bus tour of the town, then headed out the highway to the Mendenhall glacier.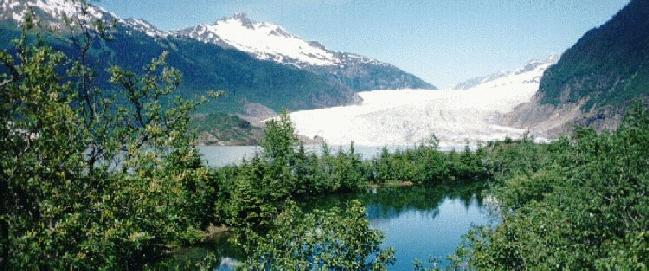 The weather was perfect, the water was blue and the glacier a massive sight. On the way back we toured a salmon fish hatchery. Once near the pier, Fred and Gil opted to shop on the main street while I decided to take a tram up the side of Mt. Roberts. From the top there were hiking trails and a tremendous view of the ships and harbor below, as well as the Fjord through which we had arrived.

Then it was time to dress for dinner. Who could possibly miss the next menu? We sailed in late afternoon, heading down the Gastineau channel. Tomorrow we would arrive in Skagway, our northernmost landfall .. and a chance to ride the 100 year old "White Pass and Yukon Railway", the very same one that been built to bring out gold discovered in the Yukon territory in 1898. We arrived early in the morning in Skagway, Alaska. Our rail excursion started right at the long pier reserved for cruise vessels. Both Mercury and her sister ship Galaxy were moored there. Two sections of the train were on a siding waiting for our boarding. A short trip down the gangway, onto a waiting chair car and soon we were on our way. Originally pulled by steam engines, the White Pass & Yukon Railway trains now are pulled by diesel engines over the narrow gauge tracks. The railroad was, of course, built to haul out the gold found by those hardy "stampeder's".

The views from the rail cars have to be seen to be believed. Tumbling waterfalls, impossible deep canyons, curves so acute that you can take pictures of your own train from your window. The reoccurring thought prevails; this railway would be terribly difficult to build today. How in the world was it accomplished one hundred years ago? Then your guide tells you; they built it in twenty six months!

We returned to the ship and the ministrations of our butler, Richard, bringing trays of shrimp, smoke salmon and caviar canapes for our enjoyment. Ah, the shipboard life.

After dinner, we had a lot of fun in the Fortunes casino. I, with my usual stubborn streak, did combat at the craps table. Early the next morning, we eagerly awaited our chance to see the Hubbard Glacier. . Only one large ship is allowed in at a time. We cruised very slowly .. I would estimate 5 knots .. the bay was covered with small broken ice and an occasional larger turquoise hued berg. The weather was foggy and very overcast. As the morning progressed, the fog lifted slightly and we could see .. close at hand.. The face of this magnificent glacier stretching across our entire horizon. As we became accustomed to what we were viewing, we also became aware of intermittent muffled booms. As we watched, we finally began to see the huge cascades of ice thundering off the glacier face, hearing, seconds later, the resultant sounds that accompanied them. Mesmerizing. We stood on our veranda .. just outside a warm stateroom with all the perquisites one could imagine .. wrapped in lap robes .. seeing the return to the ocean of ice that had fallen as snow a million or more years ago.

Early Wednesday morning, Mercury entered Ketchikan harbor. The waterfront was alive with activity. Fishing boats and sight-seeing vessels plied the water. Float planes flitted like dragonflies as they moved out for takeoff or returned from a journey. We were blest with great weather; blue sky and billowy white clouds above the crystal clear air. Fred and Gil wanted to visit the sights in the village. I had already decided what I wanted to visit and had purchased my excursion ticket. A bus waited on the pier to drive several other adventurers and me about half-mile to our embarkation point. Exiting the bus, we walked down to a finger dock where our pontoon- equipped DeHavilland Twin-Otter aircraft were waiting. Each carried 16 passengers. We boarded, strapped in, and prepared for our flight-seeing tour of Misty Fjords National Monument, located within the huge Tongass National Forest. The two and one-half hour flight was memorable.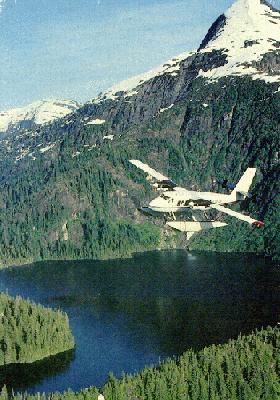 From the moment of takeoff the views were spectacular. As we flew deeper into the forest, the mountains on either side seemed to rise to greet us. Soon we were flying deep through steep gorges. Waterfalls from one lake crashed a thousand feet into another lake below. Solid masses of granite, broken only by patches of snow and gnarled trees that seemed to grow out of the rock, were on both sides. Our plane twisted and turned through these perpendicular canyons of solid granite, then lifted to crest a peak, only to dart down to another hidden lake.

At one point, our pilot dropped down through an ice-filled canyon and we landed on a lake. As we floated serenely on the surface, we were able to exit the plane and stand on the floats. Not a sound could be heard except for the water lapping at our pontoons.

Back aboard Mercury we relaxed over platters of Richard's hors d'oeurve, then started dressing for the Captain's Dinner. Lobster tails, filet mignon, rack of lamb .. there seemed to be an endless list of entrees. By the time dinner was drawing to a close, we all had decided to have at least two desserts .. each. Our waiter Andrew, continued to bring a stream of sweet creations, each more fanciful and tastier than the last. Andrew's ability to anticipate our wishes, then fulfill them, was remarkable.

Thursday was a day for relaxing and watching as we sailed slowly down the inland passage in a southerly direction. One last dinner then time for farewells to our new friends.

The three of us reached a consensus that the entire trip was just about faultless. Celebrity Cruises provided us with a magnificent voyage. Our accommodations were outstanding , the food was superlative, the entertainment was wonderful , and the crew and hotel staff were intelligent, thoughtful; accommodating at every turn. The scenery wasn't bad either!
Back to Table of Contents..
Last Update:09/15/98
&copy 1997 Joe Hilbers All Rights Reserved.
Graphic Design by Impact Graphics