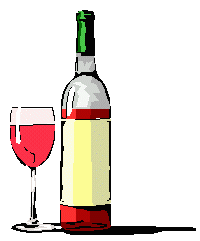 "Amador County and Montevina combine to produce outstanding zinfandels"

By The Editor's Vineyard
Chris Leamy, winemaker at Montevina in Amador County, is a true artist in making his Zinfandels, a fact this Writer truly appreciates since, being a native Californian, Zin has long been one of his favorite varietals.
With the 2004 vintage Chris has something new to show. This was Montevina Terra d'Oro SHR Field Blend Zinfandel. A field blend of grapes, meaning a vineyard interplanted with more than one varietal with the concept of all being harvested at the same time. At the SHR Vineyard the plantings include 80 per cent zinfandel, 13 per cent petite sirah and seven per cent barbera.
Harvested field blends then enjoy co-fermentation. Chris reports that fermenting three varietals in one tank "results in an 'organic whole' producing a wine greater then the sum of its parts." We admit this was a new concept for us and one with much interest. The result is in the bottle. We found the wine rich with the Zinfandel, still well marked in texture and flavors, but with added intensity from the influence of the other varietals. This is a big wine with 14.5 per cent alcohol and a long finish. Priced at $30 and most worthwhile.
Meanwhile those other exciting Montevina Zinfandels are also available. The Montevina Tera d'Oro Home Vineyard 2004 vintage has been released. This single vineyard Zin is always a special treat and this vintage in no exception. Hearty, full bodied, rich nose and a dominating palate here. Priced at $30 if you can find some.
Also from Chris's kit bag is a new Montevina wine, this a blend inspired by the 'super-Tuscans of Italy. It is called 2004 Terra d'Oro Forte and is a blend of 55 per cent Amador sangiovese and 45 per cent Napa County cabernet sauvignon. Despite its full hearty flavors this vintage enjoys a remarkable smoothness thanks to the sangiovese. Unusual and delightful and priced very right at $24.
Single appellation
Quality and value combine in Trinchero Family wines, many from single appellations. We enjoy sauvignon blanc and the 2005 Trinchero Family bottling of this varietal is from vineyards in the Los Alamos area of Santa Barbara county. Fresh, flavorful from stainless steel, the wine is most fairly priced at $10.
We recently wrote about quality of Lake County grapes and Trinchero too has recognized this with the release of their Trinchero Family 2004 Cabernet Sauvignon. Lake County Cabernets seem to have a quality all their own and this is demonstrated in this vintage. We liked it for its deep color and flavors and also for its $12 price tag. ]
Some California chardonnays have moved away from the oak flavors but a hint of oak still makes for richness and butter quality in the end product. So it is with the Trinchero Family 2005 Chardonnay. This vintage has married fruit from both Santa Barbara and Napa counties and one-fourth of the wine spent a couple of months in new French and American oak barrels. This is a good bottle of California wine and priced right at $10.
Back to Table of Contents..
Last Update:3/10/07
&copy 2007 Joe Hilbers All Rights Reserved.
Graphic Design by Impact Graphics