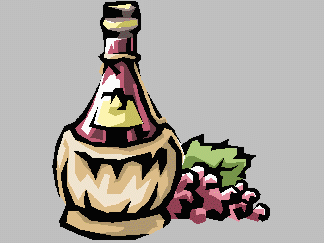 Menlo Park--Angelo Mio pleases with honest Italian cuisine
By the Editor
The first thing that greets a visitor to Angelo Mio Cucina Italiana is an inviting outdoor patio dining area. Inside an Old World ambiance and decor with tables of gleaming white cloth and a most comfortable setting. No pretense here but a menu with classic Italian specialties and entrees.
The Antipasti list includes everything from Bruschetta and Caprese to Carpaccio and Calamari Fritti. Our party of three arrived in early evening with rather light appetites. Happily this menu obliges. Also a caring wait staff. It was our good fortune to have Jack Kolcak as our waiter who was ready with helpful suggestions. Meanwhile we went to work on the home baked warm bread, dipping same in a olive oil, garlic sauce. This was followed by Carciofo Bollito--fresh jumbo sized artichoke filled with seasoned bread crumbs. This brought back memories from when our grandmother prepared this favorite.
Next to arrive was the house salad with mixed greens, carrots, cabbage, onions and house dressing. One of our number preferred sipping on a glass of Pinot Grigio in place of a salad. The wine list comprises both California and European vintages with some excellent Italian labels.
Keeping with our idea of a light supper the orders on arrival included the Calamari Fritti served with tartar sauce, and two pasta dishes; Penne al Carciofi--pasta tossed with fresh artichoke hearts, spinach, mushrooms, roasted garlic and fresh tomatoes. Also Penne con Pollo--pasta with grilled chicken tenderloin, bell peppers, black olives and roasted garlic in a light tomato sauce.
For folk with heartier appetites there are entrees like four veal dishes, a New York steak and five chicken "secondi piatti". There is also a list of daily specials.
Angelo Mio is open for luncheon with a menu of five salads and five Panini, Italian styled sandwiches. Desserts are also classic Italian with Tiramisu and Spumoni and Biscotti, those Italian cookies that you dip in a dessert wine. Prices at this restaurant are modest considering both the excellence of the kitchen as well as the attentive serving staff. All under the careful eye of Owner Emilio Demirkol.
Angelo Mio is located at 820 Santa Cruz Avenue in Menlo Park, open seven days a week for lunch and dinner. For reservations call 650 323-3665, on the web at www.ristoranteangelomio.com.
Back to Table of Contents..
Last Update:12/1/06
&copy 2006 Joe Hilbers All Rights Reserved.
Graphic Design by Impact Graphics