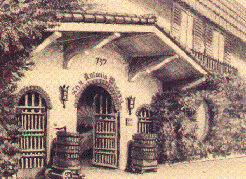 ---
"Los Angeles--The City has its own historic winery offering visitors tours and exciting dining' By The Editor's Vineyard
Add to Los Angeles' many attractions a working winery that ranks among the top 30 California wineries in volume. The winery is San Antonio. It has been part of Los Angeles scene and history for eighty plus years and is still owned by the same family.
For both locals and visitors a bus ticket can take you to San Antonio Square where winery tours, an award winning restaurant and well stocked wine and gift shop are all available seven days a week.
Our host was Michael Riboli, a fourth generation family member. A graduate of Georgetown University he majored in business administration and is responsible for marketing in the business which has several facets. His older brother, Anthony graduated from University of California at Davis and is winemaker.
Besides the winery there is Maddalena Vineyard Brands which is an importer and distributor of many international brands besides their own wines. As a wine distributor in Southern California Maddalena represents famous wines from France, Italy, Germany, Portugal and Spain as well as vintages from Australia and New Zealand.
San Antonio is, in every way, a full production winery producing both table and dessert wines. The grapes come from the state's most prestigious regions including Napa, Sonoma, Monterey and Paso Robles.
The wines are marketed under several labels, fitting most of the most popular price categories. The Maddalena wines are from the Central Coast; Monterey and Paso Robles. Also wines under the San Simeon label. Riboli Family Estate wines are from vines in Napa, Sonoma as well as the Central Coast.
Besides touring the winery visitors can enjoy the excellent Italian styled foods served at the Maddalena Restaurant . There is a full menu of soups, appetizers, many pastas and nine chicken entrees, fine seafood dishes and a range of steaks and an Italian traditional, Oso Buco.
The restaurant is open daily from 10 a.m. to 6 p.m., closed only for major holidays. There is ample free parking. Recently Maddalena at San Antonio winery was presented a Silver Award in the Italian category by the Southern California Restaurant Writers.
My luncheon at Maddalena was a huge plate of Linguini With Scampi while Michael ordered the homemade Ravoli. Being young and of good appetite he finished his entree but I only got through about a third of my heaping dish. During lunch I had the pleasure of meeting his mother, Joan and Grandmother Maddalena, who started the restaurant almost two decades earlier.
Later on our tour of the winery and bottling line I had the opportunity of meeting his brother, Anthony and his Father, Santo. Like we stated earlier this is indeed a family enterprise. The San Antonio Winery was started in 1917 by Santo Cambianica who then brought his nephew, Stefano Riboli into the business in 1936.
The San Antonio Winery was one of the few California wineries to survive during Prohibition. The founder kept the winery in business by selling altar wines to the Catholic Church and medical wines to drug stories, both legal under the Prohibition Act.
Now the winery has 120 employes and looks to a bright future. San Antonio Winery is located at 737 Lamar Street, just a block from North Main Street, in downtown Los Angeles. For more information on dining, wine tours or wine classes call 323 223-1401 or go to the web at www.riboliwines.com.
Fun Wines From Napa
Folie a Deux Winery in Napa Valley likes to do things a bit different with their Menage a Trois wines using unique blends to achieve that end. We like both the concept and the wines. The 2005 Menage a Trois White Wine called simply a "California white table wine" on the label is a distinctive blend of chardonnay, muscat and chenin blanc. Done completely in stainless steel the wine is full of fruit flavors, light and refreshing on the palate. After our tasting we placed the bottle in a safe place for our next picnic or outing.
Just as interesting is the Menage a Trois 2005 Rose. Here is still a more startling blend including two red grapes, Merlot and Syrah with Gewurztraminer. Blending many varietals together is an art that has existed in Europe for centuries but still not widely practiced in California. Pink in color the wine shows crispness and the unmistakable spice of the Gewurztraminer. It fun to move away occasionally from the usual and this is just what these two wines are all about. All this proves that Winemaker Rick Oberschulte likes to march to his own drum.
We read recently that of all celebrities of past generations Marilyn Monroe is still the most popular and most sought after for advertising and promotion. Proving this point is Nova Wines which has just released the twentieth vintage of Marilyn Merlot. The photo of the late Star is striking on the label and Winemaker John McKay has continued to use all Napa Valley grapes in these vintages.
The 2004 Marilyn Merlot is a blend of 90 per cent merlot and 10 per cent cabernet sauvignon and has enjoyed 12 months in small oak, one fourth of them new barrels. The grapes are from two vineyards in the Valley between St. Helena and Yountville. For sure many will buy this wine as a collectable but we were more interested in it as a true merlot. This it truly is with all the mellow flavors and soft palate which makes this varietal so popular. It is a very good bottle of wine. P>
---

Back to Table of Contents..
Last Update:6/15/06
&copy 2006 Joe Hilbers All Rights Reserved.
Graphic Design by Impact Graphics