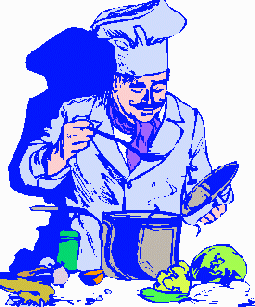 "Cerritos--Pacific Rim cuisine as 'art form' at Arte Cafe"

By The Editor
.
One of the marvels of living in Southern California is the discoveries that can be made just a hour or two drive from home.
Until recently it had been literally years since we were actually in Cerritos despite driving past innumerable times on one of the three freeways that crisscross it.
Impressed best describes our recent visit to Arte Cafe located in the sparkling Town Center Complex that has brought Cerritos a new identity. We knew about Arte Cafe and its owner-chef Richard Alm by reputation as a leading chef and restaurateur as well as his standout Cafe Camellia in nearby Bellflower.
We have to thank Doris Crandall and her Academy of Culinary Professionals for our recent dining experience at Arte Cafe. Chef Alm was personally on hand to prepare the memorable six course dinner. At Arte Cafe Chef Alm shows a Pacific Rim style menu that also displays his early training in French cuisine.
First course was a blackened salmon and Ahi Sushi tower. Each course had its own wine with Todd Roberts of American Wine & Spirits describing each vintage. With the salmon our wine was a classic Monterey 1999 Riesling by Paraiso Springs.
Next to arrive was a Lotus root wrapped with shrimp mousse and ponzu sauce accompanied by a Moonstone infused sake with citrus flavors. With a seaweed salad with sashimi our wine was a Guenoc 2000 Sauvignon Blanc. A 1999 Clos Du Val Pinot Noir from Napa's Carneros was the vintage served with a Moscovy duck breast served with peppercorn. The wine drinkable now but with the promise of a grand future with more bottle aging.
To accompany all this dissipation we had Ernie Halter entertaining us with his guitar and vocal arrangements.
Unbowed we moved on to our Flat Iron steak with a sake demi. Here we had a most interesting South African wine by Rupert & Rothschild. A 1998 vintage the wine was called Classique and a blend of cabernet sauvignon and merlot. A bottle to give added respect to South African wines.
Long past sunset and after our green tea and ginger ice cream served with mixed berries we finally found our way onto the Santa Ana Freeway and, with the knowledge that we had dined well indeed, headed for home.
Arte Cafe is located at 12741 Towne Center Drive near the Cerritos Performing Arts Center. Contemporary in decor and ambiance the restaurant is open for lunch and dinner seven days a week, seating for 80 inside and another 80 outside on an attractive patio overlooking the Towne Center mall.
Chef Alm has an extensive menu including homemade soups, pastas, and seafood and meat entrees. Some dishes show an Asian influence, others can be called classic French or Continental. There is a full service bar and a fine wine list of over 150 labels.
To check it out on the web the url is www.cafecamellia.com/artecafe.
Back to Table of Contents

Last Update:6/1/02
&copy 2002 Joe Hilbers All Rights Reserved.
Graphic Design by Impact Graphics