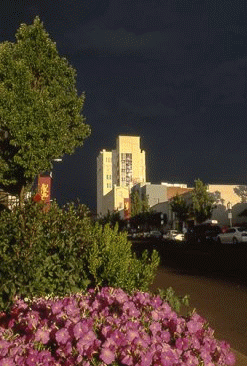 "Ashland, Oregon--So much to do, so little time

by Jeanne Bartlett
In October the International Food, Wine and Travel Writers Association (IFW&TWA) held a Southern Oregon Regional Conference in the city of Ashland. I was one of the fortunate participants. Ashland was the hub from which we took trips to both the costal region and the Crater Lake/Klamath Falls area.
Our first experience of Ashland was a ride on a small bus just a few blocks down Main Street and then back down Lithia Way. From this short tour, we could see many of the city's attractions. My hotel key read, "Come Play at the Plaza" – which turned out to be quite apt. From the Plaza Inn & Suites at Ashland Creek, I could walk a few short blocks and see Ashland Gallery, the Schneider Museum, have a spa day, go boutique shopping or take in a play at the Oregon Shakespeare Festival building.
The opening reception of the conference was held at the Ashland Springs Hotel. This hotel has the charm and feeling of a small European venue, being tastefully elegant but also having the friendliness of an inn. Wine and appetizers were served in the hotel's palm-filled conservatory and the weather being so delightful, we were able to move outside to the adjacent English garden and courtyard. After the reception, we were transported to the Peerless Restaurant, located in Ashland's Historic Railroad and Gallery District. The chef, Mark Carter, walked us through the timely changes he has made to the menu. Besides an impressive array of steaks, chops, pastas and seafood, he now features small-plate samplers for those who wish to enjoy a more economical dinner but still have foods that capture the flavors of the seasons and essence of the Rogue Valley region.
For our first course at the Peerless, we were able to try the small plates of Korean-style short ribs, lamb meat balls, duck with bleu cheese, Ahi tuna, and pistachio-encrusted grilled chicken. You had to be careful to balance enjoyment of these dishes and keeping in mind that there was a second course, an entrée and dessert still to come! A hard choice for the second course was Heirloom Tomato Salad or Tomato and Orange Soup – as they both contained fresh, local produce. The chef had hoped to offer us an Oregon choice for the fish course but had to substitute a Grilled Hawaiian Kajiki (similar to blue marlin) which had been flown in that morning. Two steaks were on the menu: a Dry Aged New York or Natural Filet Mignon with a Pinot Noir Demi-Glace, the latter being noted as the specialty of the house. No wonder, the filet was superb! The dessert was a seasonal Pumpkin Cheesecake with Gingersnap and Nut Crust by Pasty Chef Jolene Petty.
This wonderful cavalcade of food was accompanied by wines from Weisinger's of Ashland. The family-owned and operated winery is located just minutes from Ashland. The grapes are grown in the Rogue Valley. They ripen slowly in this climate and develop unique flavors and aromas. The grape varietals are blended in small quantities using the best French, American and Hungarian oak barrels.
The next morning we reconvened our conference at The Winchester Inn, a boutique inn, restaurant and wine bar. It has been named one of "The West's Best Small Inns" by Sunset Magazine. Before we got down to business, we were treated to a breakfast featuring the bounty of Oregon. The first course was a fruit plate of cantaloupe, kiwi, raspberries, blackberries and strawberries with Huckleberry Cream Cheese Pinwheels. We were offered a choice for the second course: Poached Eggs on Crab Cakes with a mango cream sauce, avocado fan and chili oil, Green Eggs 'n Ham Scramble with Prosciutto ham, pesto cherry tomatoes, and fontina cheese, or Pear Mascarpone Crepes with vanilla champagne drizzle and hazelnut brittle dust. Accompanying this were beverages of our choosing: either freshly squeezed orange juice and/or champagne, coffee or tea.
The main speaker of the morning was Michelle D. Godfrey, Public Relations Manager of Travel Oregon, whose theme is "Oregon. We Love Dreamers." Southern Oregon is one of seven tourism regions in the state's marketing program. We were guests of the Southern Oregon Visitors Association, known as SOVA, the lead destination marketing organization. SOVA's goal was to offer our group a culinary immersion experience and a celebration of Oregon's local foods and artisan products. Along with this the association offered unique opportunities to interact with producers.
At that meeting we also were introduced to the Oregon Shakespeare Festival. The Festival was established in 1935 and is the oldest and largest professional regional repertory theatre in the country. The festival season runs from February through October, offering selections from Shakespeare and classic and contemporary playwrights in three theatres: the outdoor Elizabethan Stage, the Angus Bowmer Theatre and the intimate New Theatre. We were to see a play by a contemporary author that evening and a representative was there to give us an outline of the play, and even had the writers present some of the lines to get us into the mood of the evening to come.
Our evening meal was at the Dragon Fly Restaurant where Chef Neil Clooney says, "Be Curious" and offers a fusion of Latin and Asian cuisine that explodes with taste and satisfies the senses. One of the specialties is Char-Grilled Chicken served in four styles. We saw two styles at our table: Asian, which was served with coconut rice, edamame beans and peanut sauce, and the Latin version, which came with black beans, coconut rice and crisp, salted plantains. We met with popular Chef Neil, who took top honors in the Iron Chef of Oregon competition and also was the winner of the Food and Wine Classic of Oregon.
Just a short walk from the Dragon Fly was our last destination of the evening: the New Theatre for a performance of "Breakfast, Lunch and Dinner." The play is a surreal and surprising comedy by author Luis Alfaro. The theatre was designed as a preeminent venue for its most intimate and experimental productions. It incorporates flexible sound and lighting systems. That evening the audience with divided in two parts with the play taking place between them.
On our final meeting day we returned to the Ashland Springs Hotel. After business was concluded, the highlight of the morning was the presentation of a "Chocolate Experience" to promote Ashland's fifth annual Oregon Chocolate Festival March 6, 7 and 8, 2009. The event will be hosted by the Ashland Springs Hotel. The lengthy list of activities includes chocolate, coffee and wine pairings, seminars, cooking classes, chocolate spa treatments, a wine and beer garden, 50% off at the Oregon Shakespeare Festival, and a chocolate makers' dinner. A Chocolate Festival package will be available at Ashland's hotels.
More than 20 chocolatiers will be present at the Chocolate Festival and we were lucky enough to meet three of them. And the best part was: they each brought their product for us to sample! We first met the personable Cary Cound at his facility in Grants Pass, Oregon. There is an interesting story as to how his business began. In April 2001, the store opened but it had its beginning in an unusual Charismas present. Cound was presented with a marble slab by a family member to use with his popular recipe for English toffee. The treat became such a popular item, it started a second career for the former mechanical engineer. His passion for his candy creations is reflected in the transformation from gift giving to friends and co-workers to a thriving business with his products being purchased and shipped all over the world.
Jeff Shepherd is owner and founder of Lillie Bell Farms. His establishment is located in Central Point, Oregon, at the entrance to the Applegate Valley. He is dedicated to making the finest artisan chocolates with the finest ingredients he can find. The chocolates are completely hand made using time-honored techniques. (shown at left) When not making chocolates, Shepard is working his two-acre berry farm. Dedicated to organic, sustainable agriculture, no chemicals or herbicides have ever been used on the farm. These pure and natural fruits provide a solid foundation for many of Lillie Belle Farms chocolates.
Our last presenter was Charlie Davis from Harry and David located in Medford, Oregon. They take their chocolate seriously at Harry and David! Anyone who has ever received a gift from the popular store knows they are getting a special treat with the strongest guarantee in the business. Harry and David's success rests on their attention to detail: they pack, stack and finish each gift by hand. Their chocolatiers insist on the finest, freshest ingredients and it shows.
Back to Table of Contents..
Last Update:<12/2/08
&copy 2008 Joe Hilbers All Rights Reserved.
Graphic Design by Impact Graphics