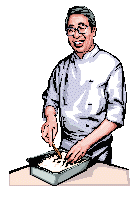 Santa Monica--The 'Eat Asian-Drink Alsace'concept proved an outstanding success"
By The Editor's Vineyard
Does wine go good with Asian food? You bet especially if they are the white wines of Alsace. This we proved by personal taste at a recent visit to Chinois On Main, Wolfgang Puck's Santa Monica eatery. The event was sponsored by USA Sopexa, France's wine information bureau with the title "Eat Asian-Drink Alsace".
Our job as Wine Writers was to judge which wine paired best with each Asian dish. A tough assignment we admit. Two Cremant d"Alsace. sparkling wines produced in Alsace came first. These sparkling wines will fool many a champagne drinker with their dash and quality. They are also far easier on the pocket book.
The wines we selected with each dish were our own personal choice picked from the 13 wines placed before us.
Our first tidbit was warm sweet curried oysters in a cucumber sauce with salmon pearls and potato galette with creme fraiche and smoked salmon. The wine we liked best was Lucien Albrecht Cremant d' Alsace made from Pinot Blanc. Price tag $16.
Next to arrive was the seafood dumplings with spicy garlic ponzu sauce and shrimp tempura dipped in a lemon basil sauce. Our favorite wine selection was Albert Boxler 2004 Pinot Blanc Reserve from 35 year old vines. Price tag $23.
This was followed by vegetable spring rolls in a spicy sweet and sour dipping sauce and crab cakes served in a lobster lemongrass sauce. Here we selected the Domaines Schlumberger 2003 Riesling. The wine, dry and palate smooth. Priced at $18.
Still undaunted a dish of braised prime short ribs over a potato puree in a sweet, succulent sake soy glaze was placed before us. The wine we liked best here was Dopff & Irion 2004 Tokay Pinot Gris. Light in aroma but flavor full it matched the food perfectly. Price tag $18.
Advised there were still two to go and so came duck dumplings sauteed in a hoi-sin sauce and potato shumai with creme fraiche and black caviar. Our wine Trimbach 'Cuvee Frederick Emile' 2003 Riesling. This wine enjoyed two years of cellar aging. Price $18.
If you are still with us last to arrive was beef skewers in ginger teriyaki sauce and pork belly in a ceramic spoon with five spices. Since the spice was here so was the wine, Hubel 2004 Gewurztraminer. We love this varietal and it never showed better than here. A completely dry style with classic aroma. Price tag $20.
The food-wine parings were truly excellent. Still another discoverey was the reasonable, modest prices for such quality wines.
Both in the Cremant and still whites Vins D'Alsace offer real value to match superior quality. The marketing campaign for "Eat Asian-Drink Alsace" should be very successful in a country where it is difficult indeed not to find a restaurant featuring Oriental food, no matter how small the village.
Back to Table of Contents..
Last Update:12/1/06
&copy 2006 Joe Hilbers All Rights Reserved.
Graphic Design by Impact Graphics