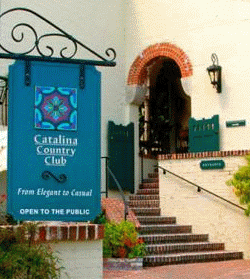 "Avalon--The Catalina Country Club offers a unique and picturesque dining experience"
By The Editor

Catalina Country Club proved to be a memorable dining experience. Originally built by William Wrigley for the entertainment of his Chicago Cubs baseball team it was renovated and reopened in 1997 for the general public and includes a nine hole golf course, cocktail lounge, patio and inside dining room.
We loved the early California architecture and art deco ambiance which has been retained in the remodeling. Kathleen Vopjkovich-Bombard as executive chef heads the kitchen staff. Born and raised on Catalina Island she then graduated from the Culinary Institute of New York and Napa.
At the Country Club she shows a seasonally oriented menu with emphasis on local products and global favors. Our dinner opened with a fresh made Minestrone soup and a selection of hot breads. Then we moved on to the Dover scallops which arrived in a most picturesque presentation: a square plate with colorful black rice, edamame puree and carrot emulsion.
The menu has many enticing appetizers and entrees. We would have liked to try the crab cakes as an appetizer. Other tempting starters included Ahi Sashimi, sesame crusted with pickled ginger and carrot-daikon radish salad; or Lettuce Wraps with natural chicken breast with ponzu, noodles in a sesame ginger sauce.
Other entrees on our wish list included the Sand Dabs Meuniere with a lemon caper sauce and preserved lemon confetti or the Lamb Chops with fingerling potato, dijon crusted and a raisin-pine nut relish.
We also enjoyed a long conversation with Patricia Vican, general manager at the Club. Pat, besides her administrative duties, schedules the many special events, entertainment groups, weddings, etc. held at the Club. On our visit we just missed a wine dinner which featured Chef John Ash whose cuisine as long been identified with California's wine country. Pat also personally manages the club's wine program. We were impressed both with the wide selection of wines but also the modest pricing. Many are available by the glass and she also offers a unique choice of three wine pairings for tastings giving diners the opportunity to new, different and often unusual vintages. All wine are served at the Club in Reidel glassware.
The patio is extensive offerings delightful al fresco dining and is also used for featured entertainment which is held on a regular basis at the Club. Inside the room, with wide picture windows and early California styled fireplace, is perfect for a memorable dining experience.
The Catalina Country Club is located inland at One Country Club Drive in Avalon and open for luncheon and dinner seven days a week. For reservations call 310 510-7400.
Some of our other eating experiences proved interesting as well. We liked the bistro style ambiance at El Galleon which is located on the boardwalk. There is a full bar and lounge as well as tables and booths. It offers a full menu for both lunch and dinner.
One unplanned event enlivened our visit for while enjoying a well prepared fish and chips we were treated to the rock and roll of the 5.4 Chino Hills earthquake. The management assured us this was a one time event.
We liked Original Jack's at 118 Catalina Avenue for breakfast. It includes a bakery and a lavish menu of breakfast and lunch favorites with a well trained service staff.
Back to Table of Contents..
Last Update:12/9/08
&copy 2008 Joe Hilbers All Rights Reserved.
Graphic Design by Impact Graphics