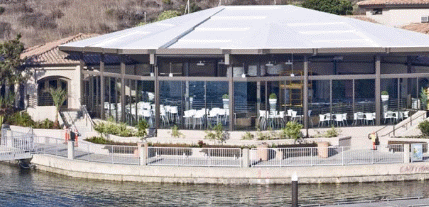 "Newport Beach--Back Bay Bistro is destined to become showplace for Newport Dining"
by Joe Hilbers
The newly opened Back Bay Bistro in Newport Beach is sure to become a destination dining house. Overlooking Upper Newport Bay, flanked on one side by the Ecological Reserve' and as part of the Newport Dunes Resort, this new restaurant has something for everyone.
There is the stunning view of the Bay, a long bar to enjoy the activities of the bay over a cocktail and best of all the contemporary cuisine of Executive Chef Daniel Jimenez with a quarter century of experience in the kitchen. Like the cuisine the ambiance of the Bistro is contemporary complete with a patio enclosed in glass and with a retractable awning to offer an alfresco feel for bar patrons and diners. Think elegance here with black tile floors and comfortable all wicker chairs.
Our evening at the Back Bay Bistro proved to be a memorable affair. Greeted by Andrew Theodorou, V.P. and G.M. for Newport Dunes and Food and Beverage Director Tammy Ford we soon moved on to the delectable appetizers from Chef Jimenez. These included a Spinach and Artichoke Dip with tri-colored tortilla chips, Shrimp and Crab Cakes and Calamari Rings. Choices on the menu were such as to offer thoughtful discussion. We opened with the Lobster Bisque which proved to be one of the best tasted within memory. Our wish list here included the Traditional French Onion soup, another of our longtime favorites. And we looked on with envy as one of our dining partners waded into a Seared Ahi Tuna salad. Another luckless dining partner ordered the Kobe Beef Bistro Sliders and watched the portion shrink from we other "tasters".
Seafood is done equally well here with a Macadamia Nut Crusted Halibut served with fresh asparagus, wild rice and lime cilantro sauce. One at our table ordered this entree and we of course had to taste it as well , also a Lobster and Shrimp Quesadilla ordered by one at our table but shared by all. We can't seem to go for long without pasta so we ordered the Scallops & Shrimp Fettuccini which arrived with olive oil, garlic, julienne vegetables and chipotle cream sauce. Try as we would we could not keep our dining companions but dipping into this dish as well.
Chef Jimenez does not neglect meat dishes on the menu. Char broiled steaks include Filet Mignon, New York and Rib Eye as well as New Zealand lamb chops Pecan Crusted Chicken and Roasted Prime Rib.
We spent some time admiring the wine list which offers an unusually excellent variety of French champagnes as well as wines from many countries. In fact the list is divided nicely with each country enjoying its own heading.
We did find courage to look at the dessert menu. We selected the seasonal fresh berries with vanilla bean ice cream. And then looked on with amazement as some of our fellow diners ordered the Chocolate Thunder, an over sized chocolate cake with whipped cream, chocolate sauce and topped with peanuts. Yes and all had to 'sample' this too.
The Back Bay Bistro has a 199 seating capacity with another private, elegantly furnished dining room for parties of up to 30 people. The Bistro, in winter season, will be open for luncheon and dinner, with a Sunday Brunch as well. It is located at the Newport Dunes Resort, 1131 Back Bay Drive in Newport Beach. For more information on hours and reservations call 949 729-Dune or on the web at www.newportdunes.com.
Back to Table of Contents..
Last Update:12/9/08
&copy 2008 Joe Hilbers All Rights Reserved.
Graphic Design by Impact Graphics