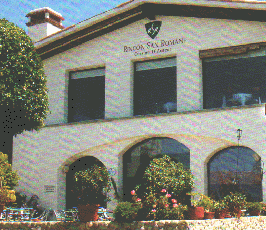 Tijuana--Baja-Med is just one of the exciting cuisines found in this bustling City

by the Editor
We found fine dining an art form in Tijuana and some chefs whose reputation extends past Mexican borders. At Casa Plasencia we found a transplanted bit of Spain with walls decorated with photos and placards of bullfighting. Two mounted bull heads, each missing one ear, showed the might of the animal as well as the skill of the matador.
Caesar salad was first made in Tijuana in the 1920s at Caesar Hotel and has since become popular worldwide. At Casa Plasencia the original made before your eyes tableside is a special presentation that takes some twenty minutes of preparation. And the final event was well worth the wait.
Our entree was also classic Spanish. Parridado Fruiti Di Mar with shrimp, clams, mussels in a marvelous rice. Our wine also from Spain, a Cabernet Tempranillo. Live entertainment was provided by a strolling threesome at tableside. To our evening at Casa Plasencia all we could say was the appreciative 'OLe" of a bullring crowd.
The Plascencia family operate four outstanding restaurants in Tijuana and after our dinner at Casa Plasencia we were invited for after dinner cocktails at Villa Saverios. This restaurant featuring Italian cuisine is awesome, with a touch of the old world in decor and ambiance, and fine art as well.
Chef is Jorge Javier Plascencia Huerta. Here There is an ornate bar and lounge with open beam ceiling. The expansive dining room includes an exhibition kitchen and also smaller intimate dining areas as well as an upstairs banquet room.
Another evening we dined at La Differencia which calls its menu 'Tour Gastronomico" and with good reason. Also with this menu the restaurant offers an artful ambiance and is particularly suited for family dining.
We would call the cuisine at La Differencia much like that of Mexico City. Our 'Tour Gastronomico' included a salad, enchilada, a chicken breast and a bacon wrapped filet. With this we enjoyed three L A. Cetto wines which are from Valle De Guadalupe, only about 50 airline miles from the restaurant. We opened with 2005 Cetto Chardonnay, then a Primavera Vino Rosado made from cabernet sauvignon grapes and with the filet a 2005 Petite Sirah, a varietal that has won the winery some top awards. Our dessert was a stack of the slimmest crepes with white chocolate. Strolling table side musicians completed the scene.
La Differencia is located at Blvd. Sanchez Tabvada No 10611-A Zona Rio in Tijuana. Call 664 634-3346.
If you want a restaurant where the Whose Who of Baja often meet it is La Querencia. This is the handiwork of Miguel Angel Guerrero Yagues, chef and owner and one of the creators of the local cuisine called Baja-Med. This distinctive cuisine is now Tijuana's own and there is no better place to experience it than La Querencia. Chef Miguel is a sports hunter and fisherman and his cuisine is based on provender Baja products in produce, animals and fish.
Our luncheon at La Querencia showed all of this with an array of dishes including salmon, marlin, a calamari cocktail, a duck taco that was a feast as well as fresh oysters from San Quintin Bay. Decor and ambiance is of a hunting lodge with the walls decorated with trophy heads of deer, elk, boar and game birds. And as a gathering place for businessmen and political figures the atmosphere is lively indeed. While there we were introduced to a candidate for Governor.
We also chatted with Chef Miguel and his passion, both for his cuisine and his hobbies, comes through with enthusiasm.
La Querencia is located at Esuadron 201 No 3110 Local Col Aviacion, Zona Gastronomica in Tijuana. Telephone 664 972-9935. WWW.lauqerenciatj.com.
One of the best known chefs in Baja is Martin San Roman and we discovered why this is so. Our late afternoon luncheon at his Rincon San Ramon 'Cuisine D'Auteur located in picturesque Real del Mar went on and on with course after course.
It is located south of Tijuana with a view of the Pacific Ocean and the Coronado Islands standing like jewels on the horizon. Across the street is Marriott's Real Del Mar with its luxury suites and 18 hole golf course. Chef Roman is a graduate of the Academe Culinaire de France and our luncheon (replace with feast) showed the talents of this kitchen.
Starter was a duck pate, then a salad with a Coriander dressing followed by a freshly made tomato soup. Next arrive a chicken breast wrapped in cheese on a bed of pasta. All at our table were ready to stop right thee but then arrived a fish roll of seabass wrapped with spinach, carrots in an avocado sauce, all with an exciting presentation.
Fortunately all of this took place over a lengthy time span with lively conversation and always the tranquility of the artful decor and of course that ocean view. Over time we even had the courage to try the dessert of flam and crepes in a white mousse.
Rincon San Roman is located on the toll road to Ensenada, 19 kilometers south of Tijuana at blvd. Real Del Mar 1074-21. Call 664 631-2241.
The good news is that Chef Roman has opened a restaurant in Tijuana as well called Tour de France. It is at Ave. Cuauhtemar Luy Gob Ibarra # 9730. Telephone 664 686-3868.
Back to Table of Contents..
Last Update:11/22/07
&copy 2007 Joe Hilbers All Rights Reserved.
Graphic Design by Impact Graphics