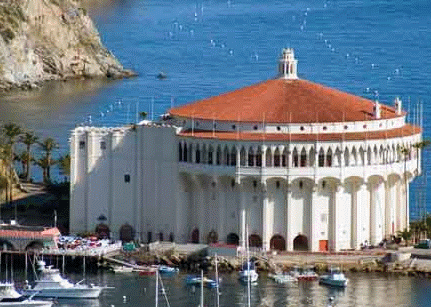 Catalina Island--The look and fame of the Avalon Casino continues as exciting as ever
.. By Joe Hilbers
Our previous trips to Santa Catalina had been decades earlier and always hurried as we were there to cover a specific news event as a reporter leaving no time for more than a quick look at Avalon. On this trip we turned to Discovery Tours to learn and see more of the Island. For openers we made like a tourist and took the one hour Avalon Scenic Tour. This showed that flat land is indeed in short supply and steep ridges, hillsides and ravines in plentiful abundance.
On another day we took the Casino tour. Surely nothing identifies the Island and Avalon more than that picturesque round building that commands Avalon Bay. In an earlier era when radio and big bands dominated the air waves we would listen with rapture broadcasts from the Avalon Ballroom featuring the music of Glenn Miller, Stan Kenton and Tommy Dorsey to mention a few. For us it gave the Island a mystic and dreamlike quality. So at least several decades after first hearing on CBS Radio "From the beautiful ballroom, overlooking Avalon Bay at Catalina Island, we bring you the music of __________" we finally stood at what for us was a magical place. One must say about William Wrigley, when he did something he did it right.
Certainly the Casino (the Italian word for a place of entertainment) is as awe inspiring today as it was when completed in 1929. Built on multi levels there is a huge theater decorated in the lavish style of that era and today as beautiful and well kept as it was upon opening seventy nine years ago.
On the upper level the ballroom is still the largest in square footage of any in the country. As we strolled through this tour the sound system was featuring Ray Eberle singing "Paying the Fiddler with my One and only Heart" to the music of Glenn Miller. Then as we entered the ballroom a drum solo by Gene Krupa as way of welcome. The ballroom once set a record with some 6,200 people attending a concert of Kay Kayser and his 'College of Musical Knowledge". This is just twice the number of local residents of Avalon today.
At ground level the Casino houses the Catalina Museum which provides a most informative history of the Island from its thousands of years as home to native Americans, then discovery by Spanish Explorer Juan Cabrillo and then how it passed through several private ownerships.
Exhibits chart the course of the Island's commercial enterprises from ranching to pottery to big game fishing and a good deal of movie making as well. The Bison herd on the Island are the numerous descendents of 12 that were left on Catalina after a 1914 film shoot.
Transportation is covered with the history of the 'great white ships' that carried millions of visitors to the Island over many decades. And the role of aviation as well including the Island's singular airfield carved from two mountains. Again a project of William Wrigley. Once on a reporter assignment to the Island we flew on one of the famed Catalina flying boats that continued in service until 1981.
The Catalina Island Museum is located at the Casino and is open daily from 10 a.m. to 4 p.m. For more information call 310 510-2414 or www.catalinamuseum.org.
For a listing of all the offered Discovery Tours call 800 626 7270. On the web at www.visitcatalinaisland.com You can get a handy Catalina Island Pocket Map or any other information about the Island by stopping by the Visitor Center located on the Green Pier in the center of Avalon. Call 310 510-7645, on the web at wwwCatalinaChamber.com
Back to Table of Contents..

Last Update:12/1/08
&copy 2008 Joe Hilbers All Rights Reserved.
Graphic Design by Impact Graphics