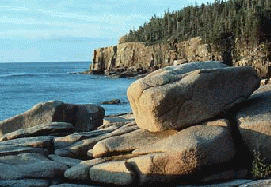 "Bar Harbor is Gateway to Acadia National Park"

By Mel and Ronnie Greenberg
.
The morning mists rise from sleepy hollows revealing trawling lobster boats, elegant schooners and yachts side by side.
Across the mainland on Maine's breathtaking Mount Desert Island, Bar Harbor's coastline bursts with a bounty of fresh fish, while birds call and dart overhead in the tangy salt air. A dramatic craggy seascape rambles along the shore's edge with boulder-strewn coves and granite bluffs lashed by the sea.
And close at hand dramatic Acadia National Park.
This is no ordinary place! Romantic and rugged, the sun-splashed coast with dense evergreens, surrounding pondside paths, and fields of wildflowers, has long been the scene for countless movies and novels.
Like Newport in Rhode Island, Bar Harbor in the luster of the Gilded Age was once high society's favorite summer destination, luring the Astors, Rockefellers, Carnegies and J.P. Morgan.
The Rockefellers endowed America with the acreage which became the gateway to the show-stopper Acadia National Park. Nowhere else is the splendor of the Maine coast more accessible then the Park, right at Bar Harbor's doorstep.
Acadia boasts a rich natural landscape of towering coastal mountains, five large lakes, hundreds of streams and ponds, and a splendid glacier-carved fjord. Elegant stone bridges add to the natural wonder.
The Park contains 62 square miles and nearly 40,000 acres of enjoyment. There are 45 miles of car-less" carriage-roads" ideal for walking and hiking. It is undeniably one of the best places for hiking on the entire New England seaboard and provides unsurpassed opportunities to observe both flora (boreal northern and temperate southern species) and fauna.
Horse and carriage rides are available within the Park. Visitors can enjoy the famous coastal drive along the 27-mile Park Loop Road, take a ranger-led tour, visit the Oceanarium, see the sights from a coastal kayak or aboard a schooner cruise for a whale-watching adventure.
Learn more at www.nps.gov/acad/.
Experience the awe inspiring "Thunder Hole," where ocean swells converge against granite cliffs to create a thunderous roar, see Cadillac Mountain, the highest peak on the Atlantic Coast.
At Jordan Pond House in the Park, take time out for lunch, or tea (at which its legendary popovers and homemade strawberry jam- a century-old tradition-are served). From here take in the excellent view of Jordan Pond and the "Bubbles"- two nearly twin mountains formed by glaciers.
Providing an incomparable experience on par with Acadia itself, this 1903 wood frame shingled mansion, sits on a small promontory that juts into Frenchman's Bay. Originally built for the family of Scottish railroad tycoon Alexander Maitland, the grounds of the secluded, tree-covered property are enhanced by gardens, lily ponds, and pine trees.
The opulent mansion became a lodging property in 1986 with 23 individually decorated rooms and suites featuring ocean views, private balconies and fireplaces. From the beautifully landscaped front yard and classic portico to the opulent entry hall, guests are warmly welcomed. Plush carpeting, gleaming woods, impeccable fabrics, rich wall coverings and distinctive window treatments entice the eye. The inviting salon, replete with a dramatic baby grand piano, is a favorite gathering spot to converse, read or simply luxuriate in the splendid surroundings.
The Inn offers unparalleled proximity to Main Street which is lined with nineteenth-century wood buildings converted into antique shops, fine apparel boutiques, art galleries, and cafes. A bountiful morning buffet and traditional afternoon tea are served in the handsome salon. For reservations and information call: 1-800-753-0494.
The grand dame of Bar Harbor's Historic Inn's, and sister hotel to Balance Rock Inn, the Ledgelawn combines modern amenities with turn of the 20th century ambiance.
This 1904 shingle-style summer "cottage," is one of the last remaining mansions in the Historic Corridor. Once the hub of local socialites, it was the site of many lavish parties and the Inn renders its guests the experience of those grand and gentle times. Guest rooms are decorated with furnishings indigenous to the building, each with their own personality. Mornings, the cozy lounge area features a delicious full European breakfast. A traditional tea and home baked desserts are served in the late afternoon. To contact the Inn call: 1-800-274-5334. Website for both Inns is: www.barharborvactions.com
Bar Harbor is also the departure point for the Nova Scotia ferry. For ferry information and reservations, call 1-800/341-7981
Back to Table of Contents

Last Update:9/1/01
&copy 2001 Joe Hilbers All Rights Reserved.
Graphic Design by Impact Graphics