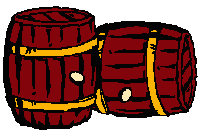 ---
"Winemakers air their views on how the oak barrel effects their vintages' By The Editor's Vineyard
Most wine drinkers are only interested in the quality of the finished product in the bottle. Properly so, but for a few the source of the grapes, the method of fermentation and the choice of the barrel is also of some importance. For these factors do decide what the end quality will be.
The choice of American or French oak is of some interest. To this writer French oak appears to offer milder tannins, a pleasant hint of vanilla and less masking of the natural fruit flavors of the grape. While American oak appears to be more dominating, producing heartier, bolder vintages, more tannins and, to us, wines requiring more bottle aging.
However these are personal views and to see how real winemakers view the selection of barrels we went to the experts.
Don Reha is the new winemaker at Thornton Winery in Temecula. Don acquired a good deal of experience with barrels since he was with Fetzer when that winery started producing barrels in California. He likes American oak for hearty wines like Zinfandel and Barbera, both which he made in Almador County.
At Thornton he uses French oak for his chardonnay. But will probably use American oak for his vintages of Zinfandel and both French and American oak for merlot and cabernet sauvignon.
Don Frangipani of Keystone Winery in Temecula likes French oak for more flavors and the tighter grain of French oak means the wine should receive a gentlier finish.
Nick Palumbo of Palumbo Winery produces estate red varietals and uses American oak exclusively for its aggressive, bold styling of red wines.
There is no doubt that the selection of the barrel can have dramatic effect on the wine. On a visit to SummerWood in San Luis Obispo County Winemaker Scott Hawley took us through a barrel tasting of his Rhone varietals. It was a remarkable experience. We learned again the interesting effects the wood has on the product. We tasted Syrah from two French oak barrels from separate sources. The exact same vintage clearly showed the subtle changes different woods have on the wine.
Occasionally we still hear of the Cucamonga Valley whose vineyards of old are increasingly giving way to subdivisions. Geyser Peak has released a 2002 Zinfandel from the 85 year old Lopez Vineyard in Cucamonga, one of the its Block Collecton vintages. Robust, hearty, an explosive palate best describe this excellent bottle of wine. We noted that the vintage includes five per cent Tannat a grape best known in the French Pyrenees. It was not known to us so we had to consult Alexis Lichines' fine reference tome to learn about it.
The 2001 Merlot from Geyser Peak is from the Alexander Valley, and 100 per cent of the varietal. Sixteen months in French and American oak has given the vintage plush fruit flavors with the mellow character one seeks from this grape.
Reynolds is the Australian wine owned and imported by Trinchero Family Estates. The Reynolds wines now show a new label on the recently released 2002 vintage of Reynolds Shiraz. The Aussies have made the Shiraz grape one of their signature varietals and continue to produce wines offering intense flavors, lush fruit and a long finish, all showing in this Reynolds vintage. Somehow the Assies can produce intense wines from this varietal without boosting the alcohol content which seems to be a trend, unwelcome to this Writer, in California. This vintage is at 13.5 alcohol. .
We also like Reynolds 2002 Cabernet Sauvignon. Reynolds vineyards are located in the Orange region of New South Wales, considered Australia's coolest grape growing area. This bottling has good cabernet flavors but also a softness on the palate. Both represent good value at under $10.
For everyday value it is hard to beat two $5 wines released by Bronco. The 2003 Crane Lake chardonnay is by Winemaker Larry Rocha and offers lots of fruit and a light finish. Nice at the dinner table at 12.5 per cent alcohol. Also the 2001 Dona Sol Cabernet Sauvignon. Again at 12.5 alcohol Winemaker Stephens Moody has a vintage that is smooth in texture and shows fruit and a mild finish. Goes nicely with pasta, both in making the sauce and then at the dinner table which is how we used a bottle.
Sometimes we believe wine is taken too seriously. True it is a serious business for the vintner and grape grower but this need not carry over to the consumer. Which is why we entitled our book,"The Pleasure of Wine". This brings us to Menage a Trois of Napa Valley which enjoys producing wines a little different from everyone else. Take their 2003 California White Table Wine. This is an unusual blend of Moscato, chardonnay and chenin blanc. If you enjoy fruity bouquet and flavors you will love this bottling.
Just as unusual and appealing is the 2002 Menage a Trois California Red Table wine. This is a blend of zinfandel, merlot and cabernet. Each varietal was aged in separate French and American oak cooperage and then blended for a youthful, zesty, flavorful vintage. Just as exciting as the wines are the price of $12.
Not all California Shiraz show that high alcohol content which seems to be coming into fashion. Canyon Road 2002 Shiraz is at a normal 13.5 per cent alcohol. This native of the Rhone Valley likes a warmer climate and the grapes for this wine were sourced from the warmer reaches of the Alexander Valley in Sonoma County. We liked this vintage for its hearty flavors and touches of spice that are so much a part of this varietal.
The 2003 Canyon Road Chardonnay was produced in stainless steel with some oak. The oak is modest and married with the natural flavors of fruit so evident in this varietal. We thought it excellent either as a cocktail wine or with lighter cuisine. The 2002 Cabernet Sauvignon is classic California with berry flavors and smooth tannins. Just right at the dinner table and priced, as with the other two wines, for everyday use at $10.

Back to Table of Contents..
Last Update:12/10/04
&copy 2004 Joe Hilbers All Rights Reserved.
Graphic Design by Impact Graphics