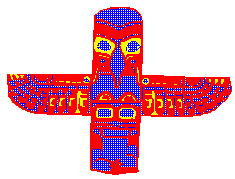 "The Good Ship Coral Princess made for exciting scenes and adventures"
.. By Jeanne Bartlett
What is the recipe for the perfect trip to Alaska; how do you assemble the most outstanding cruise? The best way is to find a great companion, look for friendly and efficient service, find an extensive number of diverse shore excursions to choose from, and then enjoy great fortune with lots of sunshine.
The great person to go with was easy. My daughter, Diana, had never been on a cruise and was so excited about every event and it made me catch her enthusiasm and feel like a brand new traveler. We had different interests and did not always choose to do the same thing and that worked out well. She is an early riser and I like the late hours, but somehow we meshed perfectly.
I had traveled on Princess Cruises before and trusted that the cruise line would be a great choice to provide attentive service. One look at our room and we knew that it had been prepared for us by someone who really cared. That friendly someone was named Cerry Vitto, and he looked after our every need. When we entered our suite the first thing we saw was a magnificent floral arrangement and in front of it was a bottle of Veuve Clicquot Champagne in an ice bucket, with two glasses waiting to be filled. Cerry appeared almost immediately to open our wine and to let us know that we could enjoy it on our balcony as we set sail.
Shore Excursions
Choosing the perfect shore excursions proved to be a gargantuan task. Luckily, my always helpful agent at Camarillo Travel, Judy Van Dyke, provided me with a copy of Alaska Adventures Ashore. The book offered 148 pages of fabulous offerings we could choose to do at our three ports of call – Skagway, Juneau and Ketchikan. Because there are so many choices I strongly suggest perusing the book ahead of time. Princess allows you to book the excursions online.
We struck it rich in Skagway by choosing the Yukon Expedition and White Pass Scenic Railway. It had it all: a trip up the legendary White Pass Trail of '98 on the Scenic Railway, a motorcoach trip through the Tormented Valley, and, best of all, we didn't go hungry! A short bus ride took us from the ship to the train. Once aboard, the Scenic Railway lived up to its name as there were great views of both the valley and river below as we went along. A bonus was the view of the other half of the train on sharp curves. After we crested the summit, we entered Canada. After a very brief customs stop, we traveled by motorcoach through the Tormented Valley and visited the Yukon village of Carcross.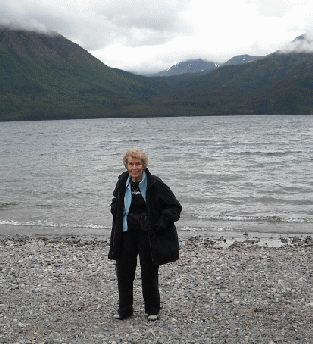 As we traveled, our sharp-eyed driver spotted bears for us so we could continue to enjoy the magnificent scenery. We stopped by Lake Bennett and there in the Canadian wilderness was a sandy beach with small waves lapping on the shore. The only thing missing was the temperature. Although our good weather held, we were wearing jackets to ward off the cool breezes. At the Caribou Crossing Trading Post, we had a wonderful and filling barbecue lunch in a rustic outdoor setting. How they made and served homemade, old-time doughnuts for so many of us was a Yukon miracle. The delightful sugar and cinnamon toppings reminded me of doughnuts a friend of mine used to make years ago. After lunch we visited an extensive wildlife gallery that had assembled a collection of animals indigenous to the area dating back to a restored wooly mammoth. Adjacent to the gallery was a dog sled training facility. The adventurous could take a ride on a sled pulled over dirt by dogs in training. My daughter and I opted to pet the friendly adult dogs and hold the cuddly puppies that would be future sledders.
Back aboard the Coral Princess we sailed to our next port, Juneau. We brought our fair weather with us to our next wonderful shore excursion, a visit to the stunning Mendenhall Glacier. John Muir described it as "one of the most beautiful of all coastal glaciers." What a sight when you first see this massive river of ice – mere typed words cannot begin to do it justice . There is an excellent visitor center where you can explore interactive exhibits and an informative video. From there we traveled to a unique salmon-rearing facility where we were able to learn about this fish, which so many of us love so much. We finished the Juneau excursion in style with a lunch in an Alaskan rainforest. At an outdoor facility we feasted on barbequed wild Alaskan salmon, chicken or ribs, with lots of accompaniments. We were on the banks of a creek and could hear both the sound of the water and the guitar entertainment. After the meal we were free to explore the grounds and visit a waterfall and an historic mine. Then on to the ship!
At our last port of call, Ketchikan, we actually brought the sun which the locals claimed they hadn't seen in weeks. There we chose a tour that allowed us to learn about the Native culture. First we visited a recreated 19th century Alaska village. We saw numerous colorful totem poles, went into a clan house and finally arrived at the carving center, where artisans perfect their craft and preserve stories of their ancestors in these magnificent cedar totem poles. We finished this portion of our tour by enjoying some smoked salmon at the Trading Company. We took a short bus ride across town to the Totem Heritage Center to see the collection of ancient totem poles. In the late afternoon, we journeyed to the Deer Mountain Tribal Hatchery and Eagle Center where an Alaska Native interpreter took us through the life cycle of salmon. In the center we met two American bald eagles, both survivors of accidents. They no longer can fly but are happily housed in an outdoor facility resembling their natural habitat.
Dining
Dining on a cruise has changed quite a bit from what I remember. I recall a long table with three on each side and two at each end and like your companions or not, this was it. Now, it is a matter of choice. You can go traditional; meaning either early or late seating for dinner with the same group each night, or there is an anytime fine dining option where you eat on your own schedule. Yet another possibility, and perhaps the most interesting, are the specialty dining venues in which on our ship meant a choice between Sabatini's (fine Italian), or New Orleans cuisine at the Bayou Café and Steak House. Of course, there were some people who decided on casual dining and for them nine choices including the Pizzeria or the 24-hour buffet. Diana wanted to try the traditional route and what a lucky experience that turned out to be. The tables are set up so that it is more like eating in a stylish restaurant. The service is above and beyond what you would receive at a five star restaurant. Chris, our waiter, remembered our preferences, down to which person at the table liked ground pepper and he was always looking out for us. We were seated with three couples that we did not know, all very different and very interesting.
We found ourselves sitting at the table long after the last dish had been cleared, still laughing and talking and solving the problems of the world. One day we hope to visit Hot Springs, Arkansas, home town of the Fastenows, our new friends. One night Diana and I left our tablemates to try the specialty restaurant Sabatini's. When we met our waiter, Alessandro, we were greeted by a rousing chorus of "That's Amore," and we knew the show was on. Diners going to Sabatini's for the first time are advised to skip food the day of the dinner. This is why: you choose your entrée (and when it comes if you don't like it, choose another) and then you try almost everything on the menu, leaving you pleading "no more." The Antipasti was six menu choices including, crab cakes and caviar. Next came the pizza, thankfully only one piece. For the zuppe (soup) we had the seafood cioppino, then all three pastas, spaghetti, gnocchi and cannelloni. The entrée we both chose was Aragoste allo Champagne, cold water lobster tails (4!) from Brazil, brushed with Champagne butter. Before we could escape our vocalist returned with one more chorus about the "moon hitting the sky" to present us with five magnificent desserts. Of course, we couldn't disappoint him so we gave each one a try and returned to our cabin with a song still ringing in our ears.
The Days at Sea
On the second day of our journey we visited College Fjord, the hidden jewel of Prince William Sound, where five major tidewater glaciers reach the salt water. The next day we traveled on to Glacier Bay National Park. Here there are over 3.3 million acres of forest, inlet and shore with mountain peaks rising up to 15,000 feet. Diana and I were graciously invited by Captain Manfuso to a private visit to the Bridge during our stop in the Bay. Stepping out of the corridor onto the bridge was a sight I will not soon forget. There are floor to ceiling windows that curve around each side of the ship so that you get a panoramic view. After being introduced to the captain and Passenger Service Director, Gianfranco Verde, we also met the pilot. After we were seated we noticed that the Captain and the officers were watching the glacial ice to our left. We moved so that we could watch, too. They explained to us that a signal that calving is about to begin, is when you see small showers of ice and snow tumbling into the water or hear cracking and rumbling sounds. Calving is the fall of a large quantity of ice. The glaciers really put on quite a show for us. Large pieces began to fall and we got some excellent pictures and a video. You could hear the roar of the passengers when they saw and heard the calving.
Alternatives to excursions
We could have been entertained 24 hours a day on the ship without ever venturing ashore. Scholarship@Sea offered 30 classes to suit just about anyone. Diana and I were interested in the computer classes that gave us a start on working with digital pictures on the computer. One of our dining companions, David, chose the classes on pottery at sea and came out with new dust catchers for his home. We could have learned about martinis but I chose wine tasting instead and Diana saw a movie. There were culinary demos and Galley Tours and backstage at the Princess Theater. If you wanted to get start scrapbooking, it was available, too.
Afternoon Tea or maybe the Lotus Spa and Fitness
Having had tea at the Empress Hotel we thought this would be a great place to spend a late afternoon and we were right. If it was a full day of pampering you wanted, or if you were trying to burn some of the calories you had been consuming, there was the Spa. Somehow we never made it there.
The Entertainment
Two theaters were available each night with an exciting array of stage shows. There were comedians, singers and dancers, a comedy magician, a hypnotist and for the last evening there was a farewell variety show.
The Let Down
Back home, phone messages, e-mails stacked high, computer problems, sick dog. Help! Get me on the next cruises out of here so I don't have to put my own napkin in my lap!
Back to Table of Contents..

Last Update:9/1/08
&copy 2008 Joe Hilbers All Rights Reserved.
Graphic Design by Impact Graphics