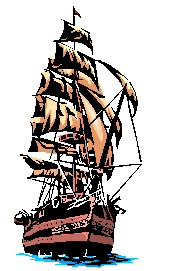 Four hundred years of Maine's seafaring history can be viewed at the Maritime Museum in Bath
When we visited Maine we were especially fascinated with its 400 year maritime history. Every community along Maine's southern coast has its own tradition of shipbuilding, and fishing. Kittery, the State's oldest community dating to 1683 with its Piscataque River, the York with the York River meeting the sea just west of the peninsula, or Kennebunkport with its River running to the sea.
But the whole perspective of what the Sea has meant to Maine can best be realized at Bath. A most fortunate set of circumstances created the Maine Maritime Museum for with the acquisition of the Percy & Small Shipyard on the south side of the City, the Museum has been allowed to preserve the State's shipbuilding heritage exactly as it was for hundreds of years.
The Percy & Small Shipyard was the last surviving one to build large wooden sailing vessels and its buildings and acreage is now part of one of the best Maritime museums to be found anywhere.
It was here at Bath that Maine's famed square-rigged "Down Easters" were built. And it is at Bath that Maine has continued its shipbuilding with the Bath Iron Works that has built warships for the U.S. Navy during two World Wars and continues to this day with the newest class of missile destroyers now being launched.
With Thomas Wilcox Jr. as executive director the Maine Maritime Museum is a whole complex with the buildings that represented the various crafts of wooden ships, a Caulker's Shed, a Mold Loft, a Mill & Joiner Shop and more. The main Museum building was completed in 1988 and it is here that the whole spectrum of Maine's shipbuilding heritage is on display.
The Maine Maritime Museum is also the summer home for the Sherman Zwicker, one of only two remaining Grand Banks wooden fishing schooners, built to harvest the Grand Banks Cod fishery using both sail and engine and using two-man dories for the actual fishing.
Last summer 22,000 people filed aboard the Zwicker docked at the Museum to see how fishing was done in an earlier era.
The Maine Maritime Museum is open from 9:30 a.m. to 5 p.m. daily, year round closed only for Thanksgiving, Christmas and New Year's. There is an admission charge for the Complex which includes a children's play area, live demonstrations of seafaring skills as well as a museum store and gift shop. For more information call 207 443-1316.
Your visit to the Maine Maritime Museum should be only one facet of time spent in Bath. The results of Bath shipbuilding can be seen in a walking tour of the City. Sagadahoc Preservation, Inc., a non profit organization in Bath, has prepared brochures for self guided walking and driving tours. Write to Sagadahoc at Box 322, Bath, Me. 04530 for more information. One is an Architectural tour that shows the many outstanding homes that were built as result of the wealth that came from Bath shipbuilding and shipping.
Another is for an historical walking tour through downtown Bath pointing to the Customs House built in 1858 or Patten Library built in 1889 or the Chocolate Church built in 1847. If you like antiques downtown Bath has a row of such shops. If you would like to spend a night or two in one of the homes that were built in that era, some have been made into bed and breakfast inns including the Glen C. Moses House which was built in 1874. Your host here is Jim Haught who can also be a source of much information on Bath's early history.
For serious shopping Freeport with 105 retail stores including legendary L.L. Bean is just 20 minutes away on Highway one. North from Bath, again just minutes away is Boothbay Harbor which looks just like what one thinks a New England fishing village should look like.
On our trip to Maine we were fortunate enough to be aboard the Sherman Zwicker when it was moved from its summer mooring at the Museum to its winter anchorage at Boothbay.
This trip took us down the Kennebec River, flowing at four knots on an outgoing tide, past Fort Popham, built to safeguard Bath during the Civil War, to its outlet at the sea. Then around Bay Point across Sheepscol Bay to Boothbay Harbor.. Sheepscol Bay seemed almost covered with the buoys and colorful flags marking the lobster traps of the fishermen.
If walking on the beach is your thing then we can think of no better place in Maine than the Kennebunk, Kinnebunkport, Cape Porpoise and Goose Rocks areas.
Goose Rocks beach offers a long reach of white sand and at low tide a barrier reef rock formation, that it is named for, can be seen.
Kennebunk beach is for those who prefer a sidewalk for their stroll as it take one past elegant homes and with no need to wait for forgiving tides.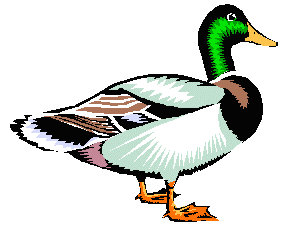 For nature lovers there is the Wells National Estuarine Research Reserve, 1600 acres with seven miles of trails and the historic Laudholm Farm dating to the last century.
And Kennebunkport is also home to Walker's Point where George Bush and his family have had a residence for many years.
For more information on this very scenic area call the Kennebunkport Chamber of Commerce at 207 967-2867.
Like so many other townships on Maine's seaboard Freeport, which was founded in 1683, was a ship building center in the 19th century. Now in the past decade it has established a new identity as a shopping and recreational center with some 100 stores and restaurants selling everything from housewares to apparel.
What sets Freeport apart from most such centers is that the heritage and decor of the City has not changed.
Back to Table of Contents..
Last Update:5/15/97
&copy 1997 Joe Hilbers All Rights Reserved.
Graphic Design by Impact Graphics