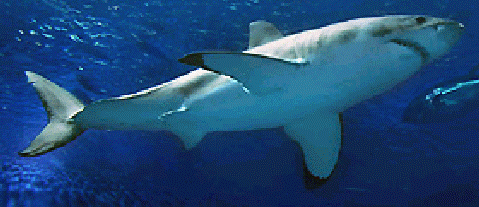 Like 38 million other visitors we enjoyed Monterey Bay Aquarium
.. By Joe Hilbers
How interesting that a building that was once used to exploit the resources of the ocean, a cannery, is now being used to educate people on how important it is to preserve those same resources. The building is the Monterey Bay Aquarium and as millions of people continue to enjoy its wonderful exhibits and recreational opportunities it also serves to educate and promote the ideas on how necessary conservation of the oceans and its myriad forms of life really is.
Our recent day spent at the Monterey Aquarium proved to be a special delight. The sun was out and we alternated between looking at exhibits like the three story living Kelp Forest to wandering on the open decks that front on the waters of Monterey Bay. It was a clear, sunny day and the whole expanse of the Bay from Monterey to Santa Cruz offered a marvelous view.
Presently the big news is the Great White Shark which joined the exhibits on August 31. He is now in the million gallon Outer Bay exhibit. Upon arrival he was five feet and nine inches in length and weighed 104 pounds. Reports are that he is feeding well and has been growing.
The exhibit of 'Jellies: Living Art' is a place to watch with fascination the grace of these creatures. This exhibit has become so popular that the Aquarium extended it for two years. The idea of combining music with the visual pleasure of viewing these most unusual life forms is a special treat.
The Acquarium is a great place for children with the walk through wave crash and hands on exhibits in the family activity room. There is also the Ocean's Edge galleries that not only feature the ocean life of Monterey Bay but also the human connection and the need to preserve this unique world for future generations. Here on view are varieties of sharks, rays and schooling fishes including the famed Monterey sardine which for a time made Monterey the nation's top fishing port. Then overfishing changed Cannery Row into the tourist attraction it is today.
The Monterey Bay Aquarium is world famous and is acclaimed as the best in the U.S. Since opening in 1984 38 million visitors have enjoyed its exhibitions and educational message. It is located on famed Cannery Row in Monterey, California's most historic city. And indeed the original building for the Aquarium was once a cannery.
The Aquarium is open daily from 10 a.m. to 6 p.m. and in summer and major holiday periods from 9:30 a.m. to 6 p.m. Closed on Christmas Day. For more information call 831 648-4888 or on online at www.montereybayaquarium.org. The Aquarium website is full of interesting information, not only on the events being held but also on the studies and research that is continually being done.
Back to Table of Contents..

Last Update:12/1/06
&copy 2006 Joe Hilbers All Rights Reserved.
Graphic Design by Impact Graphics