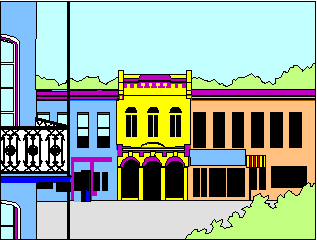 "Disneyland--The Blue Bayou Terrace offers a refreshing interlude"

by the Editor
Our assignment was to review the Blue Bayou Restaurant, a perennial favorite, at Disneyland. But as we passed Town Square and walked down Main Street USA we had time to reflect on just how much enjoyment Walt Disney's creation has provided people of all ages, for the famous and otherwise, for much of six decades.
Yes there have been many changes since we first walked this Street in the late 1950s but what has never changed is the anticipation and delight on the faces of children and adults alike.
We wandered through Adventureland, sidestepped Frontierland and found the Blue Bayou Terrace at New Orleans Square. The restaurant was a welcome retreat from a warm Autumn sun, dimly lighted and a refreshing change from the helter skelter ebb and flow of happy visitors in the Park.
Our luncheon at the Blue Bayou opened with ice tea and warm rolls. Our waitress, Linda, was most helpful in menu selection and briefing us on specialties of the day. Meanwhile passing as a backdrop to dining were the seemingly ghostly boats making their voyage through the Pirates of the Caribbean.
From the New Orleans-cajun creole themed menu my dining partner chose the French Quarter Chicken Florentine, stuffed with seasoned garden spinach over cavatappi style pasta and a Creole cream sauce, topped with grated Parmesan cheese.
I chose the specialty of the day, a combination plate of tenderloin beef and Caribbean crab cake which arrived in a huge plate with scalloped potatoes and heaps of veggies. During the course of our leisurely luncheon we had the opportunity to chat with General Manager Kevin Peralex and Guest Service Manager Cliff Elliott. Cliff is a long time employee of the Park and we had an interesting conversation of reminiscences on some earlier days at both the Disneyland Hotel and the Park.
Cliff told us that the most popular item on the menu was the Monte Cristo Sandwich, a crisp, golden brown sandwich of turkey, ham and Swiss cheese, lightly battered, fried and dusted with powdered sugar. Then ordered small portions of it for us to sample.
Our dessert was a chocolate pecan pie served with a generous scoop of Haagen-Dazs ice cream, all of which proved large enough for my partner and I to share.
The decor and ambiance of Blue Bayou is French Quarter New Orleans and with the cuisine of Chef Timothy Kopeceski the restaurant is a consistent award winner with the Southern California Restaurant Writers. Other interesting entrees on the menu include a Bayou Roast Pork Loin, roast prime rib of Beef and a Jambalaya Classique, a spicy combination of chicken, shrimp, Tasso ham and Andouille sausage over seasoned rice.
In the evening for dinner the entrees include either the Mardi Gras salad or the Gumbo or Clam Chowder.
Starters include Creole vegetable gumbo and New Orleans clam chowder. Being in the Park all beverages are non alcoholic. During off season and the time of this writing The Blue Bayou is open Monday thru Thursday from 12:00 noon to 6:30 p.m., On Friday from 11:30 a.m. to 9 p.m.; on Saturday from 11:30 a.m. to 10 p.m. and Sunday from 11:30 a.m. to 9 p.m.
Back to Table of Contents..
Last Update:12/15/03
&copy 2003 Joe Hilbers All Rights Reserved.
Graphic Design by Impact Graphics