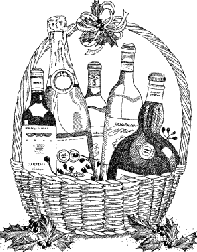 British Columbia--Tasting local wines is its own reward when visiting Vancouver"
The Editor's Vineyard

Good wines are where you find them, and this goes for knowledgeable people as well. We talked about wine one night at a Skyroom night club in Istanbul with the president of the local Knights of the Vine Chapter; with a transplanted Frenchman in the Mexican Highlands making wine for Martell sitting on a couple of barrels, and most recently with Stephen Wong, while jostling along on a Trolley tour of downtown Vancouver.
We were fascinated with British Columbia wines. Partly because we knew nothing about them before our trip to Vancouver and were pleasantly surprised by their excellent quality. And the man who answered our questions was Stephen Wong.
In British Columbia when you are talking about wine country you mean the Okanagan Valley, by car about four hours inland from the City of Vancouver. True there are some wineries and vineyards on Vancouver Island and also in the Fraser Valley but in the Okanagan vineyards are spread over 150 miles. Many are of picturesque beauty as they front on Okanagan Lake.
Shielded by the Coastal Mountains the Okanagan Valley has a climate much like that of Northern France or the Columbia River Valley in neighboring Washington State. Early on European immigrants planted grapes and made wine but it has been in the last two decades that the British Columbia wine industry has come into its own.
Most of the wineries have tasting rooms and welcome visitors for tours of the vineyards and production areas. Many of the wineries have banded together to form the Vintners Quality Alliance. The VQA seal on a bottle of wine ensures the consumer that the wine has been made from 100 per cent BC grown grapes.
Under the British Columbia Wine Institute there are four appellations including Okanagan, Similkameen and Fraser Valleys and Vancouver Island.
Labeling regulations for BC wines are every bit as stringent as for California vintages and in a few instances more so.
Like all North America wine country the Okanagan has developed a Wine Route which winds along Highway 97 for almost 150 miles. For more information about the Thompson-Okanagan check their website at www.thompsonokanagan.com.
You will not be alone on the trip to this region. It has developed into a year-round resort for just about every outdoor activity imaginable from snow boarding and snow mobiling to golf and horseback riding and all kinds of water sports.
Many of the wineries have their own websites and we explored some and discovered a wealth of information not only about that particular winery but the BC wine industry as a whole. Two we were particularly impressed with were Sumac Ridge Estate Winery, website www.sumacridge.com and TinHorn Creek Vineyards www.tinhorn.com.
Grape plantings in British Columbia cover a wide range of varietals--whites like riesling, chardonnay, pinot gris, sauvignon blanc and pinot blanc and reds like cabernet sauvignon, pinot noir, merlot, gamay, cabernet franc and blends of reds which, like in the U.S., are also called Meritage wines.
Fine sparkling wines are produced here and some ice wines of excellent quality as well. Prices by California standards are very reasonable, we saw only a few meritage wines priced over $20 Canadian.
We were happy to see how well restaurants in Vancouver support the BC wines on their wine lists. And with good reason. They are reasonable in price and excellent in quality.
Back to Table of Contents..
Last Update:6/15/00
&copy 2000 Joe Hilbers All Rights Reserved.
Graphic Design by Impact Graphics