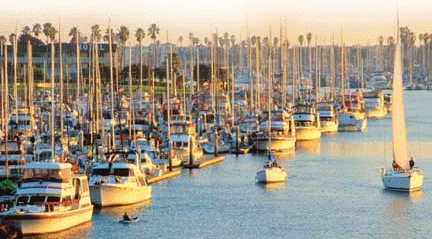 "Oxnard--A beachside city that spells growth"
.. By Joe Hilbers
To the casual visitor Oxnard seems to be all new. In every direction there are new subdivisions, shopping centers, industrial parks and schools.
Typical of the 'new' Oxnard is the Hilton Garden Inn where we stayed on our most recent visit. Sparkling in its newness, completely contemporary in both decor and its many conveniences for guests, the new hotel has 167 rooms. There are also three conference rooms, a full business center, high speed internet access in every room and a fitness center.
The All American Grill is designed for people with things to do and places to go. It serves breakfast and dinner and like the decor the menu is contemporary. We met with Executive Chef Jose Sanchez who has enjoyed a long career in Ventura County with famed restaurants like The Colonial House and the Lobster Trap. He has been an culinary instructor at Oxnard College and has cooked for the famed Campeadors Riders which often included President Ronald Reagan.
One morning we checked out the 'Scarlett Belle', a 149 passenger paddle wheeler that was under construction in a local shipyard. We toured the authentic riverboat from keel to pilot house and stem to stern while welders and such were busy at work. Our guides were Michelle and Andy Volaski, owners and operators of the new Oxnard attraction.
The 'Scarlett Belle' will soon be operating out of Marine Emporium Landing making the Channel Islands Harbor its home port. It will be available for weddings, themed parties as well as regular tours of the harbor. It is 85 feet long and with two decks it will offer an exciting event for people of all ages along with food and beverages.
Vintage automobiles are an attraction for almost everyone. They invite nostalgia in us remembering the cars our parents had when we were children or maybe the very first car that you actually owned.
New to Oxnard is the Murphy Automotive Museum with a collection of some 50 cars dating back almost 100 years. Owner, Curator and car buff Dr. Daniel Murphy personally gave us our tour. We immediately spotted a 1927 Buick much like the 1925 Buick which my Father drove when I was a wee lad.
There is a large collection of Packards dating from 1927 to 1958, all in pristine condition. There are also show room condition original 1965 Mustangs and a Model T Ford much like the one my Father-in-Law praised for its durability when he was ranching on the Utah-Nevada border. Like I said a visit here is an invitation to reminisce for days long gone.
The Museum is located at 2230 Statham Blvd. and is still in the midst of an expansion. The Museum is open Saturday and Sundays from 10 a.m. to 4 p.m. For information call 895 487-4333. On the web at murphyautomuseum.com
Like we said new seems to be the key work in Oxnard. The Centennial Plaza, due to open any day now, will make downtown an entertainment center with a 14 screen movie theater.
Recently completed is a free parking structure for over 750 cars that relieves parking concerns for locals and visitors alike.
Surrounding the theater are an array of dining options including Thai Peruvian, Capriccio's Italian, Cold Creamery and of course Starbuck's.
We also made a return visit to the Ventura County Maritime Museum located at Channel Islands Harbor. This Writer has a special fascination with maritime museums and this is a very special one thanks to its wonderful collection of oil painting of ships, maritime events and battles. Here are oil paintings showing Admiral Horatio Nelson on HMS Victory winning and dying at the Battle of Trafalgar. There is also a scale model of the HMS Victory. This just happens to be the 200th anniversary of Trafalgar which was marked by a recent reenactment by the British Royal Navy.
We recently reread "Two Years Before the Mast" that wonderful account of early California and shipboard life by Richard Henry Dana. So it was with more than passing interest that we studied the scale model of his ship "Pilgrim".
Here too a scale model of the Alabama, the Confederate raider that terrorized Yankee shipping and here too the Union's USS Kerserge that caught and sank the Alabama off the shores of France. The Museum is open daily from 11 a.m. to 5 p.m. Admission is free but donations welcome. It is located at 2731 S. Victoria Avenue, Fisherman's Wharf, Oxnard. Call 805 984-6260 for more information.
The newly completed Herzog Wine Cellars Winery gives the City a new attraction for locals and visitors alike. Included are a tasting room, self guided winery tours, conference and dining room and a new restaurant. (See Vittles story on page 4).
Back to Table of Contents..

Last Update:9/10/05
&copy 2005 Joe Hilbers All Rights Reserved.
Graphic Design by Impact Graphics