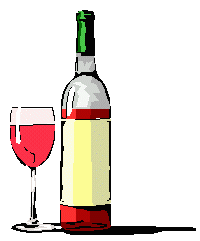 "California Winemakers study change in vintage blending"
by The Editor's Vineyard
Using vintages from more than a single year is a common practice in some countries. The famous Rioja wines of Spain traditionally include wines from several vintages in the blend.
Now a debate is forming in California as to whether the rule allowing only five per cent of a different vintage be allowed in a bottling should be changed. Many vintners feel the rule should be changed to allow up to 15 per cent of a bottling be from a different year.
The proposed measure would have to approved by the Alcohol and Tobacco Tax Bureau and is meeting some resistance from California growers who fear wineries holding vintages for future blending will decrease grape demand.
The pro and con of such a change is strictly economic since in the final analysis, as far as the consumer is concerned, the quality of the end product is all that matters. If using a different vintage to soften tannins or smooth out wines from a poor harvest, well why not?
In Rioja wines more important that a vintage date is the amount of time the blended wines have spent in the barrel.
In France, particularly in the southern regions, using many different varietals of grapes is a tradition. Certainly in both the Rhone Valley and Provence.
Some California winemakers are following this course in blending several varietals in a vintage.
Winemaker Alison Doran has produced Jade Mountain La Provencale. Using the classic varietals of southern France the wine includes 75 per cent Mourvedre, 14 per cent Syrah, 7 per cent Grenache and 4 per cent Viognier. The Mourvedre is from century old vines grown in Contra Costa County. We found this an exciting bottle of wine, full of flavors and hearty enough to accompany any BBQ fare.
This Writer always has special admiration for the winemaker who is willing to step away from the traditional varietals and bring something new to the marketplace.
Most people, this writer included, are hesitant to use an expensive vintage in their culinary efforts. We generally take the middle ground using a wine that, while not expensive, has enough quality to be used both in the pot and on the table.
We take particular pride in our Chicken Cacciatore. We opened a bottle of 2002 Dona Sol Chardonnay using a generous amount in the pot and served the rest with dinner. Priced at $5. We found Winemaker Stephens Moody's wine light in flavors, unpretentious but most enjoyable. And there were no leftovers with the Cacciatore either.
Kevin McGuire has been promoted to winemaker for both the Rutherford Ranch and Round Hill brands He was formerly assistant to Winemaker Mark Swain who as left to pursue other ventures. We don't drink much White Zinfandel but Round Hill's 2002 bottling of this consumer favorite is exceptional with lots of fruit flavors and shows nicely as either a cocktail wine of for light fare. Paso Robles was the source for the grapes.
We thought Round Hills's 1999 Cabernet Sauvignon an exceptional bottling and so did a lot of other people since it won two gold medals in competitions. Full nose, deep flavors and a lasting finish make this vintage a very excellent buy in its price class.
Also garnering a couple of gold medals is the Round Hill 2000 Merlot. This wine is a blend of 86 per cent merlot and 14 per cent ruby cabernet. The oak aging shows in this vintage which has plenty of flavors but with the mellowness so typical of this varietal.
With these wines Mark Swain has left a very good legacy at Round Hill.
Winemaker Ed Moody keeps turning out wines that maintain a very good quality-value equation. Two recent Montpellier Vineyards prove the point. Syrah is becoming increasingly popular and California vintners have been quick to catch the Aussies who first made the varietal popular in the U.S. The 2001 Montpellier Syrah has all the hearty flavors one expects from this grape which has become a globe trotter since its beginnings in France's Rhone Valley. The French use the grape to add character to Chateauneuf-du-Pape blends. In Ed Moody's bottling the Syrah stands out as a very drinkable, hearty and most affordable vintage.
The 2001 Montpellier Vineyards Chardonnay is a pleasant bottling of this varietal with mellow fruit flavors and if the wine ever touched oak we couldn't detect it. Not a bad thing since many wine drinkers do not enjoy the heady oak flavors of some vintages. And no damage to the pocketbook with either of these wines.
Last issue we pointed to Reynolds Vineyards from Orange, New South Wales, Australia, a new entry into the U.S. market. Orange is the newest of Australia's wine regions with a climate that is often compared to Bordeaux.
The Reynolds Reserve 2002 Chardonnay is 100 per cent of the varietal with 50 per cent having malolactic fermentation. The wine then had 10 months in French oak. The fruit flavors are there as well as the touch of oak.
We thought the wine resembled some South African chardonnays we have tasted rather than California bottlings. But the quality is there.
Like the chardonnay the Reynolds 2001 Cabernet Sauvignon is 100 per cent of the varietal. This wine is ready to drink now but should continue to improve with more bottle aging. We liked its bold aroma, rich flavors and lingering finish. Both these wines retail for $15 in the U.S.
Reynolds is one more reason to believe that Australian imports to the U.S. will continue to be a major factor.
Back to Table of Contents..
Last Update:12/15/03
&copy 2003 Joe Hilbers All Rights Reserved.
Graphic Design by Impact Graphics