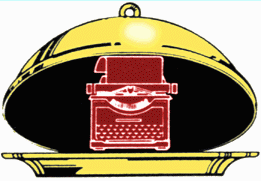 "Long Beach--Restaurant Writers honor top restaurants at 36th annual Awards Banquet"
.
Once again, for the 36th year, the Southern California Restaurant Writers held its awards banquet to honor restaurants and culinary personnel who earned particular distinction. It all took place at the Long Beach Aquarium of the Pacific.
Three brothers, Arrigo, Leone and Andrea Palagi of Mario's Place in Riverside were named as Restaurateurs of the Year. Named Chef of the Year was Dennis Brask of the Five Crowns Restaurant in Corona Del Mar. Myron Kwong and Priscilla Tang Wu of the Lotus Garden in San Bernardino were named Owner/Entrepreneur of the Year. Celebrity Chef Wolfgang Puck was named Humanitarian of the Year for his efforts in charity work.
New restaurant of the year was 7th Street Chophouse of San Pedro while Aricia Alvarado of Seta in Whittier was named Mixologist of the Year.
Then the restaurants who received five, four, three and two star awards were named by category whether Continental, Ethnic or American. There were also Golden Bacchus and Wines of Excellence awards for restaurants whose fame includes extensive wine lists and service.
The Southern California Restaurant Writers, a non profit organization, has throughout its history established scholarships for culinary art students attending Community Colleges in Southern California. Over the years over one hundred and twenty five thousand dollars has been granted in such scholarships.
This past year scholarships went to students attending San Bernardino Valley College, Riverside College, Glendale College, Orange Coast College and Oxnard Community College. All these schools have programs in the culinary arts.
What restaurants received awards can be found on the Writers website www.southerncaliforniarestaurantwriters.com. Back to Table of Contents

Last Update:3/22/10
&copy 2010 Joe Hilbers All Rights Reserved.
Graphic Design by Impact Graphics