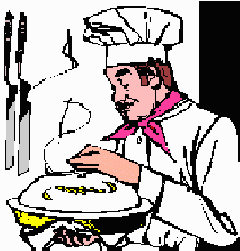 "Fine dining and exciting cuisines abound in Florida
by The Editor
Like everything else at Boca Raton Resort & Club the cuisine and wines we experienced were spectacular. With our usual good timing we were at the Resort just as restaurant changes and new cuisines were being made. The Tower Restaurant is now called 27 Ocean Blue.
With Executive Chef James Reaux in personal charge we were presented a dinner which highlighted the new contemporary styled cuisine of 27 Ocean Blue. Sitting atop the 26 story tower with splendid views in every direction we commenced with a tartare of Yellowfin tuna and seared foie gras over a baby mache salad. Our wine was a 1999 Cakebread Cellars Sauvignon Blanc. Next came farm raised Hawaiian abalone flown in the previous day. Chef Reaux presented this in a lentil curry broth and tomato fondue with the glistening abalone shell on the side. A 1998 Ferrari Carano Alexander Valley chardonnay was our wine.
Next came a vegetarian dish of warm artichoke hearts and buttered white asparagus, yukon potatoes and winter truffles. And served with a Beaulieu Vineyards Reserve 1997 Carneros Pinot Noir.
It seemed improbable but more was to come. Entree was verbena-orange crusted summerfield veal with Porcini finger rolls in a balsamic fig reduction. And matching this superb original creation of the Chef was a 1996 Stags Leap SLV cabernet sauvignon.
Our dessert was a 'tribute to the monkey"--warm banana crunch and toasted coconut freeze adorned with a chocolate monkey. Our perfectly matched dessert wine---1998 Essensia Muscat, Madera 1998.
With a contemporary cuisine the 27 Ocean Blue shows a predominately premium California wine list.
As part of the $300 million expansion at Boca Raton Resort there is a new Italian restaurant modeled after a classic Tuscany bistro. Called Lucca it features the classic Italian cuisine of that region with wonderful dishes coming from the open kitchen of Chef Kevin Garcia.
When we were there Lucca was a few weeks away from opening but at a special dinner Chef Kevin Garcia in cooperation with Sommielier Charlie Arturaola showed us what members and guests can expect from the restaurant.
It was an evening to remember. First an antipasti with chickpea and fennel, prosciutto San Daniele with balsamic figs and Sambuca cured salmon. Charlie Arturaola, who is president of the U.S. Sommelier Association, explained the two wines served which included a 1998 Piedmont Gavi 'La Scolca' and a 1997 Piedmont Dolcetto Di Dogliani.
Following the antipasti was the Primi course--Bresaola with raw Crimini mushrooms and Parmeggiano. Here Charles explained his choice of wine, a 1996 Chianti Classico Carpineto Reserva.
Our pasta was ricotta Tortelloni with black olives, beet farotto with braised duck leg. Here we had the opportunity to taste a vintage of the Mondavi-Frescobalbi partnership--1997 Lucenta, a IGT Tuscany wine with 85 per cent merlot and 15 per cent sangiovese.
Chef Kevin showed us no mercy this evening. Next to arrive was our Pesce course--a Caccuccio-Tuscan fish and shellfish stew. Here Sommelier Charlie uncorked a bottle fermented 1997 Chardonnay by A. Jermann.
By the time our meat entree arrived a few groans were audible.
Out it came a Saltimboca with mashed potatoes and marsala. Not to be outdone our Sommelier served two vintages--a 1995 Piedmont Borgogno Barbaresco and a 1996 Banfi Summus--a unique blend of Syrah and sangiovese.
Now thoroughly cowed we bravely enjoyed a dessert of goats yogurt panna cotta with dried fruit in a Grappa syrup.
The stated goal of Boca Raton Resort is to serve the finest cuisine in south Florida. With these two restaurants they are very close to achieving their goal.
Our headquarters while touring Greater Miami was the Beach House Hotel in Bal Harbour at 9449 Collins Avenue. Like the Hotel its dining room, The Atlantic, offers a casual New England inspired decor and a fine view of the ocean. Sheila Lukins, cookbook author and food editor of Parade Magazine, has put together the menu for the restaurant with emphasis on comfortable and familiar American cooking.
One day we tried the crabcakes for lunch which came with lots and lots of lump crabmeat served with a home made tartar sauce and mixed baby greens. Another time we opened with the flash seared tuna with chickpea salad and then for the entree the country pork chop with hillbilly baked beans and Momma's collard greens.
Showing a bit of south Florida influence is the key lime Chilean sea bass and on the dessert menu frozen key lime tart.
Everywhere we go these days there seem to be young, creative and talented chefs and our culinary experiences in Miami did nothing to dispel this.
We had one memorable evening at Touch, a new contemporary styled restaurant both in decor and cuisine located in the hurley burley Lincoln Mall at 910 Lincoln Road.. Chef is Sean Brasel, originally from Colorado, showing a classic contemporary menu, imaginative and with each item beautifully presented.
Our dinner started with the beef and fennel carpaccio, the thinly sliced prime beef tenderloin came with fresh fennel, daikon slaw, Grissini and a Dijon Aioli. Another at our table had the Maine scallops presented pan seared with Hudson Bay Foie Gras, poached pears and roasted potato fennel salad.
We selected the Colorado rack of lamb for our entree. It came perfectly prepared with an exquisite Marsala and Balsamic demi-glace. Also appearing at our table was a pan seared sea bass roasted with fingerling potatoes, fresh soybeans and complemented by a whole truffle naze.
Touch has an outstanding wine list of over 300 labels, predominately California but with nice representation of French and Italian vintages.
Another time we had the chance to taste the culinary excellence of Michael Schwartz, chef owner of Nemo Restaurant at 100 Collins Avenue in Miami Beach.
Chef Schwartz started our group with baby beet and Turtle Creek Dairy goat cheese with toasted walnut vinaigrette, pickled red onion and balsamic syrup. Next came crispy whole Prawn and garlic cured salmon roll with tobiko caviar and wasabi mayo.
Our choice for the entree was the Kim Chi glazed snapper, fresh basil puree, Chinese cabbage slaw, Kim Chi and honey drizzle. Several of our group chose the grilled Portabello sandwich with arugula, tomato, roasted onion and herb mayo.
Desserts which followed were by Pastry Chef Hedy Goldsmith. At Nemo we dined al fresco. Inside Chef Schwartz works his magic from an open kitchen.
The menu shows dishes like spicy Vietnamese beef salan and a wok charred salmon. Michael spent some time in the Far East and we thought his cuisine did reflect the Pacific Rim in his choice of garnishes and spices.
Back to Table of Contents..
Last Update:4/10/01
&copy 2001 Joe Hilbers All Rights Reserved.
Graphic Design by Impact Graphics