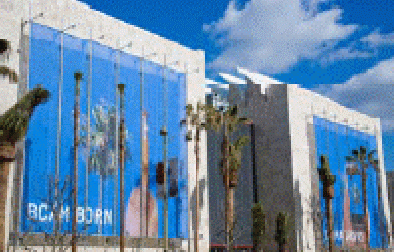 "Los Angeles--Think awesome when describing the Broad Contemporary Art Museum"
By The Editor.
As a Media Event for the opening of the Broad Contemporary Art Museum it was a winner. First entering the new underground parking garage and taking the all glass elevator, a contemporary art form in itself. Then a Charles Ray sculpture; this is a 46 foot replica of a toy fire truck that sits on the edge of the magnificent new open plaza that divides the original Art Museum from its new contemporary sister, the Broad Museum.
The opening media briefing took place on the plaza facing Wilshire Boulevard and the 202 historic Los Angeles street lamps that dominate the entrance from that direction. The Fire Truck sculpture is not the only thing painted red. The color dominates on any visible steel and the escalator that whisks one to the entrance of the new Edythe and Eli Broad Museum.
From Wilshire Boulevards's. Miracle Mile the street lights, row on row, and then the Plaza, where Ogden street once ran, one gets the impression that yes, a new miracle has transpired. LACMA Director welcomed journalists representing many countries. Internationally famed architect Renzo Piano displayed a dry wit in describing his thoughts and designs for the $56 million dollar addition to LACMA.
Then came the opportunity to experience this major addition to Los Angeles' cultural scene first hand. About the contemporary art displayed perhaps the best words are original, innovative, thought provoking.
One enters on the third floor by the red spider escalator to rooms filled with natural light thanks to its fritted glass ceiling. First sight is the huge elevator which again Renzo Piano has created into an art form of its own.
This new museum offers a feeling of airiness so that each exhibit has a large amount of space all to itself. There is no sense of clutter here.
Innovation is to seen everywhere here. The 202 street lamps, termed 'Urban Light', is powered by newly installed solar panels thanks to a grant from BP Foundation. The Grand Entrance Plaza binds the new Contemporary Art Museum with the other buildings of the LACMA complex.
Now officially open to be enjoyed by people from all over the world Los Angeles County Museum of Art is located at 5905 Wilshire Boulevard and thanks to the new Urban Light sculpture, hard to miss. It is open six days a week, closed Wednesdays. For more information call 323 857-6000 or on the web at lacma.org.
Back to Table of Contents

Last Update:3/5/08
&copy 2008 Joe Hilbers All Rights Reserved.
Graphic Design by Impact Graphics