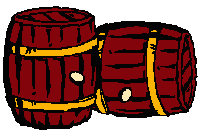 "Fallbrook--At Brother's Bistro we found our kind of Italian restaurant"
By The Editor

Good restaurants are where you find them and we have to thank Linda Kissam of the Fallbrook Visitors Bureau for introducing us to Brother's Bistro in Fallbrook. It is the creation of a husband-wife team, Ron and Dee Nusser. When they opened the restaurant in May 2004 they brought many years of restaurant experience with them.
Previously they had operated restaurants in Orange County but that county's loss has been Fallbrook's gain. The menu is Italian with touches of Mediterranean. But our dining experience showed classic Italian dishes. Ron hails from New York and his pizzas offer that classic style with thin home made dough.
Chef Dee shows some awesome Italian fare Our Calamari was a true treat. Dee pounds the calamari and it is served much like abalone , sauteed in olive oil. The Eggplant Parmegana was the best we have had within memory. Dee told us that moving to Fallbrook was a delight since so much fruit and produce is produced locally. She added that often regular customers bring in some of their own home grown produce to her.
Dee joined us for lunch while the kitchen kept busy sending out new goodies like stuffed mushrooms and a scallop languini with a white wine sauce. We liked everything about this restaurant which is casual, offers both patio seating for 40 and inside seating for 35.
The wine list is extensive with 27 vintages from California, Washington and Italy offered by the glass. Prices for the wine, either by the glass or bottle are most reasonable and this is true for the well prepared foods as well.
Thanks to the quality of the food Brother's has built a large catering business as well as hosting private parties.
Brother's Bistro is located at 8353 S. Main Street in Fullbrook and is open for lunch Monday thru Friday and dinner seven nights a week. Call 760 731-9761, on the web at Brothersbistro.net.
Back to Table of Contents..
Last Update:6/9/08
&copy 2008 Joe Hilbers All Rights Reserved.
Graphic Design by Impact Graphics