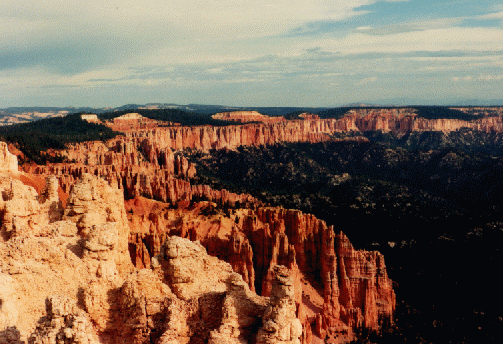 "Bryce Canyon National Park is Nature's Labyrinth"
.. By Joe Hilbers
Bryce Canyon National Park in Southern Utah is unique to itself, created by erosion into a maze of spires and pinnacles in most picturesque shapes and colors.
Legend has it that one of the first white men to see the Canyon was quoted as saying: "a helluva place to lose a cow."
It is also a special place for this writer. The site of a honeymoon visit a very long time ago. Since that first memorable visit we have returned twice--once with our two teen-age sons and most recently as empty nesters.
The first visit was in early Spring and we had a campground all to ourselves. There were still patches of snow at the higher elevations, the days sunny and incredibly clear, the nights a canopy of stars. Just about all happy newlyweds could ask for.
The visit with our two teen-age sons was brief but we did cover some ground as the Journal reports:
"Up at dawn to watch Old Sol rise over Paunsaugunt Plateau. After breakfast we charted a hike that took us along the rim of canyon from Campground to Bryce Point. Good views along the way on a sparkling clear morning. We did our four miles along the rim by 10:30 a.m. and decided to leave the crowds and return via trails at bottom of the canyon. It was a good decision and we saw close up the "Alligator", part of the Peekaboo trail and retuned to rim along a Park Nature trail. Did our eight miles and were back to camp for lunch." (The days this writer can do an eight mile hike before lunch are gone forever.)
Our most recent visit was in August and as could be expected the Park had experienced many improvements and changes. Of course that maze of strange shaped spires had changed not at all. We parked our RV in a view site at the North Campground, took a walk to Sunrise Point and then watched vehicles of all shapes and sizes fill up the campground.
Summer is a very good time to visit Bryce Canyon. It is all located at higher elevations, meaning that the days are sunny and warm but not hot and the nights cool for comfortable camping.
Our faithful Journal describes how we spent the following day:
"Over eggs for breakfast we charted our hike for the day. We left from the campground and at Sunrise Point took Queen's Garden trail down to Wall Street among the pinnacles. Then a series of switch backs took us back to the rim at Sunset Point. We had our lunch sandwiches on the Rim Trail with wonderful views of the whole area. After supper we took the walk toward Fairyland Point for more views watching as the colors changed in fading evening light."
Bryce Canyon, like all the National Parks, is a popular summer destination. There were a good many French and German tourists while we were there. And some languages spoken not so easily identified.
As with all the Parks the right place to start is the Visitor Center. At Bryce it is conveniently located quite close to the North Campground. Here you can obtain the guide maps showing the many trails that either rim the canyon or take you down into the maze of pinnacles.
The next day is again described in the Journal:
"A few clouds around that built rapidly but still mild temperatures. We used our Pickup to follow the road to the other end of the Park. A lovely drive through mountain meadows and pine forest up to Rainbow Point, where the road deadends at 9,000 feet elevation.
We took a one mile loop trail to yet another vista Point surrounded by Bristlecone pines. Again good views but some haze and dark clouds could be seen building in the west. A rain shower and thunder greeted us as we returned to camp."
For non-campers there is an historic Lodge first built by Union Pacific as well as accommodations at Red Canyon before the entrance into the Park. Also all services are available at nearby Panguitch.
On the web you can find out almost anything you want to know about Bryce Canyon at www.nps.gov/brca/.
Zion National Park, also located in Southern Utah, is only a two hour drive from Bryce Canyon, making it possible to visit both Parks in a relatively short period of time. Again on the web you can find out about Zion Park at www.nps.gov/zion/.
Back to Table of Contents..

Last Update:9/1/01
&copy 2001 Joe Hilbers All Rights Reserved.
Graphic Design by Impact Graphics