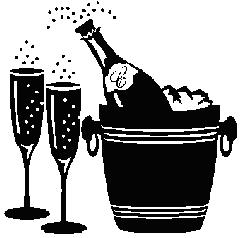 "Whatever the occasion, the world celebrates with champagne"

By Editor's Vineyard
.
It launches ships, is the center of hi jinks when a team wins the pennant, is a must at weddings, anniversaries and to greet a new year. It is of course champagne and almost world wide is used to toast victory, success or a memorable occasion.
This writer has reached the age where birthdays have become milestones greeted with a mix of gratitude, awe and some degree of wonderment. We celebrated this recent event with a bottle of Perrier Jouet 1995 Fleur de Champagne. Come the new year this noble cuvee will celebrate its 100th birthday. Quite a bit older than ours thank goodness.
We found the wine as exquisite as ever with a light pleasant nose, the tiniest of bubbles, like velvet on the palate and leaving an unbelievably smooth aftertaste. For us the delightful fruit of the chardonnay came through immediately even though the blend is almost 50 per cent pinot noir as well as chardonnay.
Accept it or not that small region of France which is synonymous with sparkling wine still produces the very best cuvees. And the Jouet Fleur de Champagne is certainly among them. In recent years California has produced some very good methode champenoise wines. Only in the U.S. are sparkling wines allowed to be called champagne. A few deserve that noble name but many do not.
Jouet Fleur de Champagne is expensive but for that very special occasion that may produce memories that will last a lifetime why not go with the best.
Early on Edna Valley proved to be one of the jewels of the Central Coast for growing burgundian varietals like chardonnay and pinot noir.
The Edna Valley Vineyard 2000 Chardonnay lives up to its reputation. It shows some of the best of this varietal with complexity that ensures a long finish. Smooth and soft to the palate with a hint of its six months in French oak, it is equally good either with food or a cocktail wine. Priced below $20 and it will impress your guests.
Derek Holstein, winemaker for Trinchero, has produced an unusual 2000 Family Selection Sauvignon Blanc. Where many winemakers use only stainless steel for this grape, Holstein used a malolactic fermentation and then aged the wine for six months in the same barrels.
The result is a more complex Sauvignon Blanc with the oak present in both aroma and flavor. A much more complex Sauvignon Blanc and worth a try at under $12 a bottle.
The Columbia River Valley has moved to the forefront among Washington State's appellations. Its sometimes wildly varied four seasons does produce challenges to both grape growers and vintners but the resulting wines continue to improve at a rapid pace.
We recently tasted Canoe Ridge 1999 Merlot and was impressed with this vintage from Winemaker John Abbott. This Merlot had 11 per cent cabernet sauvignon, three per cent cabernet franc and a touch of Syrah. The result is a very robust wine sure of itself after 16 months barrel aging and according to Abbott the best vintage of the decade.
Wisely Australian vintners have always been careful to export their best wines to the U.S. The result is that Australian wines do enjoy a reputation for quality with consumers here. Gaining a place in the U.S. marketplace very quickly is McPherson. We recently had the opportunity to taste some of the 2000 vintages currently coming ashore here.
When we taste Australian wines we always reach for the Shiraz first. 2000 McPherson Shiraz is true to the varietal but very soft both in aroma and flavor. The 2000 Cabernet Sauvignon is young, light and drinkable but we prefer a cabernet that has enjoyed more time in the barrel.
The Aussies often add some semillon to their chardonnay giving a completely different character to the resulting vintage. The 2000 McPherson Semillon Chardonnay displays the fruit of both varietals and was never allowed to touch oak. Full of fruit flavors and a neat picnic wine.
All the McPherson wines are priced well under $10 in the U.S. making them a very good buy for everyday use.
Pleasing both in taste and pocketbook are the 2000 releases of Sutter Home. The 2000 White Zinfandel, still the best selling varietal in the U.S. offers the same flavors that have introduced many Americans to the joys of wine. We were particularly impressed with the 2000 Gewurztraminer. Always one our favorite white wines this vintage has a nice dry finish to go with the classic spicy flavors classic to this varietal.
A real bargain is the 1999 Sutter Home Moscato. Here is a dessert wine to fit even the skimpiest budget. This is sipping wine guaranteed to give any meal a perfect ending.
All of these wines are well under $10 making for much inexpensive pleasure.
Give Winemaker Mick Schroeter lots of points for his 1998 Geyser Peak Alexander Valley Reserve Merlot. Can you call a merlot a big wine. Yes you can with this vintage. Bold, intense, complex are some words that come to mind in describing this wine. Here is one merlot that can stay in your cellar for some years and continue to improve.
Winemaker Randy Ullom used grapes from five California appellations in making his 1999 Kendall-Jackson Syrah. Syrah some times is rather a light red wine but Ullom added small amounts of Petite Sirah, Zinfandel, Grenache and Mouvedre to this blend to produce a nicely balanced robust wine full of lush flavors. Here is a vintage proving that the Aussies do not have an exclusive with this varietal.
Again with the Kendall-Jackson 1999 Pinot Noir Winemaker Ullom shows he likes to roam the state is selecting his grapes.
Grapes selected from Mendocino to the north to San Luis Obispo in the south were used to make this wine. This is a good pinot noir proving that California winemakers now know how to handle this most fickle of varietals. For the quality both these vintages are excellent buys under $15.
Planting Italian varietals is nothing new in California but there has been renewed interest in some of them in the past decade both by growers and winemakers. Amador County is now one of the favored regions for Italian varietals like Barbara, Nebbiolo and Sangiovese.
Montevina, located in the Shenandoah Valley in the Sierra foothills, has released two vintages of Barbera, one under the Montevina label and the second under their top of the line Terra d'Oro label. We enjoyed the 1997 Terra d'Oro Barbera as an old friend, hearty, rich in flavors and with that wonderful deep rich color.
If you are not familiar with this varietal the 1998 Montevina Barbera is a good one for an introduction. It is reasonably priced and displays all the varietal characteristics of the grape--plenty of flavors but not a bit heavy either in aroma or on the palate.
Sangiovese takes on a character of its own in California. This Tuscany grape is most familiar to Americans as Chianti. The 1998 Terra d'Oro Sangiovese was light, fruity and if you like merlot you will enjoy this wine as well.
Montevina has also released a Nebbiolo Rosato. This famous grape in its native Piedmont makes wonderful Barolos and Barbarescos. Winemaker Jeffrey Meyers used the grape to make an excellent rose, light, fruity and just right for picnics or with something off the barbie.
Buena Vista has the most vineyard acreage in the highly regarded Carneros appellation and showing the handicraft of Winemaker Judy Matulich-Weitz are four new releases including a 1999 Pinot Noir, 1998 Cabernet Sauvignon, a 1998 Merlot and 1998 Chardonnay. All are from the Carneros appellation which while located in Napa County enjoy a much cooler micro climate.
We immediately reached for the Pinot Noir since this varietal shows best from cooler climes. It is a very nice bottle of wine, smooth, lots of flavor in both aroma and on the palate and a lingering finish.
We also tasted the 1998 Chardonnay since again this is a grape that likes cooler growing conditions. Winemaker Judy gave this vintage plenty of time on oak, 19 months in American and French barrels. The result is a wine with its oak showing but also with many fruit flavors. We thought it had a remarkably silky finish.
All four of these releases are priced under $20.
The wines coming from Washington State are getting better and better. We recently tasted the 1999 Sagelands Vineyard Cabernet Sauvignon from the Columbia Valley. This is a true meritage vintage. Winemaker Kevin Mott has included 75 per cent cabernet sauvignon, 17 per cent merlot, 7 per cent Cabernet Franc and small parts of Malbec and Petit Verdot as well.
The wine has had 16 months in French and American oak. With five grape varieties present one gets a myraid of intense flavors in this vintage. They all come together wonderfully well in a wine that is very good now but just wait a few years. With more bottle aging it will be a very special vintage indeed. Priced under $20.
More and more we taste and learn about the wines coming from Washington State. And in all price categories.
We recently tasted two vintages of Salmon Harbor, a brand of Washington wines in the below $10 price range. Produced by Vintage New World the recently released 2000 Merlot and 2000 Chardonnay are the third vintage for this brand.
Two of the four Washington State appellations are represented in the 2000 Chardonnay. Grapes from the coolest area, Yakima Valley, were combined with grapes from a warmer region, Tri-Cities. The result is a crisp, fruity chardonnay, clean on the palate and free of oak.
We found the 2000 Merlot soft and mellow. The blend includes 81 per cent merlot, 10 per cent lemberger and 9 per cent cabernet sauvignon, with most of the grapes from the Yakima Valley. This is a pleasant table wine, priced for everyday use, llight, free of tannins, and can be served with almost any food.
el Arbor Vineyards has been established by Fetzer to market solid California varietals at inexpensive prices while maintaining quality that consumers expect.
Three new releases prove that the brand continues to be on target. We tasted the Bel Arbor 1999 Cabernet Sauvignon and liked it softness while showing some of the flavors dominate in this varietal.
Deep color, mellow aromas and a smooth palate can be found in the Bel Arbor 2000 Merlot. This is a good vintage for people just beginning to move toward wine as a food beverage. It is a very good dinner companion. At $6 a bottle retail this is hard to beat.
Back to Table of Contents

Last Update:11/1/01
&copy 2001 Joe Hilbers All Rights Reserved.
Graphic Design by Impact Graphics