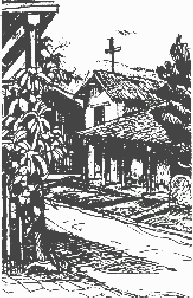 "Sonoma County--California cuisine is alive and well here

by Joe Hilbers
Many people place the origins of what has become "California Cuisine" to Sonoma and Napa Counties and the influence of the wine country.
Be it may Sonoma is on the map as a place where exciting foods and fine cuisine excel. Certainly that was the case when we once again sipped and tasted our way through the wine country.
Our most recent Sonoma adventure started when we checked into the El Dorado Hotel located on the Plaza in Sonoma. We thoroughly enjoyed our brief stay which combined all the amenities of a good hotel with a true sense of history since the original building dates back to the 19th century when California was still a province of Mexico. The Hotel had a complementary Continental breakfast and a bottle of good Sonoma wine in the room, complementary as well. Actually wine in our room was just about the last thing we needed on this trip.
One evening we dined in the Piatti Ristorante which is located in the El Dorado Hotel. Executive Chef Jude Wilmoth posts a new menu each day. Some of the special entrees the evening we were there included Fussili pasta with grilled skirt steak, onions, corn, baby spinach and pecorino. Another entree was wild red risotto with Sonoma teleme cheese, seared filet mignon, in a golden raisin caramelized onion broth.
After a hard traveling day we selected the Pasta Pescatore--shell pasta with mixed seafood in a white wine herb broth and grilled bread.
Our wine was a Buena Vista 1997 Merlot.
Piatti Sonoma is open for lunch and dinner in a casual atmosphere and in summer there is garden patio dining as well.
Another evening we truly dined at The Depot Hotel Cucina Rustica. Like just about every building on Sonoma's Plaza it has a long and colorful history. Built in 1870 it was first a private home, then a hotel for passengers arriving on the train from San Francisco. A sign out front proclaims its last hotel guest left in 1923.
Currently Chef Michael Ghilarducci and his wife, Gia, operate Cucina Rustica and the result has been national recognition for culinary excellence.
Our group of writers got the full treatment from Chef Ghilarducci and Sous Chef Grant Dodge. An antipasto of assorted seasonal cured meats, a calamari salad and Italian vegetable appetizers got us started. And with a glass of Landmark Overlook 1999 Chardonnay.
Next came our pasta--Tortellini stuffed with ricotta cheese, chicken, range fed veal and herbs in a delicate cream sauce with freshly grated Parmesan cheese.
Fortunately we were forewarned that this would be a five course feast so this writer at least kept pushing delectable goodies away.
Fresh spring asparagus with sweet and sour vinaigrette arrived next and also a Sangiovese from Valley of the Moon Winery. Valley of the Moon Winery got a fresh start in 1997 when Partners Gary Heck, John Sheela and Mike Lee bought the property. Actually it is located on the site of a winery that first produced wines in 1876.
Soft and with delicate flavors the Sangiovese was perfect with our entree--Osso Buco with Risotto Milanese. Italian style veal shank is one of our favorites and we were grateful that we had done some 'pushing away' earlier in the evening. There is no question that Chef Ghilarducci knows his art.
Our dessert was a Hazelnut torte with Mascarpone cream and toasted hazelnuts.
Moving around after this feast took some doing. Fortunately this writer only had to cross the street back to the El Dorado Hotel.
One of the wonderful success stories in Sonoma is The Sonoma Cheese Factory. Founded in 1931 by Celso Viviani it is located on The Plaza and is the single most popular tourist attraction in Sonoma County. Last year some 500,000 people passed through the retail store and looked at videos and through a window at the cheese factory which has won fame for its Sonoma Jack and Sonoma Cheddar.
Besides all the food goodies and huge selection of Sonoma wines on sale in the retail store the Factory also offers BBQ dining on a patio. And yes we did enjoy a patio lunch on a perfect Spring day. The menu is limited but what is served is top quality. Choices were BBQ ribs or a cheese burger. Yes, we selected the Cheese Burger.
Now the second and third generation members of the Viviani Family operate the Cheese Factory. It is open seven days a week from 9 a.m. to 6 p.m. and, as we did, you will find it a gathering place for visitors and cheese junkies in great numbers.
On a Sunday morning we had breakfast at the Sonoma Mission Inn. Now recognized as one of the top Resorts and Spas on the west coast the Inn continues its reputation for luxurious accommodations and the cuisine as well.
After all our gastronomy adventures the day before we thought we couldn't possibly eat a big breakfast. But we were wrong. From a menu that included everything from eggs benedict to Belgian waffles to cinnamon raisin French toast we decided on the California Omelette with mushrooms, asparagus and goat cheese.
Besides the offerings of Executive chef Toni Robertson and chef de cuisine Carol Mascoli we also enjoyed our conversation with Thomas Becker, resort manager. Mr. Becker is an interesting man. As a hotelman he has traveled and worked in many places in the world.
Later he and the Hotel director of sales Victor Woo took us on a tour of the Inn including the newest of the 228 guest rooms as well as the 40,000 square feet of Spa facilities.
One of the things we like best about Sonoma is the number of family owned businesses that emphasize original foods and the very best quality. Artisan Bakers is an example. Opened in 1992 in Sonoma by Craig Ponsford the breads have been acclaimed for upholding the best traditions of European quality.
Artisan Bakers is located at 750 West Napa Street in Sonoma and visitors can find out more about baking and types of breads than they ever imagined. Check out the website at www.artisanbakers.com.
Ramekins Sonoma Valley Culinary School was yet another place we visited. Situated in a sparkling new building with Spanish influence in its architecture, the School has taken a different approach with one day courses available to the general public rather than to just other chefs.
We were served some wonderfully imaginative appetizers on our visit as well as some classic Sonoma vintages. And Bob Nemerovski, culinary director, gave us a complete tour of the facilities which include two teaching kitchens--one equipped as a demonstration kitchen-theater and the other a commercial kitchen for full participation, hands on classes.
With such a busy schedule we were grateful when we looked in at Gaige House Inn situated on a creek in Glen Ellen. For once we passed on the wine and relaxed over a cup of tea and some tasty Brownies while admiring and learning about the Inn which is rated one of the ten best Bed and Breakfast inns on the west coast. You can learn more at www.gaige.com.
Back to Table of Contents..
Last Update:<6/20/01
&copy 2001 Joe Hilbers All Rights Reserved.
Graphic Design by Impact Graphics