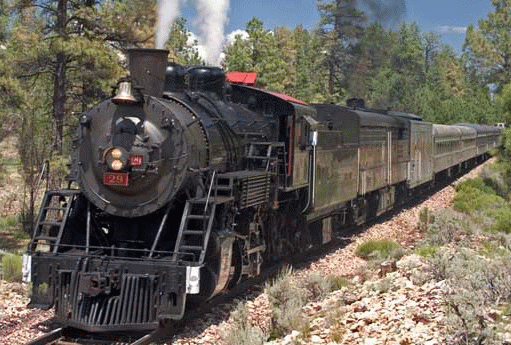 Grand Canyon--The Old West comes alive on a steam train trip to the South Rim
by Joe Hilbers
This Writer must admit to being a lifelong railroad buff. So when we heard that there was now a historic steam driven train that went from Williams, Arizona to the Grand Canyon we were intrigued. The idea of taking an earlier era train to the South Rim, in much the same way as those first rail passengers, was irrestisible.
For it was on September 17, 1901 that the Atchison, Topeka and Santa Fe Railroad started train service from Williams to the Grand Canyon.
In the next 59 years the railroad was the principal entry into the Park carrying four U.S. Presidents, famous people from many countries and millions of ordinary folk. This Santa Fe service was discontinued in 1968. However two years ago a train called the Sunset Limited started making the trip from Williams to the canyon using steam engines and rail stock from that earlier era. All of which explains how and why this Writer boarded the Sunset Limited one day in late summer to enjoy an unique experience.
This train is a part of the Grand Canyon Railway which resumed daily service from its hotel in Williams to the South Rim in 1989 thanks to the dedication and vision of Mac and Thelma Biegert.
The regular daily service uses classic Diesel Engines and modern rail coaches. However the Sunset Limited concept was to use steam engines and older coaches, one with the classic open end platform that was so dear to politicians' hearts in less sophisticated times.
Our adventure started at the elegant Grand Canyon Railway Hotel in Williams. This completely modern hostelry offers 300 rooms with all amenities as well as a RV Park.
We arrived via Amtrak to Williams Junction where the hotel shuttle met us for the short ride to the hotel. Our Amtrak experiences, as well as our doings in Williams, will be duly related in a future issue of Vittles. The daily train adventure opens with a wild west show featuring a classic western gun fight between pesky Cowpokes and the Marshal. This is all done in high humor with a backdrop of a typical western town we have all seen in countless western movies. We did take in the show but reserved passage on the Sunset Limited which operates only in the summer with a weekend schedule.
The Sunset Limited is designed for adults only, in fact under age 17 is not permitted. For many people it is often a planned special event trip marking birthdays, anniversaries, honeymoons, etc., none of the above applied to this Writer.
Leaving Williams with much whistle tooting and such the train travels over a countryside mostly suited for the cattle ranches one occasionally passes. Then the train makes a slow deliberate climb to the Ponderosa pine and Pinon forest that covers the south rim of the canyon.
Meanwhile dedicated car attendants like Carol Shoemake are busy taking drink orders from the bar. We noted the wines served were Arizona made, from Granite Creek Vineyard which has been producing wines since 1974 in the Chino valley, Arizona.
Jack Wrixon, who handles the club car bar, generously gave this Writer a personal tasting of the three Granite Creek wines served. They included a Chardonnay, a 2005 Zinfandel and the Grand Canyon Cuvee, a blend of Merlot and Cabernet Sauvignon, We liked all three wines but singled out the Cuvee as our favorite.
With the beverages an overflowing buffet is featured in each car. Out bound to the South Rim it features four unusual cheeses as well as fruits, veggies, and assorted dips and crackers.
On the return trip Executive Chef Darren Kirkpatrick brings out a full evening buffet. This included appetizers like lobster pate, and smoked salmon mousse. Then bacon wrapped shrimp. Asian chicken and beef tenderloin, all served on skewers. Sides included au gratin and roasted potatoes and roasted veggies.
Topping all is an astounding array of dessert goodies. We had to try the miniature cream puffs, chocolate eclairs and chocolate dipped whole strawberries and regretfully stopped there. We had the opportunity to chat some with Chef Kirkpatrick who is from New York and received chef training in Italy. His considerable talents were certainly on display on our trip.
All of this was accompanied by live entertainment with a trio called "Gentlemen of the Train", neatly attired in Tuxedos, putting to shame the outrageous casual attire of the rest of us.
Outward bound the trio, playing a mix of everything from blues to pop and country western favorites, roamed from car to car.
On our return trip they played in the Max Biegert lounge car which soon became a scene of general revelry and hilarity. This thanks to folks enjoying Jack Wrixon liberations and generally getting acquainted. This car also has a dance floor which received lots of activity as well.
What with all this good living we almost forgot what we did at the Park. No actually this is also well planned as we were met at the Park's historic train station by tour busses. These took us to viewing sites along the South Rim. Our driver, Oscar, was a fountain of local lore and history, indeed part of his ancestry includes people who lived in the country centuries before Columbus.
Only the weather did not cooperate, rather we encountered one of the canyon plateau thunderstorms that Ferde Grofe portrayed so well musically in his Grand Canyon Suite. Oscar tried his best but views were masked sometimes in cloud, with only brief tantalizing views of the scenic wonders stretching to the horizon.
But weather aside we were a merry group of travelers and the scene in Max Biegert's lounge car proved that, as we chugged back to Williams, it was indeed a day and evening to remember.
All the train trips start from the Grand Canyon Railway Hotel located in the center of Williams, Arizona. The daily train to the Grand Canyon South Rim uses modern Diesel engines and deluxe coaches and parlor cars. It offers six different classes and services ranging in price from $65 to $170 per person. It operates every day of the year except December 24 and 25.
The Sunset Limited operates only during the summer months and generally is limited to weekend trips. Once at the Grand Canyon motor coach rim tours are available for train passengers and can be purchased as part of a package. Also several packages that include both rooms at the Hotel and the Train trip are available. For more information call 1 800 the Train 1 800843-8724 or there is an outstanding website complete with photos and descriptions at TheTrain.com. Children are of course welcome on the daily train and it is an exciting experience for them.
In the next issue of Vittles we will tell of our stay at the Grand Canyon Railway Hotel, its restaurants and other facilities.
Back to Table of Contents..
Last Update:12/10/07
&copy 2007 Joe Hilbers All Rights Reserved.
Graphic Design by Impact Graphics