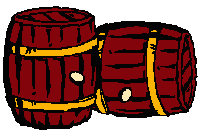 "California winemakers greet the 21st Century with singlevineyard vintages, bold blends and exciting new varietals "
.
By The Editor's Vineyard

These are exciting times for California winemakers with an expanding market of ever more knowledgeable consumers, the introduction of new varietals and with a few decades of experience behind them a better understandings of where the best vineyards are located.

At Geyser Peak Winemaker Mick Schroeter has taken the idea of single vineyard designation a step further with what he calls 'block selection'. In short a special place in a vineyard that produces the very best grapes.

First introduced last year 'block selection' vintages are now being released on a continuing basis. The newest include a 1999 Sonoma Moment Vineyard Block Viognier; a 1999 Ricci Vineyard Block Chardonnay; and a 1998 Shorenstein Vineyard Block Merlot

We were certainly impressed with the quality of each of these vintages. The only downside is that the number of cases produced for each of these wines is relatively small, meaning that the consumer may have difficulty finding them at the retail level.

The French varietal, Viognier, is a favorite of ours as a wonderful food wine. The Geyser Peak Viognier is from hillsides above the Alexander Valley. The wine is full of the fruit of this varietal both in aroma and flavors. We enjoyed our glasses of this wine with some oysters from Willowa Bay in Washington State.

Fetzer has moved to new packaging to better identify its designation wines. Valley Oaks is the designation for all the reds except Merlot which will bear the Eagle Peak logo. The whites will all have the Echo Ridge logo except for Sundial chardonnay.

Most of these vintages still can be found at the retail level under $10 making them good value for the consumer.

We particularly liked the 1999 Echo Ridge Sauvignon Blanc. We like this wine for its multiple fruit aromas and flavors. Clean and crisp and no hint of the grassiness sometimes found in this varietal.

The Fetzer winery has always been identified with zinfandel and so we readily reached for the 1998 Valley Oaks Zinfandel. Mostly from Mendocino vineyards we found the vintage to have intense flavors hinting that it will enjoy a long bottle life. A full, rich bottle of wine and certainly a bargain as priced.

We always look forward to the reserve wines of Clos Du Bois. And this year Winemaker Margaret Davenport had a special surprise for us. The release of a 1998 Alexander Valley Reserve Tempranillo. Tempranillo is the primary grape variety used in Spain's famed Rioja wines. From grapes grown in the Alexander Valley this vintage has been blended with 13 per cent cabernet sauvignon and given 20 months of French oak aging.

Rich in texture and flavor this wine is a welcome change from the usual California red varietals.

Elegant best describes the 1998 Alexander Valley Reserve Cabernet Sauvignon. Winemaker Margaret Davenport blends her wines well and this bottling includes small lots of merlot and cabernet franc. Smooth and lush are words to describe this wine, ready to drink now but will continue to age very well.

Since its early beginnings William Hill Winery has been producing superior wines. And the tradition is continuing with Jill Davis as winemaker. The 1998 Napa Valley Cabernet Sauvignon is from hillside vineyards and includes small blends of cabernet franc, merlot and petit verdot.

The finish on this wine is unexpectedly soft, yet enjoys hardy, rich flavors and, like all William Hills vintages, the promise of a long bottle life.

William Hill released two 1999 Napa Valley Chardonnays, one on its Reserve label. Both from grapes grown in the Carneros and Atlas Peak appellations. The Reserve we would recommend as an excellent cocktail wine, with lush fruit and an appealing crisp, dry finish.

The regular Napa Valley chardonnay we would term more of a food wine with a fine balance of fruit flavors and only a hint of oak on the palate. At less than $20 a bottle it is a good buy.

Bonterra Vineyards continues to enjoy success with its organic grape growing in Mendocino County. Winemaker Robert Blue also continues to reach out with different varietals. His success with Rhone style wines particularly Viognier and Syrah is proven with releases of the 1998 Bonterra Syrah.

Syrah is the grape that Australians have used with great success and here is a vintage that is their match. Dark in hue the wine has aromatic qualities and hints of spice in both bouquet and finish.

The 1998 Bonterra Viognier is another example of how adept some California winemakers have become with this Rhone varietal. This is a great sipping wine, just right for a picnic or snack time. The fruit aroma and flavors are irresistible.

We found the 1997 Bonterra Merlot excellent as a lighter red food wine with all the softness and silkiness that this varietal can sometimes show. Some cabernet sauvignon and syrah were added to boost the finish. All the Bonterra wines are priced under $20.

ohn White is winemaker for Fetzer Barrel Select wines and his 1997 Fetzer Barrel Select Cabernet Sauvignon is a real winner for those who delight in finding outstanding wines at reasonable prices. This bottling is from grapes from both Napa and Sonoma counties, 100 per cent cabernet sauvignon, and had two full years in French oak barrels. The wine is right in the mid teen price range and will delight with its lush full flavors and memorable finish.

Also, again a bargain hunter's dream, is the Barrel Select Merlot. Unusually complex for a merlot here is a wine ready for now or destined for a long bottle life as well.

Back to Table of Contents..

Last Update:4/1/01
&copy 2001 Joe Hilbers All Rights Reserved.
Graphic Design by Impact Graphics