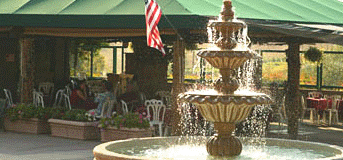 "Temecula--Cafe Champagne shows delights of wine country"
by Jeanne Bartlett
In the heart of the Temecula Valley Wine Country you will find a jewel of a restaurant. As you approach the Thornton Winery you catch sight of a magnificent building, broad lawns and stately old trees. Within that setting, you will discover Café Champagne. This is where I spent a beautiful morning in late spring.
Prior to my visit, I knew Café Champagne had won several awards, the result of careful guidance by Sally Thornton. The Café's aspiration is to provide "Contemporary Fusion Cuisine" with vineyard-inspired menus. It has a look of French country elegance with special touches such as home-grown flowers. As you are seated, you are treated to a stunning view of the fountain in the patio and the vineyards beyond.
The menu displays the deft touch of Chef Steve Pickel as he matches the food to the Thornton wines. The Chef could not be with us that day, but for an appetizer Nathan Swanner, Sous Chef, sent us the Crispy Calamari with a Thornton Brut-Dill Buerre Blanc. I elected to have a glass of Thornton Blanc de Noir which turned out to be the perfect accompaniment with the calamari. Each of the four persons in our group that day selected a different entree so we were able to experience an array of different dishes, all based on fresh, local ingredients that were complemented by Thornton wines. I thoroughly enjoyed my "BLT" salad with poached chicken breast, Haas avocado, peppery watercress, crisp pancetta, roasted grape tomatoes, ciabatta croutons with an olive oil and lemon dressing.
The presentation resembled a flower with many colorful ingredients in the bowl, and the taste was a wonderful blend of salty and spicy flavors. The Moroccan Spiced Lamb salad, with grilled lamb sirloin, wild Arugula, orange segments, spiced almonds, olives, feta cheese with blood orange citronette, also comes highly recommended. The sandwich choice was a work of art! Bay shrimp and crab were tossed in a mango-lime dressing and served with avocado and tomato on artisan sourdough bread with crispy shoestring fries to top it off. The fourth choice was the spicy Thai beef wrap. The tender beef fillet and a green papaya mango salad were wrapped in lettuce leaves with sweet Thai chili and ginger chili sauce. We were fortunate to receive several vintages of Thornton wines thoughtfully paired with each course.
No chance of staying for dinner that day, but if we had lingered we could have sampled a vineyard tapas plate to start, or perhaps warm brie en croute. For your entrée, either the grilled marinated flat iron steak or the pan-seared Maine scallops come highly recommended. Some Sunday I would like to return for the Champagne brunch. The brunch menu features the traditional dishes of the café plus inspired specials. There is an profusion of fresh seafood offerings as well as numerous dishes to please the meat lover. All choices come with an exceptional glass of Thornton NV Brut.
Café Champagne is located at 32575 Rancho California Road in Temecula as part of the Thornton Winery. The café is open for lunch and dinner seven days a week. You may dine either inside or outdoors on the patio, both with the same wonderful view. There is free off-street parking. Telephone: 951.669-0099 or on the web, wwwthorntonwine.com.
Back to Table of Contents..
Last Update:9/15/08
&copy 2008 Joe Hilbers All Rights Reserved.
Graphic Design by Impact Graphics