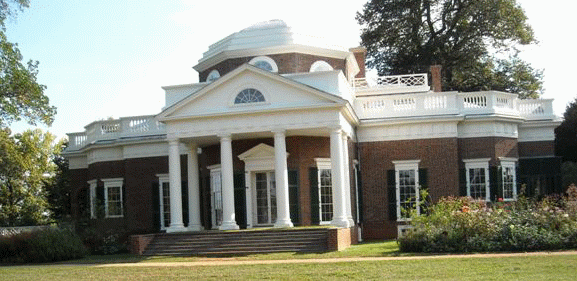 "Virginia--Charlottesville showed us the way to Monticello"

by the Editor
If you wish to visit the environs of the man who wrote the Declaration of Independence, Thomas Jefferson, you want to start at Charlottesville which is beautifully situated in the foothills of the Blue Ridge Mountains. Among Charlottesville's many attractions it is home to the University of Virginia, designed and founded by native son Thomas Jefferson.
Visiting Thomas Jefferson's Monticello was a most impressive experience for this Writer. The newly opened Visitor's Center is a great way to start this adventure. Be sure to go to the theater to see the film about the man and the impact his writing of the Declaration of Independence has had not only in our country but elsewhere as well. His words still resonate with people seeking freedom around the world and this is well presented in the film.
A shuttle bus takes you to the top of the hill where Monticello commands a wonderful view of the surrounding rolling countryside. Away from public service, he had forty years of it including two terms as President, Jefferson's interest in agriculture was intense and he used the lush growth of his native Virginia to advantage in trying seeds and plants from as many different places as possible.
We were fortunate to have H. Wayne Elliott as our tour guide and he made the tour of each room a virtual experience as to what a visit to see Jefferson at his home was really like. Take plenty of time for this tour since the surrounding grounds are beautifully maintained and there are hiking trails on the property as well. Some homework before a visit is helpful. Try www.monticello.org.
Nearby is Ash Land-Highland, the home of President James Monroe. James Monroe was an active soldier during the Revolutionary War and held more public offices during his lifetime than any other President. His Monroe Doctrine, declared to keep European nations out of the Americas, has been U.S. Foreign policy to this very day.
Compared to Monticello Ash Lawn-Highland is modest but it offers a very good experience of what it was like to live in the early 1800s for famous people as well as slaves. Ash-Lawn Highland, since 1974, has been administrated by William and Mary College, which was James Monroe's alma mater. Tours are available daily. It is located only two and one half miles from Monticello.
Our tour guide was Karen Sheffron and she had a wonderful store of knowledge of Monroe and his family. Also that James and Dolly Madison were often guests of James and Elizabeth Monroe. Other exhibits include how food was prepared over a wood fire and we had a demonstration of the typical Revolutionary Soldier, his simple kit and his musket which was fired for our benefit.
For information on tours to Ash Lawn-Highland on the web at www.al-h.us.
We found a lot to do in Charlottesville which was named for the wife of King George the Third. It was founded in 1762. Albemarle County was home to three of the first Presidents.
We stayed at the Cavalier Inn at The University, a two diamond AAA rated which was centrally located for many of the places we wished to visit. We were impressed with its most friendly and helpful staff. It is located near the University of Virginia which Thomas Jefferson founded and chartered in 1819. He also designed the University Rotunda which he modeled on the Roman Pantheon, and it is still in use today for meetings and administration. We visited here and also Jefferson's unique Academical Village which flanks the Rotunda and has served since 1826 as class rooms and living quarters for facility and students.
One evening we wandered through Charlottesville's Downtown Mall which is a Pedestrian only district made up of shops, galleries, bookstores (we spent much time in one of these), as well as restaurants to suit every taste. We loved its casual atmosphere, tree lined thoroughfares and brick styles architecture.
Albemarle County is also home to some of Virginia's best known vineyards and wineries and the Monticello appellation, one of seven in the State. Our dining experiences and visits to wineries will be covered in the next issue of Vittles.
For more information contact the Charlottesville Albemarle Conventiion & Visitors Bureau at 877 386-1103, on www.visitorcenter@charlottesville.org.
Our final destination before leaving Charlottesville was the Boar's Head a unique property that offers all the amenities of a four diamond resort located on 573 lush Virginia acres complete with lakes and streams for fishing, a championship 18 hole golf course, tennis, a fitness club and spa and 170 guest rooms. We were there for a breakfast buffet that proved to be a gourmet delight featuring all locally grown produce and products. We had seasonal berries from Stanley, organic eggs from Piney River, apple wood bacon and sausage from Edwards of Surry, Grits from Raphine, Pecans and Maple syrup from Lexington and Irish Oats from Waynesboro. All this while looking out to a serene lake, rolling hills and meadows. We also had the opportunity to chat with Executive chef Terry Sheehan who has earned a reputation both in the kitchen as well as cooking segments on TV.
If you think that Boar's Head made it difficult to leave Charlottesville you are right. The Resort is only two miles from downtown Charlottesville but we thought we were on the other side of the planet from L.A.. For information on Boar's Head call 800 476-1988.
Back to Table of Contents..
Last Update:3/15/10
&copy 2010 Joe Hilbers All Rights Reserved.
Graphic Design by Impact Graphics