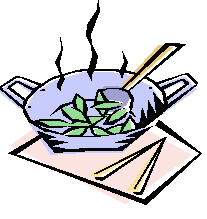 "Camarillo--Classic Thai cuisine and service prevail at Charn Restaurant"
by Jeanne Bartlett
In 1984, Thai cuisine came to Ventura County when Charn restaurant opened in Camarillo. Charn Premyodhin and Joy Sripimon-Wan partnered to bring a new adventure in eating. "Charn" means skillful and when you add "Joy" it is a recipe for long-lasting success, rare in a tough restaurant town such as Camarillo. Charn's mother provided her original recipes and worked with the pair to shape the menu.
It has been a delight over the years to walk in the door, as you are greeted by a bright interior with many Thai treasures placed tastefully on the walls. When you think of dining at Charn you think of roses and fresh flowers. You will see them on every table and booth. They are grown by the family and lend an air of springtime to your visit.
Joy believes that what makes each dish so unique is the variety and quality of their spices. Besides the roses, the family also grows traditional Thai herbs and their own lemon leaves to produce the ingredient "kaffir" for special dishes.
The first thing you notice about the lengthy menu is pictures of chilies beside some of the items. This denotes a spicy dish, so watch out! If you choose one of these, you can regulate the amount of heat you desire by speaking to your server, as each plate is prepared especially for you.
There are several appetizers you might choose led by a new offering, a soft-wrap spring roll. Charn has taken its usual egg roll and reinvented it as a contemporary wrap. Joy tells us she updates her menu every three or four years but keeps many old favorites.
When you order lunch, you receive soup, rice and a choice of egg roll or salad. The soup we were served was a clear broth with a delicate flavor, with small pieces of tofu and two spinach leaves floating on top, a great way to start the meal. The house special for lunch is crispy duck with honey and ginger sauce. If you desire a spicier taste, choose the stir-fried calamari with chili sauce and sweet basil.
At dinner, you will receive soup, salad, steamed white or brown rice, or fried rice with your entree. The house special happens to be the one I choose most often: shrimp and scallops with garlic sauce. Another Charn special is Thai barbecued chicken marinated with traditional spices and grilled to perfection and served with Chef Charn's inimitable barbeque sauce.
If you are looking for a salad, choose the house recommended shrimp with crispy watercress and cashew nuts served over fresh spinach. The dinner menu also features fish and shellfish selections. Grilled sole filet with steamed vegetables and garlic lime dressing is a popular choice. The side dish that is a must for me is the house special fried rice with chicken, shrimp, bacon, pineapple and cashew nuts. For dessert, the fried bananas topped with ice cream and coated with chocolate or honey is a breathtaking way to finish a delightful meal.
Singha and Heineken beers are available, as well as domestic beers. Wines from Paul Masson can be ordered by the glass or carafe, but Sake is a special choice for a Thai feast.
Charn is open Monday through Thursday 11 a.m. to 9 p.m., Friday and Saturday 11 a.m. until 9:30 p.m. There is free, off-street parking, 65 Daily Drive, Camarillo. (805) 388-1138. Catering and take out are available.
Back to Table of Contents..
Last Update:12/1/07
&copy 2007 Joe Hilbers All Rights Reserved.
Graphic Design by Impact Graphics