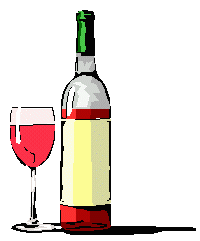 Hollywood--The Renaissance Restaurant offers a welcome innovation to the winemaker dinner"
By The Editor

The Renaissance Restaurant has the most original innovation in the traditional winemaker dinner that this Writer has experienced. These winemakers dinners generally follow a fixed routine that can become tedious and sometimes downright boring being restricted to one winery and one evening and one time.
At the Renaissance located in the Hollywood's Manor Hotel this has all been changed. Here the monthly wine dinners are spread over two evenings with no fixed time of arrival for guests and the wines of an entire region or country are featured. Wine Steward and Maitre d' Gerald Marini and Chef Phil Christodoulou combine their considerable talents to match the wines with the pre-fixe dinner.
This interesting departure from the traditional is possible for this restaurant since it has probably the best wine list in the Hollywood area with some 300 labels and fourteen pages of vintages listed by both region and country.
Our recent evening at Renaissance featured the wines of Bordeaux and we were treated with some outstanding vintages to go with a dinner that featured warm Foie Gras salad or Mussel Mariniere; choice of Duck Magret with Peppercorn sauce or Filet de Sole with Lobster sauce and Jasmin rice, followed by a cheese tray and then Poire au Vin for dessert.
The wines included 2003 Chateau Rauzan Despagne, a classic Bordeaux blend of sauvignon blanc and semillion followed by another white wine,this from the Graves appellation, 2003 Chateau Coustaut with included 45 per cent sauvignon blanc, 45 per cent semillon and 10 per cent muscadelle.
Our red wines were a Pomerol from Gironde, 1995 Clos Rene Pierre Lasserre and a wondrous Grand Cru from Haut Medoc, 1996 Chateau Camensazc. With our Poire au Vin, another winning dessert by Pastry Chef Christian Boinard, our wine was a classic 1999 Chateau Andoyse Duuc Kayol sauternes.
For those customers who want more detailed information on the wines served Gerard Marini presents it personally. But this intervention on the evening's festive dining is by request only. While the wine dinners have a fixed quite reasonable price substitutions can be made in the pre-fixe menu.
These gourmet wine dinners are held at the Renaissance on Thursdays and Fridays, generally the last week of the month. Another interesting feature is that diners who do not want to participate in the wine dinners are also welcome those evenings.
As the dining room for the Manor Hotel the Renaissance is open for breakfast, lunch and dinner seven days a week. It is located at 5930 Franklin Avenue in the heart of Hollywood. Call 323 960-3222. Reservations should be made for wine dinners.
Back to Table of Contents..
Last Update:6/1/05
&copy 2005 Joe Hilbers All Rights Reserved.
Graphic Design by Impact Graphics