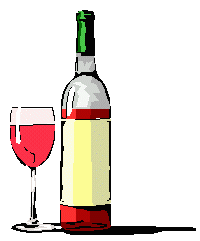 "Here are some wines easy on the family budget"
by The Editor's Vineyard
Never in the 7,000 year history of wine has those who appreciate the product of the vine been so well served.
At every tating we attend we are continually impressed how the quality of American wines continues to improve. And not just California wines either. On a recent trip to the Northwest we were delighted with some of the Oregon and Washington vintages we tasted.
This past year premium wines again show the biggest gains in sales. But what is amazing to us is the quality of many cork finished wines priced under $12. Call these everyday wines if you will but they represent real bargains to the consumer.
Canyon Road, Fetzer and Bel Arbor are three brands that fit the above description. We tasted three recently released white wines of Canyon Road including the chardonnay, sauvignon blanc and Johannisberg riesling. We were so impressed with the Riesling that we talked a Chinese restaurateur into putting it on his wine list. The chardonnay was soft and would be excellent as a cocktail wine.
California winemakers continue to improve sauvignon blanc. Venezia has released a white Meritage wine that is made with 55 per cent sauvignon blanc and 45 per cent Semillon. We thought this a delightful vintage perfect with many different foods as well as an aperitif.
Fetzer continues to excel with its brand name white wines like Sundial Chardonnay and Echo Ridge Sauvignon Blanc. Sundial's popularity comes from the consistency that is present in each vintage It is true to the varietal with no oak to mask natural flavors.
Fetzer has changed the style of Echo Ridge sauvignon blanc, again leaving out the oak and depending on the natural flavors of the varietal to come through in aroma and flavor. We liked the change.
Jekel continues to expand its reputation for outstanding vintages. We loved the 1996 Cabernet Franc, made with one hundred per cent of this grape. Most unusual since it is used by most winemakers as a blending wine.
As a distinct varietal it was soft and rich in both aroma and flavor. Tasting this wine may induce more winemakers to bottle Cabernet Franc as a unique red wine.
Jekel has also released a most impressive Monterey County red Meritage wine. It is a 1995 vintage made up of 60 per cent Cabernet Sauvignon, 13 per cent Merlot, 13 Per cent Cabernet Franc, 7 per cent Malbec and 7 per cent Petit Verdot.
Describe this wine as full bodied and flavored. This is a premium wine and we would like to be around ten years from now and sip it again then.
Bel Arbor continues to show wines from both California and Chile. We tasted the 1997 Cabernet Sauvignon from the Valle Central region of Chile. In its price range, well under $10, it represents a good table wine for everyday use, not complex but good with almost any entree.
Many Merlots are climbing in price to match their increased popularity in the marketplace. Bel Arbor has resisted this trend and the 1997 Merlot from California Central Valley's Woodbridge is an honest soft and smooth textured wine that will please most drinkers. Certainly the price is refreshing at well under $10.
Back to Table of Contents..
Last Update:6/1/99
&copy 1999 Joe Hilbers All Rights Reserved.
Graphic Design by Impact Graphics