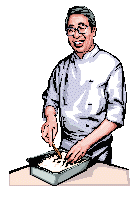 "West Hollywood--Unique cuisine and decor mark the Kung Pao Bistro restaurants"
.
There are two Kung Pao Bistro restaurants serving the exciting Chinese cuisine of Restaurateur Chef Jimmy Chi. One in the San Fernando Valley at Studio City and the second in West Hollywood.
While the menu is the same at both restaurants in every other aspect, ambiance, decor and most of all in clientele they are seemingly more than the short drive over Laurel Canyon Boulevard, apart.
Our most recent visit was to Kung Pao in West Hollywood. Located at 7853 Santa Monica Blvd., adjacent to Fairfax Avenue it fits in perfectly with the hip, cool, chic atmosphere and clientele that frequent the area. It offers a completely contemporary decor; light, airy and with exciting color schemes. There is free off street parking and both indoor and patio seating.
This can be a late hour dining restaurant, as often as not, it can be completely filled with happy customers well past 10:30 p.m. It goes without saying that this Writer was not still about at such an outrageous hour.
My dining partner and I selected from the appetizer menu Barbecue Pork slices and the minced chicken in soothing lettuce, one of my personal favorites. Our entrees included the steamed Chilean sea bass and the tea smoked duck as well as scallops served with a variety of veggies. The Duck was full of flavors and my dining partner even let me try a few slices.. The sea bass arrived with steamed string beans, broccoli, white mushrooms and a Hunan black bean sauce. Both entrees came with choice of either brown or white rice. We could see right away with such large portions that there would be some takeout as well.
On another visit we had to try a dish called mango chicken, a Chef Chi original. This is Mango chicken-- slices of chicken breast and fresh slices of tropical mango sauteed with snow pea, carrot and straw mushroom in juicy mango sauce with the mango yellow making for an unusually attractive presentation. It is a very colorful dish as pleasing to the eye as the palate.
We also had chicken potstickers and particularly tasty, crispy chicken steak on a stick with a sweet and sour plum sauce for dipping.
The success of the Kung Pao restaurants in Studio City and West Hollywood can be attributed to a variety of factors. First neither is your typical Chinese restaurant with a standardized, traditional menu. The wine list is important at both locations and unlike almost all Chinese restaurants there is a full dessert cart with several selections.
We should add that both restaurants have a special health concern vegetarian menu. The veggie entrees use meat substitutes or soybean products so paradoxically one can order veggie smoked duck or veggie orange flavored chicken and many others as well. This writer, not being into veggies, decided not to try these dishes but just took Jimmy Chi's word that they taste very close to the real thing. There are also vegetarian potstickers.
Studio City Kung Pao is located at 11838 Ventura Blvd., with free off street parking. Telephone 818 766-8686; West Hollywood phone at 323 848-9888.
Back to Table of Contents

Last Update:9/15/05
&copy 2005 Joe Hilbers All Rights Reserved.
Graphic Design by Impact Graphics