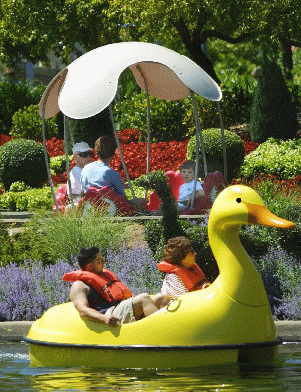 Santa Clara Valley--Town and Country mix well in Morgan Hill and Gilroy
By Joe Hilbers

Its pretty hard to beat a mix of redwoods, vineyards, quality wines and the world's most unusual family theme park. We found all of the above and much more on our recent excursion to Gilroy and Morgan Hill.
Both these communities have a long history as does the Santa Clara Valley where they are located. This scenic area, today often called Silicon Valley, is one of California's oldest vineyard and wine producing regions and its fame for agriculture has lasted since California reached Statehood. In an earlier era its vast orchards of fruit trees earned it the name Blossom Valley.
On our tour we learned how agriculture and winemaking has moved into the 21st century and Morgan Hill and Gilroy, once farming communities, has met the challenges of being in close proximity to San Jose, now one of the U.S.'s major cities.
Andy Mariani is no ordinary farmer. He has created Andy's Orchard and carries on the Santa Clara Valley's tradition of growing the very finest fruits. Here orchards offer a large number of varieties of cherries, apricots, peaches, nectarines and plums. At his farm store Andy offers, in season, the very freshest fruits, picked just hours before being sold. They are also dried and made into quality jams and jellies. But most impressive is the fact that now Andy's Orchard can deliver fresh peaches picked one day and delivered to your table the very following day anywhere in the U.S.A.
For more information check it out on the web at www.andysorchard.com or call 408 782-7600.
Fourteen wineries are clustered in the southern portion of the Santa Clara Valley, almost all family owned, and some with a long history. Occasionally they group together to present a Passport Weekend when visitors for a nominal fee of $25 per person can enjoy barrel tastings, BBQs, tours, antipasti, music and outstanding vintages.
While not a part of the Weekend event we did visit several of these wineries. We do enjoy visiting Emilio Guglielmo Winery in Morgan Hill. This winery was founded in 1925 and is now operated by the three sons of the founder. On our visit George and Gene Guglielmo were on hand to greet us with their usual great hospitality. One can find old vines here and some unusual wines as well. They have been growing and producing Zinfandel for 82 years and have one of the few Grignolino vineyards left in California.
Emilio Guglielmo was originally from Italy's Piedmont region and wines like Sangiovese and Pinot Grigio as well as Grignolino can still be found in their tasting room besides all of today's favorite varietals. Under Emile's, the founder's historic label, there are interesting blends like a white wine of French Colombard and Chenin Blanc and a red with Zinfandel, Ruby Cabernet and Carignane.
The Guglielmo Tasting room is open daily at 1480 East Main Avenue in Morgan Hill. For information call 408 779-2145, on the web at www.guglielmowinery.com.
Gilroy Gardens unique
If you have young children or grandchildren you must not miss visiting Gilroy Gardens, a horticultural theme park with attractions designed especially for children under eight years old. This Park has an interesting history. It was the vision of one man, Michael Bonfante who founded and operated the Nob Hill chain of grocery stores for many years.
He wanted a preserve which would include as many species of plants and trees as possible. Later the park was taken over by the City of Gilroy and now includes a huge green house, a lake, a Monarch butterfly garden, rides for children and adults including a railroad and monorail.
A major attraction is the Circus trees which have been designed and grown in intricate designs. Originally conceived and produced by the late Axel Eriandson, they are a graft between two sycamore trees. Some nineteen of these amazing trees can now be seen at the Park. There are also numerous restaurants and food kiosks, some with specialities designed for young appetites.
Gilroy Gardens is located on Hwy 152, just west of Gilroy and open weekends during the winter, daily in the summer. For more information call 408 840-7100, on the web GilroyGardens.org.
Old Vines
Fortino Winery is somewhat typical of the Santa Clara Valley since like many it was founded by earlier generations. The winery is now operated by fourth generation Winemaker Gino Fortino and sister, Teri Fortino. On our visit we immediately noticed some old vines growing across from the winery facility which also includes an attractive Tasting Room and a huge patio for parties and entertainment.
We asked Gino about this vineyard and learned that it was Charbono, an Italian varietal planted by his father in 1934. This Writer is always interested in unusual wines and varietals and we know of only one other California winery that is currently producing Charbono. We loved the wine and it won a medal in a recent wine competition.
We admired Gino Fortino's use of different varietals like his 100 per cent French Colombard sparkling wine. The Fortino Winery center hosts many events between May and October. The Winery is located at 4525 Hecker Pass Hwy. Call 408 842-3305, on the web at fortinowinery.com.
Our visit to Goldsmith Seeds opened up a new unexplored world for this Writer. Here we met with Joel Goldsmith, president of the firm founded by his father. As we talked in the 30,000 square foot greenhouse we learned that they produce flower seeds that are marketed throughout the world. Headquarters is in Gilroy but Goldsmith has producing and research facilities in the Netherlands, Guatemala and Kenya. We asked Joel how long it would before they were on every Continent.
Our timing was good for the firm was having its Spring Trials entitled "A World of Color" and indeed the greenhouse was filled with exhibits of flowers in every imaginable shade. At the Gilroy headquarters there are 150 employes and the technical staff has many years of experience in growing and developing new strains of flowers.
Goldsmith does not sell to individuals but their gardens are open to the public. Location is on Highway 152 in Gilroy, telephone 800 549-0158 on the web at wwwgoldsmithseeds.com.
The word Uvas means grape in Spanish and so the Uvas Valley is located in the Santa Cruz Mountain Range. In this Uvas Valley, just west of Morgan Hill, is the historic Sycamore Creek Vineyard and Winery. The original vineyards and winery were established at the beginning of the 20th century and since has had several owners.
It was renamed from Marchetti Ranch to Sycamore Creek in 1975 when new owners took over. Old Zinfandel and Carignane vines were replaced with Chardonnay and Cabernet Sauvignon. In 2005 there was another change of ownership when Bill and Carolyn Holt and Ted Medeiros purchased the properties.
Here we tasted two Bordeaux varietals, a 2006 Malbec and a 2005 Petite Verdot, both from local vineyards. We also liked the 2005 Pinot Noir which comes from Santa Cruz Mountain vineyards.
On our two day visit to the Santa Clara valley we stayed at the Ramada Inn which was conveniently located within a short distance of all the places we visited. Our room had every convenience including outdoor patio, fireplace and a bath tub which we would have loved to take home with us. Ramada is located at 16115 Condit Road, just off Interstate 101, in Morgan Hill. Call 408 779-7666, on the web at ramada.com.
One evening we dined at Tasso's Old House Restaurant in Gilroy. Hosted by Tassos and Maria Perakis, the restaurant shows a delightful Italian and Greek cuisine. The braised lamb shank was memorable. On two levels the restaurant is well equipped for private parties and special events. It is located at 383 First Street in Gilroy. Telephone 408-847-7527.
For more visitor information about the Santa Clara Valley and its outstanding wineries contact the Gilroy Visitors Bureau located at 7780 Monterey Street in downtown Gilroy. Telephone 408 842-6436, e mail director@gilroyvisitor.org, on the web at wwwgilroyvisitor.org.
Back to Table of Contents..
Last Update:6/1/2008
&copy 2008 Joe Hilbers All Rights Reserved.
Graphic Design by Impact Graphics