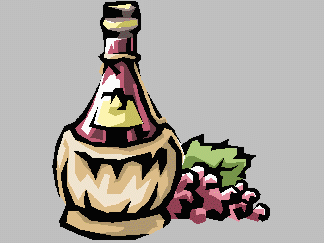 San Diego--This Wine Class was an evening to remember"
.. By The Editor's Vineyard
It was an evening to show the best of Italian wine and cuisine. The occasion was a wine course of Grossmont-Cuymaca Community College conducted by Wine Educator Dominic "Dick" Colangelo. With an assist by Tony D'Amato, proprietor of the award winning Baci Ristorante Italano.
If you ever want to take a wine course this is the way to go. We attended the first of four of these sessions which took place in the private patio dining room of Baci. The Tuscany wines selected by Colangelo were perfectly matched with the culinary skills of Tony D'Amato's kitchen. All served by the restaurant's professional staff in formal attire.
An added attraction was a video show depicting Dick Colangelo's summer tour of Italy's northern wine regions. These Italian wine tours by Dick Colangelo have become an annual event for wine and travel buffs and the tour for 2007 has already been announced.
Entitled "The Perfect Blend of Northern Italy" it will feature "The Lakes, Mountains, Wines and Cuisine" It will take place June 1-15, 2007. The tour is limited to 28 participants. For more information call 760 758-8555 or on the web at www.TravelDynamicsGroup.com, e mailmsiddall@tvidyn.com
In discussing Italian wines there is a lot of ground to cover: the many regions, number of varietals, the method Italian vintners use to designate their wines and the quality controls in use.
While Dick was discussing some of these subjects the wine was being poured and the enticing food coming from the kitchen. The class was also handed score cards and Dick explained how to judge wines using the UC Davis 20 point system. First was a white wine, a 2004 Terri di Tufi from Teruzzi & Puthod. With the wine a classic Bruschetta was served along with a black olive paste on toast.
Next to arrive was the Penne Quattro Formaggi, pasta with fontina, mozzarella and cream. The wine a 2004 Chianti Classico by Coltibuono. With the entree which was Pollo Toscano--baked chicken breast with prosciutto, sage, gorgonzola and fontina cheese the wine was a remarkable La Velona Rosso Duemilaguattro by Sant' Antino which was compared with a 2000 Brunello di Montalcino by Coldisole.
The happy class then settled to their Tiramisu. We could never remember school being anything like this. The only addition we could think of was perhaps Antonio Vivaldi's Four Seasons as background music.
Back to Table of Contents..

Last Update:12/1/06
&copy 2006 Joe Hilbers All Rights Reserved.
Graphic Design by Impact Graphics