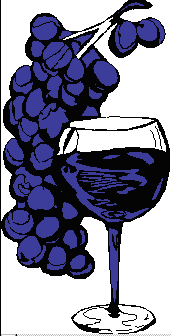 Classic Varietals get fresh looks from California Winemakers
.. By The Editor's Vineyard
Nothing excites a wine writer like the introduction of new varietals. We were impressed with the Montevina 1999 Nebbiolo Rosato. Nebbiolo is the Italian grape that produces wonderful Barolo and Barbaresco wines. In California it is still being explored by winemakers. This Rosato is light, full of flavors and a wonderful change from the ordinary.
Another release from Trinchero under the Montevina label is the 1997 Terra d'Oro Zinfandel. Zinfandel is one wine that truly benefits from old vineyards. And this vintage is from 46 year old vines. Old vines equal low yield which was the case here with 2-4 tons per acre. The result is an outstanding wine, dark in color, rich in aroma and flavor. To be enjoyed now but will only get better with more bottle aging. And a bargain at $16.
We were a recent visitor to Edna Valley Winery and noted the changes since becoming a part of the Chalone Wine Estates. Echelon is one of the brands from the Edna Valley and the 1999 Chardonnay shows how well this varietal does in the Central Coast. This wine had 12 per cent pinot blanc added and spent seven months in oak barrels. Ready to drink either for cocktails or at the dinner table.
Acacia was one of the pioneer wineries in the Carneros region. We visited the winery over 15 years ago and was impressed with its potential for making fine wines. Now the winery is included in Chalone Wine Estates. We recently tasted the 1999 Chardonnay from Carneros, expecting an outstanding vintage and was not disappointed. Alive with aroma and flavor it also reveals its 9 months in oak barrels.
The cooler climate of Monterey and its expanding vineyards are attracting more attention all the time. All of this is good news for Rick Boyer and Jekel Vineyards which is one of the pioneer wineries in the appellation.
Winemaker Rick Boyer has joined the list of vintners who are fascinated with the potentials of the Syrah varietal. Jekel has just released its first Syrah ever, a 1998 vintage. The wine has all the characteristics of this grape, a splash of different scents and flavors, a lush nose and finish.
Something to look forward to are Jekel Rieslings. And the 1999 vintage follows previous releases in showing a wine that brings out the best qualities of this grape. White riesling loves a cool climate and this wine from Gravelstone Estate vineyard shows crispness balanced with a touch of sweetness that is true to the varietal.
Jekel also produced a Late Harvest Riesling in 1999. Beautifully botrytised the wine rolls over the tongue like honey. Wonderful as an after dinner wine or for sipping next to the fireplace on a winter evening.
For price conscious wine drinkers Geyser Peak has released some fine vintages, all from Sonoma county appellations. The 1998 Merlot will please any who like this varietal. Blended with small amounts of Shiraz and Cabernet Sauvignon it offers the classic smoothness of the varietal with full round flavors on the palate and finish.
Geyser Peak's 1999 Russian River Valley Chardonnay was 100 per cent oak barrel fermented. The chardonnay grape likes cool growing conditions and this is what the Russian River Valley offers. This vintage shows its heritage with crisp flavors but a creamy finish that marks the best vintages of this grape.
We love Zinfandel and never miss an opportunity to explore what we consider to be an exceptional vintage. The 1998 Geyser Peak Zin is unique in that it includes grapes from both the Alexander Valley in Sonoma County as well as Cucamonga Valley in Southern California. We don't hear much about Cucamonga Valley grapes anymore but it still has some old vineyards dating from an earlier era. This means that the grapes are from old vineyards. The wine was aged in American oak which generally lowers the tannins. The result a wine complex with flavors, soft and ready to enjoy.
The above Geyser Peak vintages are all priced under $20.
For bargain hunters some below $10 vintages that received very favorable impressions from this writer include two Sutter Home releases--the 1999 White Zinfandel and the 1999 Chardonnay. Sutter Home White Zinfandel introduced a whole generation to the wine world and continues to be the best selling wine in the U.S. With a half billion bottles sold since 1972 it still is a favorite among casual wine drinkers. And oh-- we enjoyed it too.
The Sutter Home 1999 Chardonnay is a pleasant everyday wine with nice fruit flavors and a touch of creamy finish and is as kind to the wallet as it is to the palate.
Canyon Road, a second label of Geyser Peak, also offers some consumer friendly wines ready for everyday enjoyment. The 1999 Cabernet Sauvignon was on the oak for 11 months and is soft for this varietal and still flavorful. Ready to drink but some additional bottle aging will improve the vintage.
Prices for California merlots have expanded almost as rapidly as its popularity. So take note of this Canyon Road Merlot. A nineteen ninety nine vintage the wine had 10 months in American oak and offers the classic softness of this varietal along with pleasant aromas and flavors. And with 13.4 per cent alcohol some body as well.
La Crema Winery is part of Kendall-Jackson Estates and since 1996 has its own state-of-the-art winery in the Russian River Valley. The Winery is exclusively for pinot noir and chardonnay wines grown in selected Sonoma county locations and priced in the premium range.
La Crema's 1998 Cold Coast Vineyards Chardonnay is from grapes selected from the cooler areas of the county.
At La Crema wines are hand crafted as was this chardonnay which underwent complete malolactic fermentation and then 10 months of sur lie aging. The result is a classic chardonnay very much in the French style, outstanding and worth its $20 price tag. La Crema has a very informative website at www.lacrema.com. Back to Table of Contents..

Last Update:1/1/01
&copy 2001 Joe Hilbers All Rights Reserved.
Graphic Design by Impact Graphics