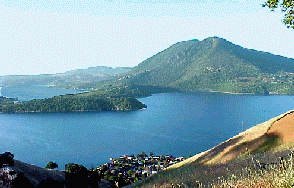 Lake County--Pastoral scenes and its attractions make Clear Lake visitor friendly"
By The Editor

Escaping the people crush of urban California, whether north or south, is not as easy as it once was. However there are still places that somehow have escaped, at least for now, the crowded freeways.
One of these is Lake County, which while offering those amenities of modern life we all treasure, continues to present to the visitor a seemingly unhurried country life-style. Here is a place of quiet lanes and early beginnings. It still offers its rural and agricultural roots and showss one a view, that alas is becoming increasingly rare in California.
Think unhurried when visiting Clear Lake and the charming communities that rim its shores with names like Lucerne and Nice or simply Lower Lake or Upper Lake. The visitor wants time here to enjoy long vistas of green meadows, stretching vineyards, lounging cattle enjoying the shade of ancient oaks and well cared orchards.
Lake County covers a large area and we wisely settled on a perfect base for our visit. This is the Tallman Hotel in Upper Lake which combines a long history with accommodations as new as tomorrow's headline.
Originally built at the current site in the 1870s it accommodated travelers with rooms, a livery stable and saloon. Rescued from destruction a few years ago by Lynne and Bernie Butcher it is now part of the Broughton Hospitality Group. Each room is especially designed to marry modern convenience and luxury with the hotel's historic past. We loved the antique look of the furnishings and bathroom fixtures. The cottages have private balconies some equipped with a Japanese Ofuro (soaking tub).
The all new Tallman Hotel officially opened June 1 with 17 guest rooms. Thee is also an executive meeting room, garden suites and a swimming pool. All the conveniences and attractions of the 21th century are to be found in Lake County from casinos and fast food to the water sports offered at Clear Lake and the many resorts that rim its shores.
Here you will find no freeways but roads of yesteryear that beckon to a more carefree and leisurely state of mind and body. This is exactly the way we wandered through the country side stopping in road side communities that still show evidence of their history. Clear Lake State Park is a jewel with shady campgrounds, fine views of the lake and a boat ramp for watercraft and fisherfolk.
Clear Lake enjoys the reputation of being one of the best Bass lakes in the U. S. and hosts many tournaments each year. Geologists say Clear Lake is one of the oldest in the nation, being in place for two and one half million years It is also the largest natural lake in the State. We worked up a hearty appetite in our travels and settled in at the Blue Wing Saloon and Cafe, adjacent to the Tallman, which also follows the tradition of the late 1870s original and still at the same location. We opened with fried Calamari with house Aialis and a classic Ceasar salad. My partner's entree was Shrimp Scampi with garlic and butter served with rice pilaf.
My entree was the barbecued pork loin ribs glazed with a tasty sauce, served with mashed potatoes and fresh veggies nicely done al dente. Feeling somewhat guilty we, never the less, ordered desserts with only a little convincing from our Server. My dining partner selected the Blue Wing Brules while I devoured Winnie Riffe's chocolate cake with a scoop of ice cream on the side.
Featured wine was Blue Wing Saloon's 2005 Sauvignon Blanc which recently won a Gold Medal at the West Coast Wine Competition held in Santa Rosa. The winning wine was made by Winemaker Matt Hughes of Clover Valley Vineyard in Lake County.
The Blue Wing is open for luncheon and dinner seven days a week. Call 707 275-2233. The Tallman Hotel serves an elegant Continental Breakfast for guests in a dining room with yesteryear's grand ambiance. The Hotel is located at 9550 Main Street, Upper Lake, California. Telephone 707 275-2244, on the web at www.TallmanHotel.com.
Across the street from the Tallman Hotel is the 1st & Main Antique Mall. We spent some time in 'Wanted, Anything Old." This store, operated by Margie and Tony Oliveira, is as much a museum as a store selling antiques and relics of the past. We whiled away a good deal of time looking over everything from old advertising signs and books to the gear of early cowboys and cattlemen.
Another day we met with Rich Gunier of the Lake County Winegrape Commission. Soon we were on a motor tour to learn what has been happening in the Lake County wine scene. First stop was Tulip Hill Winery located at 4900 Bartlett springs Rd, Hwy 20, Nice. This winery is producing its wine from its own estate vineyards in Pope Valley and Mt. Oso. There is a tasting room which is open daily.
Then it was on to Jim Fetzer's Ceago Del Lago. This is a showplace winery with a spectacular architecture. Massive wooden beams in their natural color frame the buildings. From the winery one is treated to a scenic vista of Clear Lake.
When the Fetzer family founded the winery in their name they were leaders in organic farming in the vineyards and indeed introduced the first truly organic wines. Now with Ceago Del Lago Jim Fetzer is exploring new horizons in organic farming in his vineyards.
Ceago Del Lago has a tasting room for the public and is located at 5115 East Hwy 20 in Nice. In the future Jim Fetzer has plans for a restaurant and later a hacienda styled Inn.
Perhaps no place in Lake County offers a better view of the surrounding country than Monte Lago Vineyards & Winery. It is located in High Valley, Lake County's newest appellation. Situated in hills surrounding Clear Lake there are 62 acres of vines, all planted in the past five years.
This high country enjoys its own terrior. All the Monte Lago wines are single vineyard bottlings. The vineyards here have the same volcanic soils as Mount Konocti across the lake. Facts about the growth of the Lake County wine industry came fast from Rick Gunier. The County now has 12,000 acres of vineyards with almost all the major varietals represented.
There are now 10 wineries and five more will have their first harvest this year. And the fact that the wine industry is now the biggest producer in dollar volume in the County. Lake County has always enjoyed a reputation for producing outstanding Sauvignon Blanc and this varietal along with Cabernet Sauvignon are the best sellers with Zinfandel recognized as another quality varietal.
Lake County vineyards are generally at elevations from 1300 to 3000 feet with soils that range from old lake bottoms to the volcanic soils of its geologic past. Also while daytime temperatures are high in summer, night time temperatures remain low. In the past much of Lake County's grape production has gone to wineries outside its borders but that is now changing with local wineries using more of the total tonnage.
Lake County Visitor Information Center is located at 6110 East Hwy 20 in Lucerne. It offers maps and guides to attractions, lodging, dining, sports and wine touring. For more information call 1 800 525-3743 or on the web at www.lakecounty.com. For more information about wineries check out the website www.lakecountywinegrape.org.
Back to Table of Contents..
Last Update:6/15/06
&copy 2006 Joe Hilbers All Rights Reserved.
Graphic Design by Impact Graphics